Following the death of George Floyd politicians, council officials, celebrities, business people and many more Americans have raised their voices to show solidarity against racism and towards the protestors. Despite that the centre of the tension is across the US, UK officials including the ones in Nottingham City Council has released a statement of solidarity.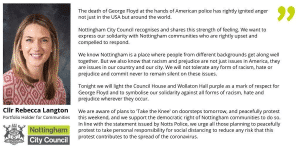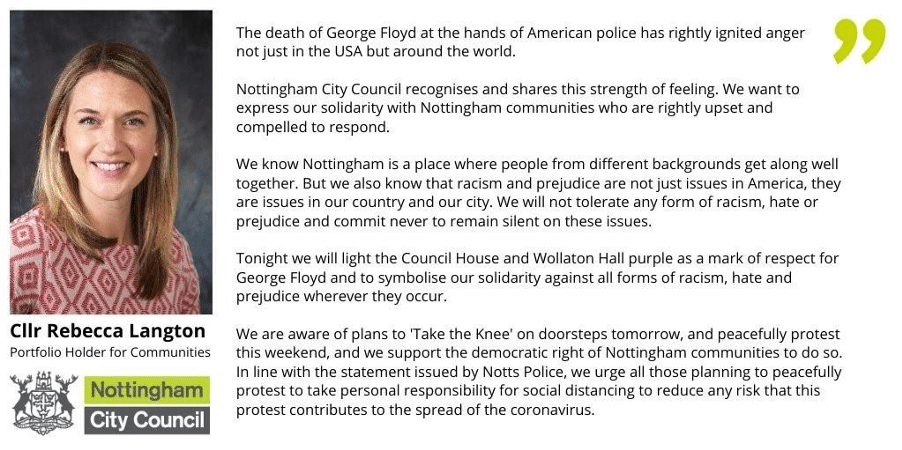 The Council's Team on Community Cohesion focused on providing to most adequate support for the communities to tackle racism and to support those affected. It's essential now to educate and inform people about the possible resources that are available for their own benefits or their acquaintances', communities' benefits. The following resources are currently available: 
'Difficult Conversations' Group
As part of Nottingham 's Community Conversations project, there is a regular Difficult Conversations Group. There are monthly conversations about challenging topics to help the Council to respond to prejudice and hate when they are faced with it in the community. It is a facilitated space with a diverse group of people who share a value for tackling prejudice, but hold many different views and opinions. It is crucial to support each other to reflect and challenge ourselves, as well as practice talking about topics that we might normally shy away from with respect and an open mind.
The next Conversation is planned for 12 – 1.30pm Wed 24th June on Zoom. The topic is the responsibilities and limits of an effective ally and how to stand in solidarity. 
Email Community Cohesion (community.cohesion@nottinghamcity.gov.uk) if you'd like to know more and join this group.
Talking to children
about racism 
– This is a video based on a book called Something Happened in Our Town: A Child's Story About Racial Injustice by Marianne Celano, Marietta Collins, & Ann Hazzard that may be helpful. 
https://youtu.be/sV_5QzW6EGQ
Bystander intervention
 – This incident has really highlighted the power of bystanders in building accountability. In Nottingham, we have been proud to support the great work of Communities Inc in encouraging bystander reporting and support in incidents of prejudice and hate crime. For information on safe ways to be an effective 'bystander', please see attached. More info on Communities Inc's website here:  
http://communitiesinc.org.uk/ourwork/stand-by-me/
Communities Inc have also shared this interview with Jeremy Crook, as a follow up to their dialogue on racism: 
http://communitiesinc.org.uk/2020/04/20/communities-inc-interviews-jeremy-crook-on-racism/
It is now the time to work together and support each other in ways that we have not done it before. Read the sources above and distribute them among your peers, friends and families to help to inform more people and to support the societal changes.