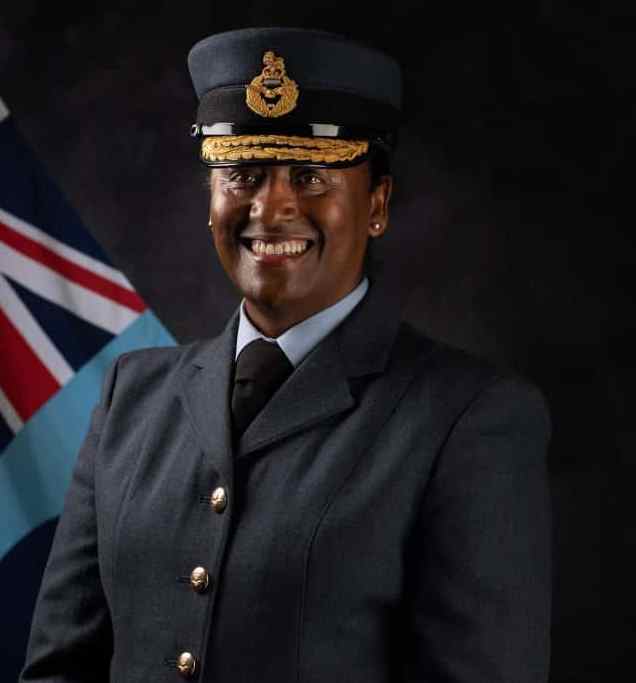 by Pa Modou Faal
Veronica Moraa Pickering has made history for being the first black woman and Kenyan to be appointed the Royal Air Force (RAF) Honorary Air Commodore in the UK. Honorary Air Commodore Pickering who works as an Executive Coach and Mentor with companies and organisations across the UK, is also a Deputy Lieutenant for Nottinghamshire. She was born in Kenya and later moved to the United Kingdom with her parents in the late 60s.
It is in this role that she met Air Chief Marshal Sir Andrew Pulford, formerly Chief of the Air Staff. A lifetime's work with people, businesses and organisations fittingly qualifies Veronica Pickering to be the Honorary Air Commodore for No 504 (County of Nottingham) Squadron. No 504 (County of Nottingham) Squadron was originally a flying unit and saw action during the Battle of Britain. Today 504 Squadron is a Reserve Logistics Support Unit. It recruits, trains, and employs chefs, drivers, suppliers, and general electrical and mechanical technicians. The Squadron has personnel at RAF Stations across the UK and in deployed locations around the world. In her new role, she will be expected to hold senior appointments within the military aviation units and support the Air Officer Commanding directly.
Commenting on her appointment, Ms Pickering said, "I had no idea about 504 Squadron, but Sir Andrew was very interested in the work I'd been doing in Nottinghamshire and in the UK with families, communities and businesses, and also as a Nottinghamshire Deputy Lieutenant." She termed it an honour to be wearing the RAF uniform, adding that the ability to represent the people is a privilege. Although the official images have only recently been released, Veronica Pickering has been 504 Squadron's Honorary Air Commodore for around three years. In that time, she and the RAF have had significant impacts on each other. Ms Pickering has been made an ambassador for the RAF Museums and she has enjoyed a steep but fulfilling learning curve. She thanked her Group Captain and the Deputy Support Force Commander Jo Lincoln for being "the most inspiring leader" she has ever met while discharging her duties. Speaking about Ms Pickering, Commander Lincoln said that one of the benefits of being in the RAF is, "the incredible people you have the privilege to work with and the lifelong friendships that you make. Honorary Air Commodore Veronica Pickering has provided me with tremendous support during my time in command".
In a conversation with Mojatu Magazine, Ms. Pickering sees herself as a personal coach and mentor, a human rights and wildlife advocate. She has over 25 years work experience as a social worker, Children's Guardian as well as International Child Protection Consultant for the UN and many NGOs across Africa. Ms. Pickering continues be a strong supporter of the arts and wildlife conservation and several Nottinghamshire-based charities and organisations. There were obvious parallels between Ms Pickering's work with diverse communities and as a coach, and the ethos of the Royal Air Force. She said, "coaching is also about mentoring, supporting people to identify their strengths and helping people grow but in an intensely focused way. 504 Squadron is made up of volunteers who want to give something back and learn something to help improve their own lives – it feels like this is what I do as a coach."
Squadron Leader Andy Ham is Officer Commanding 504 Squadron. He said, "we are hugely honoured to have Air Commodore Pickering as our Honorary Air Commodore. As an immigrant who has made a huge success of her life, she brings an entirely fresh perspective, and the Squadron is really benefitting from that. She has encouraged us to explore and better understand what diversity and inclusion really means to members of the Black, Asian, Oriental, and Eastern European communities who contribute so much to the fabric of life in the UK." Squadron Leader Ham continued, "we are better equipped to recruit talented members from those groups in the Midlands. Our objective is to make 504 Squadron truly representative of the communities we live amongst, and Air Commodore Pickering is helping us to achieve that."
Speaking about Ms Pickering, Commander Lincoln said that one of the benefits of being in the RAF is, "the incredible people you have the privilege to work with and the lifelong friendships that you make. Honorary Air Commodore Veronica Pickering has provided me with tremendous support during my time in command".
Before her Royal appointment as the High Sheriff of Nottinghamshire for the year 2023, Honorary Air Commodore Pickering was working with UK based NGOs, universities, charities, and community-based organisations. The Office of High Sheriff is a Royal appointment lasting for one year with a major responsibility of supporting the Crown and the Judiciary. High Sheriff's roles also include assisting community foundations and local charities, working with vulnerable and other people both in endorsing and helping to raise the profile of their valuable work as well as actively participating in crime reduction initiatives.
The reaction to the release of Honorary Air Commodore Pickering's official pictures, particularly in Kenya, took her by surprise. She said, "I was amazed by the reaction in Kenya, humbled by it. My cousins were calling and texting me, letting me know that I had featured on local radio and newspapers. I had never done anything that people back home had tweeted about, it's very strange."
Kenya's High Commissioner to the U.K, Manoah Esipisu, congratulated Honorary Air Commodore Pickering for her achievements saying, "you are definitely making history and you will notch another first when you take royal appointment as High Sheriff of Nottinghamshire in 2023."
Honorary Air Commodore Pickering concluded by saying, "I am super proud to be the first black woman to be appointed to this position, and to represent the RAF and be part of the 504 team. I am amazed by the all the skills, the technology, science and engineering, and constantly fascinated and surprised by the RAF and its amazing people."
Honorary Air Commodore Pickering is supporting several Nottinghamshire charities and organisations. She is Chair of EDI Committee, a trustee of U.K. RSPB, YMCA, Beaver Castle Cricket and Countryside Trust and New Perspective Theatre.