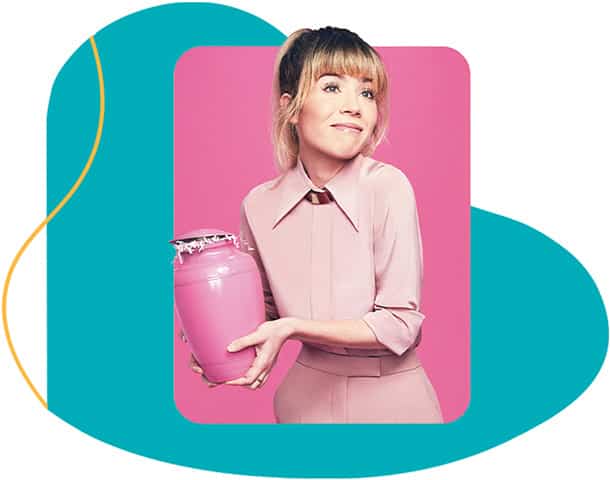 If a record scratch manifested as a book title, it would probably be "I'm Glad My Mom Died" — and actress Jennette McCurdy knows it. You might remember her from Nickelodeon shows "iCarly" or "Sam & Cat." If not, you've probably seen the hype surrounding her tell-all memoir that hit shelves in August. In it, she discusses life as a child star and the complicated relationship she had with her abusive mother.Below, Healthline's Gabe Howard chats with McCurdy about her healing journey and how you can heal, too, no matter what you've been through. (Listen to the full interview here.)Q:I immediately realized upon seeing the title of your book that there's just no way around it. The first question I'm going to ask is: Are you really glad your mom died?A: I am. I was aware, of course, when I went with that title that it's attention-grabbing and provocative (as intended). But also it's something that I would never say flippantly. I mean it sincerely, and I think I earn it not only in the writing of the book but in the life that I lived to get to that perspective … It was really important to me, not only for myself but also for anybody else who's experienced parental abuse, to just say the truth and not sugarcoat it. People deserve more honesty.Q:In reading your book, it's apparent that your mom was manipulative and abusive. My question is, if you had the power to, is there a single interaction with your mom that you would like to undo or change?A: I think everything that I went through only made me a stronger person, and a more full person, and a more empowered person. So ultimately, I am grateful for everything. I think that it led me to where I am now and I'm able to express and explore everything that happened in a very creative way, in a way that's fulfilling to me. I'm able to write, I'm able to direct. And I don't think I would be nearly as creatively expressive if these things didn't happen to me. So I'm glad that it put me on the path that I'm on now.Q:How long did it take you to realize from the time that your mother died until you noticed that you felt better?A: I quit therapy initially when my first therapist had suggested that my mother was abusive. I couldn't tolerate that information. I was in no way ready to accept that reality. And it was several years before I was able to recommit myself to therapy and really face the reality of my past and come to terms with it, including that I was glad that my mom died.
Do you have any suggestions or maybe even just thoughtful advice for folks that are thinking: How? How were you able to do that?
A: Absolutely. I appreciate that question. Boundaries are huge for me. I think implementing both personal boundaries and boundaries toward every relationship in my life. Understanding emotionally, physically, environmentally, and mentally what I need and understanding how to take care of those needs for myself has been hugely helpful. So, I hope people consider boundaries in a deep way.
Also, I think self-respect … regardless of what your path is, what your path has been, it has been that and you're now in the present. Focus on yourself now and on moving forward, and keep your head held high because you deserve dignity and respect. You deserve to have dignity and respect for yourself.
Q:
After your mother passed, this external force was no longer pushing down on you. Was it difficult to make your own way? And how did you do it?
A: It happened through creativity for me. Of course, therapy was a huge factor in discovering myself, but creativity has been probably the leading force for me. I've written and directed five short films. I hope to direct again soon. I have several feature scripts that I've written recently. I'm working on a novel and a collection of essays.
All of these forms of creative expression are ways of finding healing and catharsis and also making good work, which is very much at the top of my priorities. I think it's a nice way of exploring a lot that's going on in your subconscious through whatever medium is most exciting to you.
Interested in Jennette McCurdy's book? Order it here.