Reading Time:
4
minutes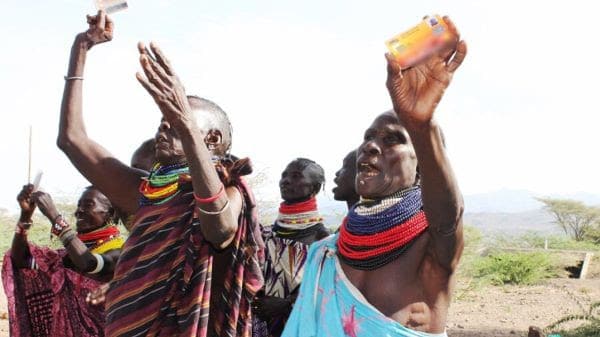 The rising cost of living in Kenya has seen ordinary citizens repeatedly taking to the streets this year. Sometimes this has been in intentional protest, like the July marches calling for an Njaa ("Hunger") Revolution to lower food prices. Other times, people have wound up in the street unintentionally, idling in their cars for hours due to fuel shortages.
Whilst economic growth has picked up again after the COVID-19 pandemic, the country has still had to contend with years of severe drought, economic mismanagement, and rising commodity prices due to the war in Ukraine.
In a recent Afrobarometer survey, over 80% of Kenyan respondents said that the national economy was in "fairly bad" or "very bad" condition. Many said they were often going without basic goods and services, such as sufficient food (18%), clean water (22%), medical care (26%), or a cash income (47%).
Social assistance programmes can help to cushion the most vulnerable citizens during times of crisis. These programmes provide economic benefits, like cash transfers, to beneficiaries without requiring any matching payments. They are, in other words, "non-contributory programmes". They are different to social insurance programmes, which include unemployment or health insurance, and require beneficiaries to pay in now so they can receive benefits later – in other words, "contributory programmes". Because social assistance programmes don't require beneficiaries to pay into them, they're generally a better option for providing economic support to extremely poor households.
Now that William Ruto has been sworn into office after the Supreme Court upheld his victory in the 9 August election, what sorts of social assistance might ordinary Kenyans expect from his Kenya Kwanza administration?
Social assistance programmes now
Ruto's prior career in government – first as an MP from 1998-2013, and then as deputy president under Uhuru Kenyatta from 2013-2022 – has spanned a period of steady expansion in Kenya's social assistance programmes.
Since 2003, Kenya has provided cash transfers to extremely poor households through the National Safety Net Programme (NSNP), also known as Inua Jamii ("raise the community"). The current programmes include grants for orphans and vulnerable children; people with disabilities; people affected by drought in arid and semi-arid lands; and all citizens over age 70.
In its nearly two decades of operation, the NSNP has had some real successes. By 2019, over 1.3 million households were enrolled in the safety net, accounting for roughly 5 million people or 10% of the population. In addition, the programme delivers all transfers digitally, which reduces fraud, and it is fully funded by domestic tax revenue rather than donor funds.
However, there's also room for the NSNP to improve its operations. Most importantly, the safety net's current enrolment falls well short of the estimated 33.4% of the population (roughly 17 million people) who still lived under the $1.90 poverty line in 2022.
Kenya Kwanza's mixed messages
How does the Ruto administration plan to build on the NSNP's strengths and address its shortcomings?
A review of the Kenya Kwanza coalition's political manifesto suggests that Ruto is aware of the need for expanded social assistance, but short on specific commitments to scale up cash transfer programmes.
The manifesto notes that Kenyans face a range of lifecycle vulnerabilities, including poverty amongst children, the elderly, and people with disabilities. Current social assistance programmes reach only 7.5% of children living in poverty, according to their figures. In addition, the manifesto observes that nearly 85% of adult workers are in the informal sector. This means that they miss out on the social insurance benefits of formal employment, since formal employers are required to contribute 50% of the National Hospital Insurance Fund (NHIF) fees for their employees.
This is a clear diagnosis of the persistent challenge of poverty in Kenya. However, it isn't accompanied by a clear policy proposal to use social assistance for poverty reduction. The manifesto does call for the government to establish "a universal social security system, encompassing pension, occupational hazard and unemployment insurance". But it does not state whether this would complement – or replace – the universal social pension for people over 70, which is already offered through the NSNP. Expanding occupational hazard and unemployment insurance is a great idea, but it's also not clear how this proposal would overcome the basic problem for informal workers: how they're going to afford the contributory insurance fees.
The manifesto has little to say about the other current cash transfer programmes, beyond a welcome pledge to "to improve [their] operational efficiency, prompt payment accountability, and coverage".
It is notable that Ruto's opponent in the 9 August election – Raila Odinga of the Azimio la Umoja coalition – ran on a platform of expanding social assistance enrolment by 50% and tripling the value of monthly cash transfers. Ruto has avoided this type of specific commitment on scaling social assistance.
However, Kenya Kwanza does bring one novel idea to the table: "establish a social welfare system for Kenyans living in the diaspora, by exploring and implementing the portability of social protection". Many Kenyans abroad face exploitative working conditions and lack access to national social protection systems in their country of residence, so this is a concept worth exploring.
Ultimately, the Ruto administration appears focused on expanding social insurance rather than social assistance. This runs the risk of slowing the steady expansion of NSNP coverage over the last two decades, and may result in more vulnerable households being excluded from benefits