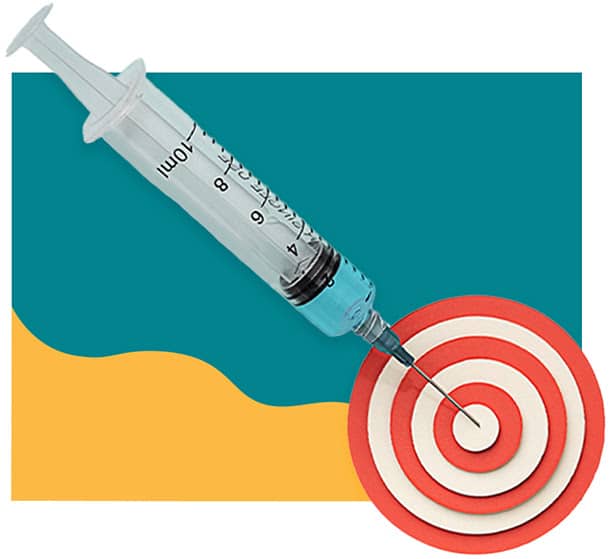 Tick-borne illnesses are no joke – trust me, someone who's had both Lyme disease and Rocky Mountain Spotted Fever. Recap: Lyme disease is an infection caused by the bacterium Borrelia burgdorferi and is most commonly spread by tick bites. Symptoms include rash, fatigue, joint pain, headache, and fever, and while it can be treated with antibiotics, many experience long-term effects.
Cases of Lyme disease have been rapidly rising (up 350+ percent since 2007). But medical professionals are hopeful a new vaccine will soon be on the market to quell the spread.
Created by biotech companies Valneva and Pfizer, the VLA15 vaccine is finally in the third and final phase of human study. The results seem promising so far, but it could take years until it's approved for public use. According to Valneza and Pfizer, they are expecting to request official authorization in 2025.
Until you can get your hands on a Lyme disease vax, you can take other precautions to protect yourself from ticks. Try using insect repellant (scroll down for an innovative option!), wearing tall light colored socks when hiking, avoiding woodsy or grassy areas where ticks like to hang out, and protecting your fur babies with anti-tick meds. If you get bit? Follow these steps to remove the tick, pop the tick in a plastic bag (this can aid in diagnosing potential disease), and schedule a doctor's appointment if you notice any symptoms.
tl;dr: Ticks carry infectious diseases like Lyme disease, which has been on the rise over the last 15 years. The new Lyme disease vaccine VLA15 is in the third phase of a clinical trial among humans, but it could take until 2025 for us to see it on the market. In the meantime, protect yourself and your outdoor-loving pets with these tick repellent strategies or follow these steps after a tick bite.