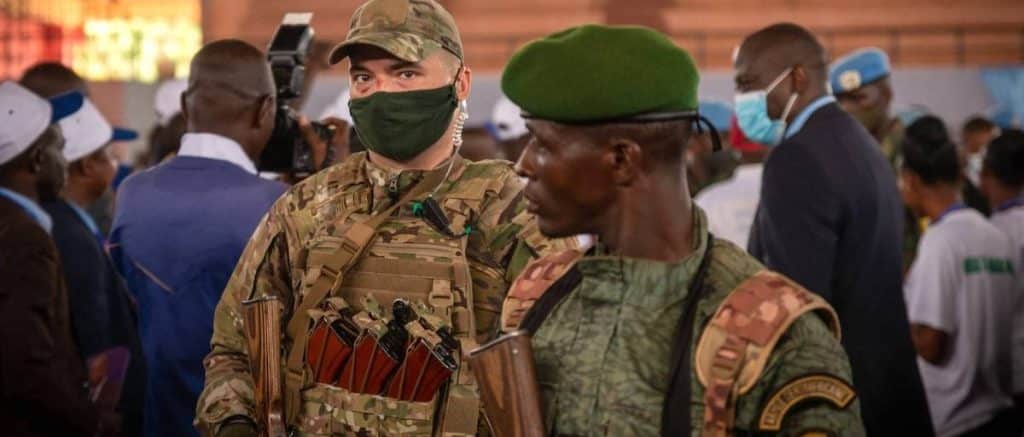 The governments of the Central African Republic (CAR) and Mali are using Wagner, the shadowy Russian private military company believed to be close to Russian President Vladimir Putin, as an agent for attacks against civilians, new research suggests.
And the CAR's President Faustin-Archange Touadéra is going further by deploying Wagner as a deniable proxy in such attacks, according to the Armed Conflict Location & Event Data Project (ACLED) report. This apparently echoes Russia's use of the paramilitary organisation in other theatres of war such as Ukraine and Syria.
Private military companies – aka mercenaries – have featured in African politics since independence. Many governments have resorted to hired guns as their security forces battle to secure control over all their territories, largely due to weak governance and failed security sector reform.
And Wagner hasn't been the only one. In 2019, for example, after Wagner failed to contain the Islamic State-affiliated insurgency in northern Mozambique, it was replaced by a South African-based private military company Dyck Advisory Group.
In the CAR and Mali, Wagner's rate of civilian targeting exceeds that by state forces or insurgent groups
Concerns about the role of such companies in conflict situations extend beyond Africa. The United Nations Working Group on the use of mercenaries said in March this year it was 'alarmed by the growing use of mercenaries and mercenary-related actors in armed conflicts around the world.' The UN was particularly worried about the propensity of such groups 'to indiscriminately target civilians.'
This is the problem ACLED hones in on. It has calculated that civilian targeting accounts for 52% and 71% of Wagner's involvement in political violence in the CAR and Mali respectively. In both countries, this exceeds the rate of civilian targeting by state forces or major insurgent groups.
In the CAR, the percentage of civilian targeting was 17% for the main Coalition for Patriots of Change/Union for Peace and 42% for the rebel coalition (from 1 January 2018 to 31 July 2022). In Mali, civilian targeting represented 20% of the involvement of state forces in political violence and 27% for the main rebel force (from 1 December 2021 to 31 July 2022), ACLED says.
Intriguingly, ACLED found that when Wagner was operating independently of CAR state forces, 70% of their engagements targeted civilians, compared to just 22% when working alongside state forces. In Mali, by contrast, Wagner soldiers mostly deployed alongside state forces – but this drove an increase in civilian targeting involving state forces. ACLED recorded about 500 civilian deaths resulting from joint operations involving Wagner and Malian state security forces.
Allegations of human rights abuses against civilians in the CAR, especially by Wagner, aren't new
example, a group of UN experts said: 'Civilians, including peacekeepers, journalists, aid workers and minorities in the [CAR] have been violently harassed and intimidated by so-called "Russian instructors" from the Wagner Group.'
ACLED adds to this analysis by suggesting that both the CAR and Mali governments are using Wagner as a 'useful foil' to shift attention from abuses committed by state security forces against civilians – notably Fulani communities 'stigmatized for their perceived connections with armed insurgencies.'
The African Union's Convention for the Elimination of Mercenarism in Africa outlaws mercenary activity – but only seems to apply to mercenaries acting against states. Wagner, by contrast, has been hired by the governments of the CAR and Mali.
Nevertheless, the reports by ACLED, the UN and others show that what is really at stake here is not which combatant it is backing, but how it treats those perennial victims of such power struggles – the innocent civilians.