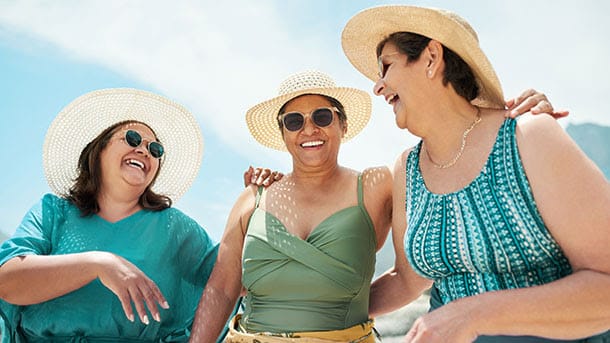 Introducing: Menopause vacations. What are thooose?!
Resorts, spas, and wellness gurus are offering services and retreats specifically for women who are managing hot flashes, insomnia, mood shifts, and other perimenopause symptoms. In terms of activities, think yoga and pilates classes, massages, educational sessions from doctors or nutrition experts, and other ways to escape your day-to-day life in a beautiful environment.
These getaways might sound lovely but obviously aren't accessible to everyone –– you've got to have the funds and feel well enough to take the trip. Depending on the itinerary and where and how long you stay, costs range from hundreds to thousands of dollars. Also, doctors warn that retreat speakers may promote menopause relief products that aren't backed by science, so be wary and do your research before buying or believing any "miracle" cures.
If you can swing it, a menopause vacation could be a nice gift to yourself for navigating this lifechanging period. Or you can always opt for a staycation instead!
Book a spa day at a local wellness center, spend an evening walking along the closest beach, or send the kids away for the night and meditate at home. No matter what you can afford, do your best to prioritize your well-being through the menopause journey any way you can.