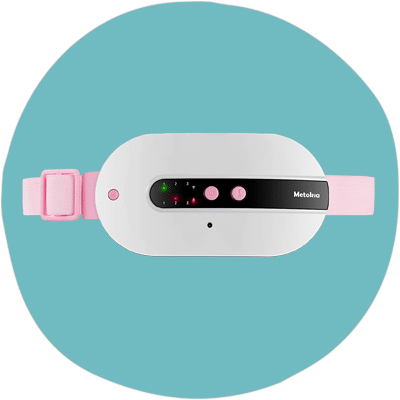 Voligo Menstrual Heating Pad + Massager Tech
Personal massager, meet heat therapy. Dear Reader, meet both.
Resembling a high-tech fanny pack, this wireless vibrating heating pad has an adjustable belt so you can rock it while you cook, walk, or lay in bed without worrying it'll fall off. It heats up *quickly* (within five seconds), and a full charge can last up to 2-5 hours.

The highest of the three heat settings goes up to 122 degrees Fahrenheit, while the lowest clocks in at 104. The soft velvety pad feels comfy but it can become super hot, so it's best to avoid direct contact with your skin.

According to customer reviews, people say it helps to relieve their Polycystic Ovary Syndrome (PCOS), endometriosis, severe cramps, ulcerative colitis, and chronic back pain. If you live with any of these health conditions or you're just looking for some pain relief, consider scoring the benefits of vibration therapy and heat therapy with Voligo's two-for-one heating pad.