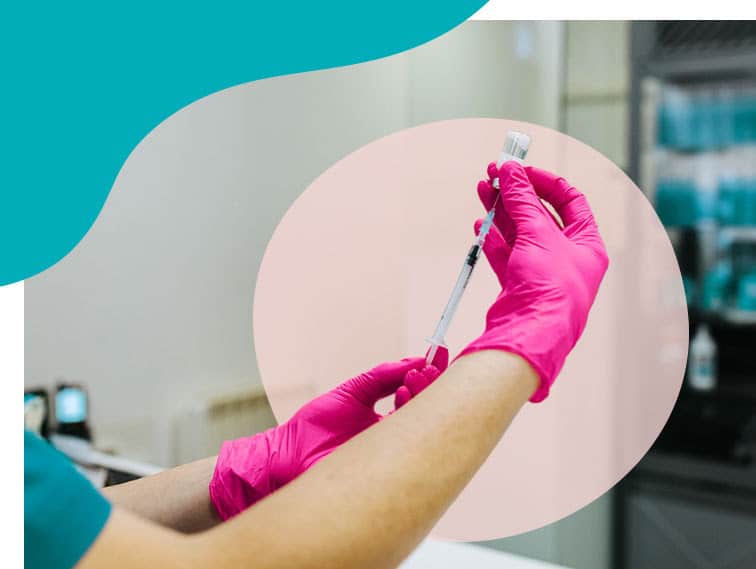 In the race to develop a cancer vaccine, researchers have their sights set on a deadly strain of breast cancer. A vaccine for TNBC is in the early stages of human trials, and experts are hopeful about the potential impact it could have.
"Vaccine-based therapies stand to revolutionize the treatment of triple-negative breast cancer," said Teresa Hagan Thomas, PhD, RN. "Vaccines use different mechanisms than current therapies, many of which TNBC is resistant to because they [target] hormones and HER2 proteins which TNBCs do not express."
The goal of the vaccine is to train a person's immune system to recognize a milk protein called alpha-lactalbumin that's present in most cases of TNBC. The idea is that a person's immune system would then destroy these cells before they're able to grow into cancer.
The successful development of this vaccine could benefit Black and Hispanic women in particular, as they are more likely to develop TNBC and more likely to die from breast cancer in general. Many of the researchers running these trials are specifically recruiting Black and Hispanic people with TNBC, in an effort to get a wide representation of results, added Thomas.
In addition to the development of this vaccine, there has been some good news on the breast cancer front in recent years: The overall death rate declined by 42% between 1989 (when it peaked) and 2019, which the American Cancer Society credits to better screening and earlier detection, increased breast cancer awareness, and improved treatments.
Breast cancer is treatable, especially if it's caught in the early stages. Since you're less likely to have noticeable symptoms early on, it's important to go in for recommended screenings. The current guidelines say that people with an average risk (here's what it means to be "high risk") should start getting annual screenings at age 45 and then every other year starting at age 55. Get more details on screening guidelines here.
tl;dr: A vaccine for triple-negative breast cancer, which is more deadly than other strains of cancer, is in human trials. The successful development of this vaccine could especially benefit Black and Hispanic women, who develop triple negative breast cancer at higher rates. You can help prevent later stage breast cancer by following the current screening guidelines.