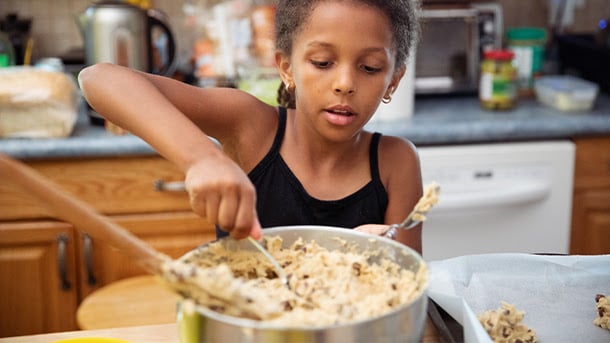 WEIRD SCIENCELove eating raw cookie dough? Be careful. Here's whyRaise your hand if you love to eat raw cookie dough, despite knowing the consequences. If you didn't raise your hand, you're lying. Just kidding! One of the most commonly known risks is contracting salmonella from raw eggs, but that's not the *only* reason to stop snacking on dough.

Another key cookie dough ingredient poses a health threat: uncooked flour. Eating uncooked flour that may have bacteria (from the harvesting field, milling process, or storage mistakes) before it's cooked could lead to food poisoning, which can be especially serious for people with compromised immune systems, children under 5, and seniors over 65. Contaminated flour was actually the reason behind the prepackaged cookie dough E.Coli outbreak that infected 72 people in 2009!

So, next time you're baking cookies, cakes, brownies, or other foods with raw eggs or flour, try to fight your craving to lick the spoon. It may be hard, but those few sweet seconds aren't worth putting your health at risk. If you really can't avoid the urge, at least consider these food safety tips or try ready-to-eat cookie dough products from DEUX or Pillsbury instead.

As dough eaters, we want to know: Do you eat raw cookie dough? Have you or someone you know ever gotten sick from it? Share with us at wellnesswire@healthline.com.