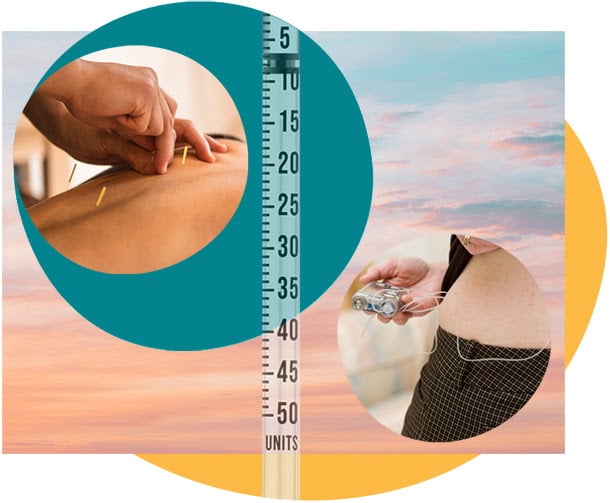 Did you know that 1 in 10 people live with diabetes? And 1 in 5 people who have it don't even know they do? That's what the CDC says. What we say: Diabetes is manageable, and the latest research suggests there may be more prevention tips and treatments on the way sooner than later.

Here are some new developments in the diabetes space that we think are interesting and important to highlight:

A low carb diet for diabetes prevention: New research suggests cutting carbs can minimize type 2 diabetes risk for people who are susceptible to developing the condition. Additionally, consuming fewer carbs can help with weight management.Acupuncture may also prevent and treat diabetes: This new study found that acupuncture could work as a holistic approach for preventing type 2 diabetes by helping folks sleep better, reduce blood pressure, relieve stress, etc. Acupuncture therapy also seems to significantly improve key markers (like fasting plasma glucose and glycated haemoglobin) without any adverse reactions.Two popular diabetes drugs outperform others: In a clinical trial directly comparing different treatment meds for type 2 diabetes, insulin glargine and liraglutide improved blood glucose levels "modestly" better than glimepiride and sitagliptin. All drugs were more effective when added to metformin.A bionic pancreas can make life easier for people with type 1 diabetes: Yes, you read that right. According to a recent clinical trial, a "bionic pancreas" might just help people with type 1 diabetes control their blood sugar levels compared to standard treatments. If approved by the FDA, this would be the first automated system for managing T1D.
There's *so* much more out there on the diabetes prevention, management, and treatment front, but this is all we can squeeze into this newsletter section. Stay posted on future news! To learn more in the meantime, browse our site for Diabetes stories, like the best diet for diabetes or even dating tips for people with diabetes.

Tl;dr – Millions of people live with diabetes, and a ton of research is being done to try to improve their lives every day. Low carb diets, acupuncture therapy, and even bionic pancreases are some of the most recent developments we think are worth noting, but there's more to come, for sure.