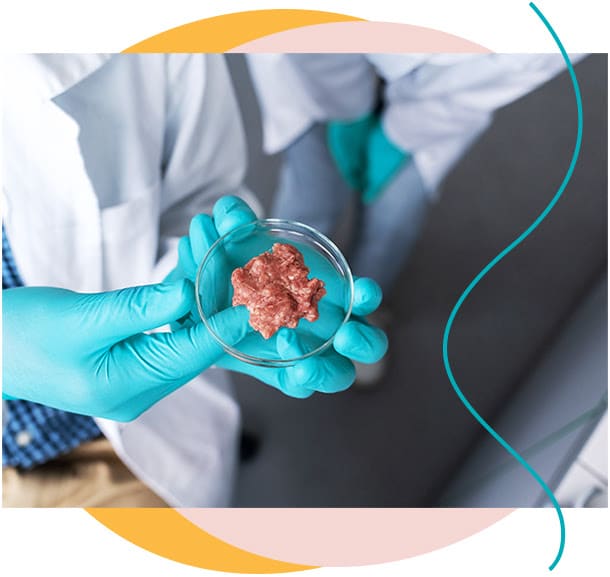 Pretty soon, you may be asking yourself that question IRL: Last week, the FDA approved the United States' first lab-grown meat product.

"Cultivated meat," as it's commonly called, is genuine meat grown from the tissue cells of animals. These cells are fed the same nutrients that live animals need to survive, and they're arranged in the same manner as conventional meat. According to one anecdotal account, it's pretty darn close to the real thing.

In fact, cultivated meat may actually be safer to eat than meat that goes "moo." The lack of live animals involved in production almost eliminates the risk of fecal contamination, which is the leading source of food poisoning deaths in the United States.

It could also have a monumental impact on the fight against climate change by meeting the ever-growing demand for meat while reducing methane emissions. There's mounting evidence that we won't be able to avoid the most severe consequences of climate change without finding a way to farm less livestock. And meat alternatives don't appear to be catching on at the rate that's necessary.

Needless to say, animals stand to gain the most. 10 billion farm animals are slaughtered per year in the United States, the majority of which live their entire lives in unthinkable conditions.

All that said, research shows we're a long way from cultivated meat being a perfect substitute. It faces a bounty of obstacles, including concerns about potential cancer-promoting properties of genetically modified cells, debate over whether it can be considered kosher, how to bring down production costs, and if it has the same nutritional value as conventional meat. Apparently, it's also hard to replicate that unique meaty aroma.

tl;dr: Last week, Upside Foods' lab-grown chicken product became the first FDA-approved lab-grown meat. Experts are hopeful that cultivated meat can help satisfy the growing global demand for meat, which is a significant contributor to greenhouse gas emissions. There are many challenges ahead for the new industry, but the FDA's recent approval is an important milestone in the decades-long journey to get to this point.