Reading Time:
4
minutes
We take a look at the early works of the 'father of African cinema'…
While world cinema has seen an increase in popularity over the past few years, films from Africa still seldom find an audience outside of the continent. However, with the release of Saint Omer, a new film directed by Alice Diop, whose parents hail from Senegal, moviegoers are being reminded of the rich cinematic history of this West African nation.
Senegal is home to what is considered the first authentic Sub-Saharan African feature film to receive international recognition: 1966's Black Girl, directed by Ousmane Sembène. As such, Sembène has since become revered as the 'father of African cinema', and although much of his work remains difficult to access in the English-speaking world, his earliest two features are considered classics worldwide.
Before his career in film, Sembène was an established novelist whose social realist writing was critical of colonialism and the introduction of capitalism to Africa, and these ideas would find their way into his first feature film.
Black Girl's title refers to Diouana, a woman who moves from Senegal's capital, Dakar, to Paris after being hired to work as a maid by a wealthy white couple. She is promised a joyous new life caring for their children during the day, and exploring the big city at night – but these dreams don't match up with the harsh reality she experiences.
The children Diouana was expecting to care for are largely absent, and she is instead made to do unrewarding menial tasks and is treated more like an animal than a human being. Furthermore, she is never given the opportunity to leave the house, thus reducing her experience of Paris to the same four walls, rather than the vast metropolis she expected it to be.
Over the course of the hour-long film, we see Diouana's mental state deteriorate through a subtle yet heartbreaking performance by M'Bissine Thérèse Diop. As she can't speak French, her thoughts are conveyed to the audience by way of a voiceover, emphasising her isolation. We also see flashbacks of her time in Dakar and how excited she once was to live a better life in France.
Its themes transcend their immediate context of 1960s France, as today, migrants hoping for a better life are still expected to be grateful for the bare minimum – which is why this deeply tragic film remains an enduringly potent and vital watch over half a century later.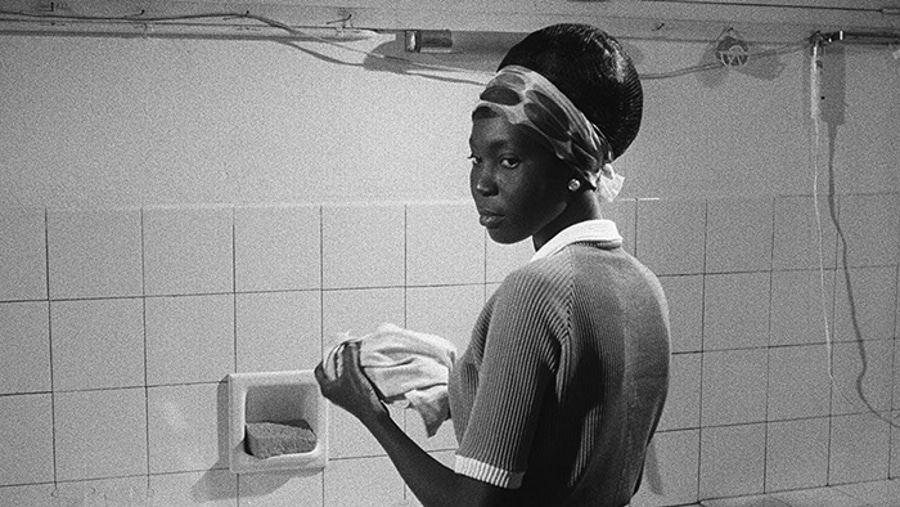 Sembène's subsequent film, Mandabi ('The Money Order') is lighter in tone, but still deals with themes of false hope and the strain of capitalism. Taking place in the slums of Dakar, it revolves around an unemployed man named Ibrahima who receives a money order for 25,000 Francs from his nephew in Paris. Ibrahima is told he can keep 2,000 Francs for himself if he saves the rest for his nephew and his mother (Ibrahima's sister), but soon discovers that receiving even a single cent will be a challenge.
Before Ibrahima can cash in the money order, he needs proof of his identity – and in order to verify that, he needs his birth certificate and photos of himself. Getting his hands on this documentation proves easier said than done, and the struggling father ends up having to spend money he doesn't yet have, all the while attempting to appease lenders and avoid scammers.
Sembène depicts Ibrahima's plight with astute realism, placing emphasis on his routines via long takes of him eating, washing, praying and walking, while star Makhourédia Guèye effectively conveys the toll that even daily motions such as these can take on an ageing man.
However, while we can sympathise with Imbrahima, no character in this film is entirely virtuous, as he is shown being frequently disrespectful towards his two wives, Mety and Aram, who work hard every day to ensure his wellbeing – giving the film a feminist angle that to an extent aligns it with Diouana's story in Black Girl. Even these two women have their shortcomings, in fact, as Aram puts their family into greater debt by purchasing a bra she can't afford, and she and Mety later spread a lie that the money order was stolen from Ibrahima.
"In this country, only the crooks live well," says one of the scammers in the film – an apt summary of Mandabi's themes that's applicable not only to life in Senegal, but perhaps most capitalist nations.
Both of these films are at once distinctly African and universally resonant. The level of detail with which Sembène depicts his characters and their surroundings serves as a lasting record of what life was like for Senegalese people in the 1960s, while the morals behind his stories are strong enough to speak to people regardless of when and where they're watching them. But with only two of his nine feature films widely accessible in the UK, we can only hope more of Sembène's work will be available to watch in the future.