Reading Time:
4
minutes
Discover the rich culinary heritage of Africa and the Caribbean through three iconic recipes.
Ackee and saltfish (Jamaican)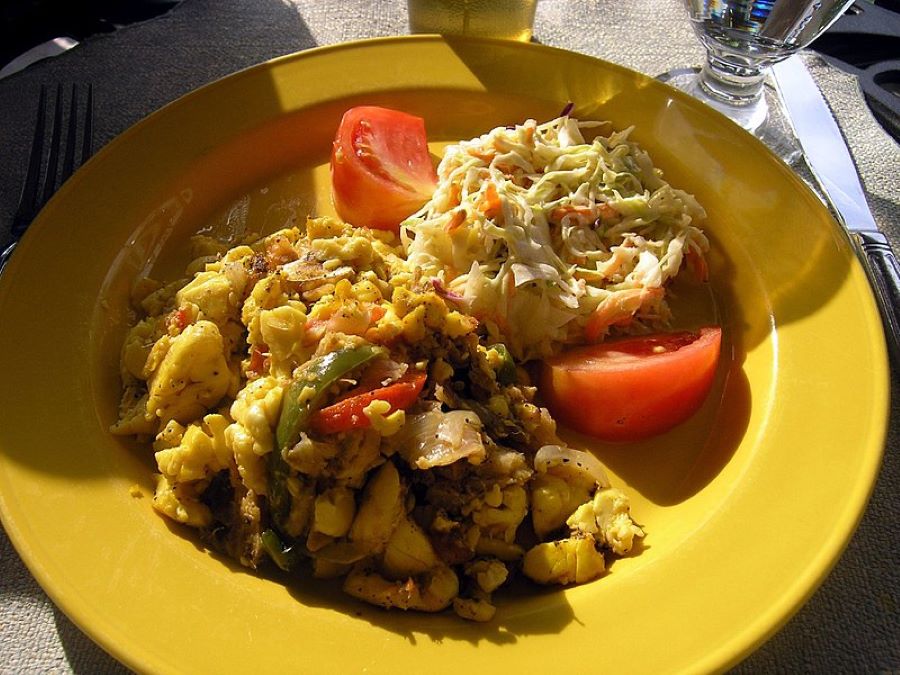 This popular Jamaican dish is commonly served at breakfast or lunch. Serving it with boiling green bananas, yams, or breadfruit has made the meal a staple in Jamaican cuisine.
Ackee is native to West Africa and was brought to Jamaica via the slave trade. The fruit was originally used as a food source for enslaved Africans and was later adopted by the wider Jamaican population as a staple food.
When European colonists introduced Saltfish to Jamaica, it was not a popular cuisine among Jamaicans. Not until the middle of the 19th century, when the Jamaican fishing industry began to flourish, did saltfish become more affordable and widely available. It was at this point, ackee and saltfish became a popular dish in Jamaica, the two ingredients combing complemented each other in terms of flavour and nutritional content.
Ingredients:
1 can of ackee
1/2 pound of saltfish
1 tomato, diced
1 onion, diced
1 bell pepper, diced
2 cloves of garlic, minced
1 scotch bonnet pepper, diced
1 tablespoon of vegetable oil
Instructions:
1. Soak the saltfish overnight in water to remove some saltiness.
2. Boil the saltfish for 10-15 minutes before draining and shredding it into small pieces.
3. Heat the oil in a pan and sauté the onion, tomato, bell pepper, garlic, and scotch bonnet pepper until soft.
4. Add the shredded saltfish and ackee to the pan. Then stir gently to combine.
5. Cook for a few minutes until the ackee is heated through.
6. Serve hot with boiled green bananas, yams, or breadfruit.
Waakye (Ghanaian)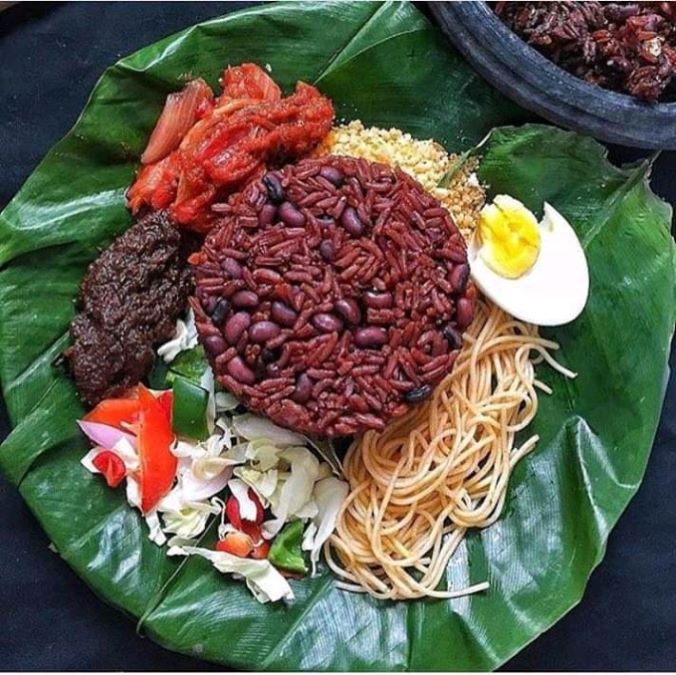 The Ghanaian street meal known as waakye is a popular lunchtime dish. It is created from a mixture of rice and beans. It is rooted in Northern Ghana, where it was frequently served at weddings and other important events. It can be found in street food stands throughout Ghana.
The dish gets its distinctive reddish-brown colour from adding dried sorghum leaves, which are boiled with rice and beans to impart a rich, earthy flavour. The dish is frequently served with a variety of sides, including spaghetti, fried plantains, gari (cassava flakes), and the fiery shito sauce, which is made from tomatoes.
Ingredients:
1 cup of rice
1 onion, diced
1 tomato, diced
1 cup of black-eyed peas
2 tablespoons of red palm oil
1 teaspoon of ginger, grated
1 teaspoon of garlic, minced
Salt to taste
Instructions:
1. Rinse the rice and black-eyed peas. Then soak them in water for at least 2 hours.
2. Drain the rice and beans. Next add them to a pot with enough water to cover them.
3. Add the onion, ginger, garlic, red palm oil and salt to the pot.
4. Once the mixture has boiled, lower the heat to and cook for 20-25 minutes or until the rice and beans are tender.
5. Once cooked, serve hot with your choice of toppings. This could be boiled eggs, hot sauce and fried plantain.
Bunny Chow (South African)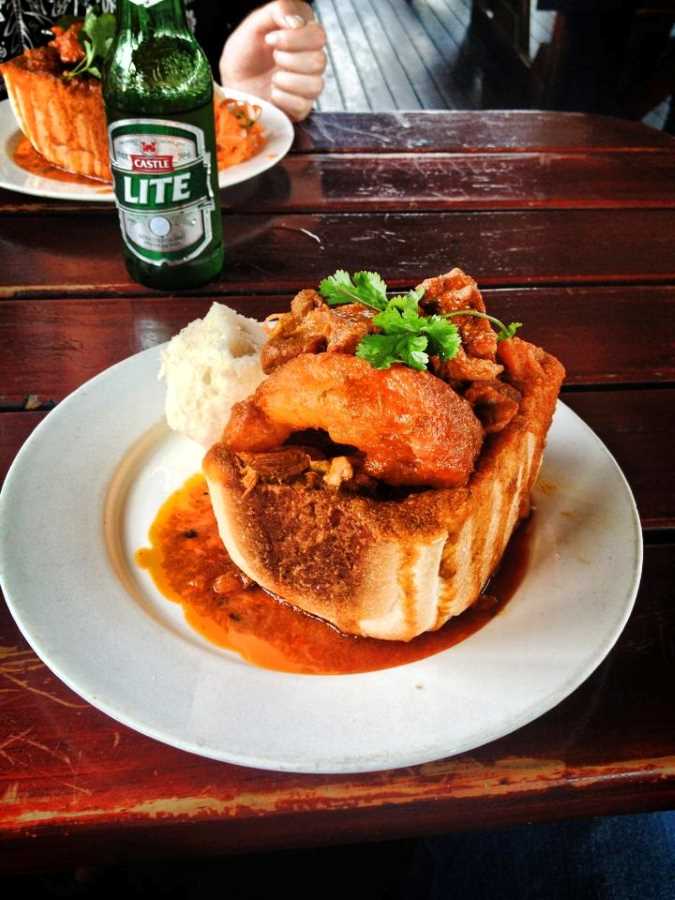 This well-known takeaway dish called 'bunny chow' consists of a hollowed-out loaf of bread with curry inside. Several ingredients, such as chicken, lamb, beef, or vegetables, may be included in the curry filling.
The dish, which immediately gained popularity, originates in the Indian community that immigrated to South Africa in the late 19th and early 20th centuries.
The meal has become a beloved part of South African cuisine and is significant as a symbol of cultural fusion and diversity in South Africa. The dish reflects the blending of Indian and African culinary traditions, as well as the country's history of racial and cultural mixing. The meal is widely available at street food stands and restaurants.
Ingredients:
1 loaf of bread
1 pound of chicken or beef
1 onion, diced
1 tomato, diced
2 tablespoons of curry powder
1 tablespoon of vegetable oil
Salt to taste
1. Cut the loaf of bread in half and hollow out the centre, leaving a thick layer of bread around the edges.
2. Heat the vegetable oil in a pan over medium heat. Add the chicken or beef and sauté until browned.
3. Add the onion, tomato, curry powder, and salt to the pan, then stir well to combine.
4. Pour enough water to cover the meat and let it simmer for about 20-25 minutes or until it is fully cooked.
5. Spoon the curry mixture into the hollowed-out bread and serve hot.
6. To enhance the flavour, you can also add toppings such as chopped cilantro, grated coconut, and hot sauce.
Bon appétit!