Reading Time:
4
minutes
Here at Mojatu, we decided to investigate food providers in the Derby area that offer authentically cooked African & Caribbean dishes. Here is what we found…
Food has the power to take you back to a fond childhood memory and the ability to bring people closer together. Authentic dishes, cooked and prepared in the correct way to its geographical region of origin are comforting and popular for communities with links back to other nations. And, of course, some of us just love the flavours.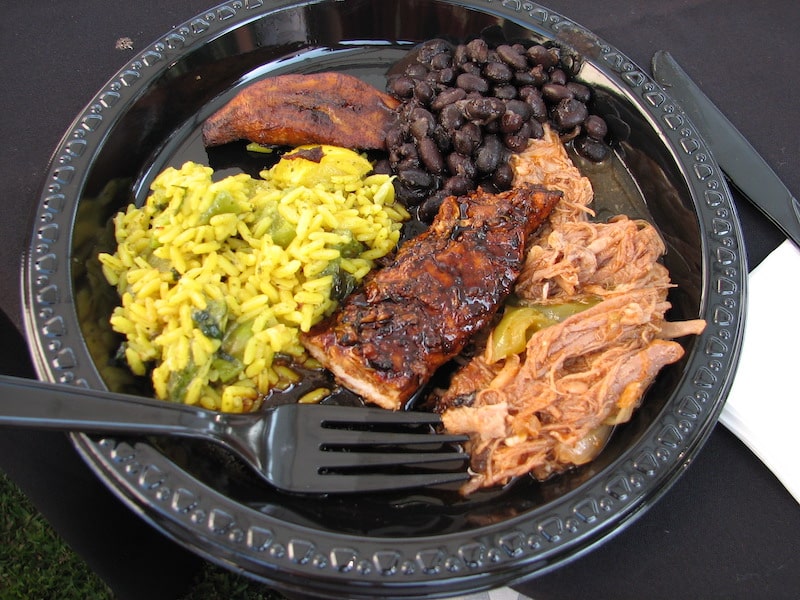 Dat Is It
Normanton Road – Rosehill Business Centre
Dine in or take away
This new Caribbean restaurant that has recently popped up on Normanton Road is eager to provide you with proper flavours and vibes. As this was so close to our office, we thought we would give it a try and get you guys some honest feedback.
Our community journalist, Tristan Best, said: "The texture of the curried mutton was to die for. I must say the meat had been cooked perfectly; succulent and so good. I'd definitely eat that again, and again.
"I ordered a large portion, as I would hate to be left feeling hungry after ordering the regular sized order. But to my surprise, my colleague's regular sized meal seemed to be a perfect size.
"With the vegetables and the rice filling the gaps, the dish had contrast, which really helps the pallet.
"As a whole, the customer service was great and the menu had the right diversity for everyone's needs. It scaled from more traditional Caribbean food, all the way to your British styled BBQ & fried wings.
"Altogether, a great new member of the Normanton food community."
Afrikana
53-55 Queen Street
Restaurant and take away
Afrikana's vision is to bring authentic home-cooked African inspired dishes to the main street and that was certainly achieved here in Derby City Centre, set just inside the Cathedral Quarter. A menu worth trying in their restaurant complimented by customers to have a beautiful interior and ambient atmosphere.
Quatties Carribbean Restaurant
109 Normanton Road
Take away
This place must be doing something right as they have been serving Caribbean cuisine in Derby for over 25 years. Praised on reviews for their perfectly cooked chicken and how much they demonstrate their appreciation for customers. It looks like this place will be around for a long while yet.
Big Taste
65 Normanton Road
Dine in or take away
Based in the heart of the Normanton community, this take away was reviewed by the staff at Derbyshire Live. After absolutely devouring the dishes, they commented on the generous portion sizes along with very reasonable prices. Their opinion that this place was 'a cut above regular takeaway fodder'.
Sista Spice Café
Victoria House, Unit5, Becketwell Lane
A popular pit stop on a night out in Derby if you are after a spicy Caribbean dish. Open till 4am at the weekends, this place is praised for its saltfish and ackee dishes (ackee is a national Jamaican fruit) and generous portion sizes.
Facey K's
Allestree, Derby
Takeaway
The majority of African and Caribbean takeaways can be found over on the other side of Derby, but this place is a great find in Allestree. Newly opened in 2023, this place has quickly become a hit with customers with 70% of them voting the mutton dish as their favourite.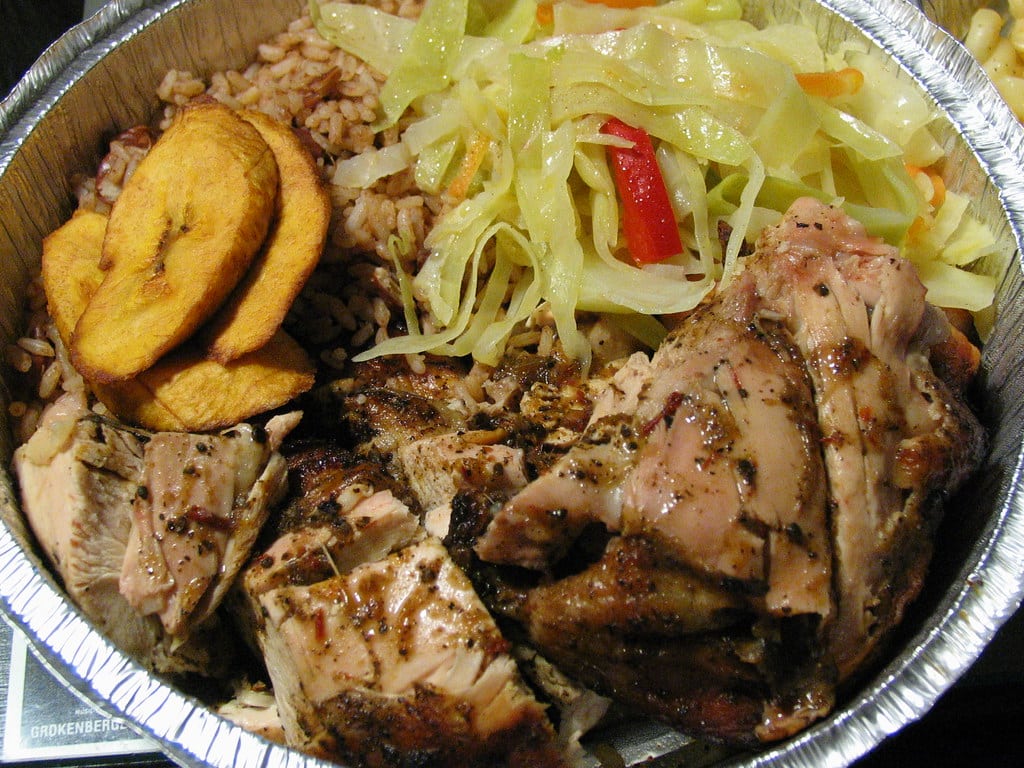 The Tropixx Carribbean restaurant
141a London Road
Dine in or take away
This restaurant boasts a wealth of fantastic reviews, varying from the celebration of its portion sizes to their exceptional dumplings.
Turtle Bay
1-5 Wardwick
Dine in or Take away
Situated right in the City Centre, Turtle Bay is widely known for their excellent fiery jerk inspired flavours in addition to its huge range of cocktails, all inspired by the Caribbean.
Generations Takeaway
2 Victoria Street
Takeaway
Based in the city centre, this takeaway is passionate about providing its surrounding area with a variety of dishes from jerk chicken to fish dishes, using its freshest and finest ingredients at competitive prices.
Marleyz
11 Curzon Street
Music/bar/food
Not only does Marleyz offer a selection of Caribbean cuisine's, you are able to enjoy this within a bar-type restaurant jamming along to some reggae. This place also hosts events influenced by Caribbean culture. You are invited to come along and enjoy the good vibes.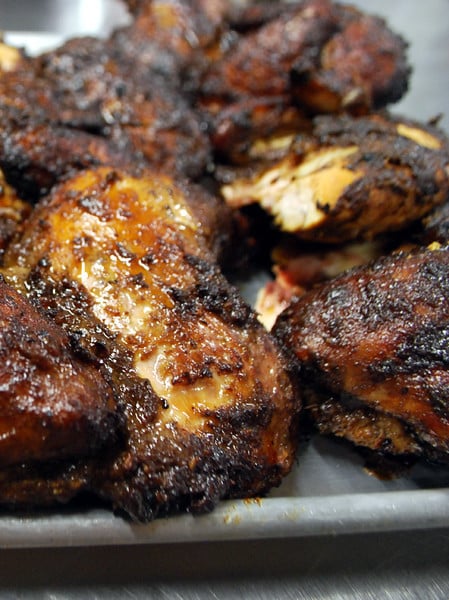 Jerk Co
1 Sacheverel Street
Dine in / take away
Their motto is 'love jerk chicken, love the vibe'. That's exactly what this place has to offer with a variety of jerk options on the menu plus a nice seating area for you to enjoy your food and the vibe.
MoFoods MoJollof African Food
134 Ashbourne Road
Takeaway/Food retailer
Not only does this place offer freshly prepared African food but are also the manufacturers of authentic sauces for you to prepare your dishes at home. It's safe to say these guys are experts in authentic African cuisine.
Dunns River
123 Pear Tree Road
Dine in / takeaway
This authentic Caribbean take away is very proud of their stew dishes. There is a recurrent opinion how tasty their dishes are with regulars refusing to try other Caribbean takeaways in the area.
Jamaica Blue coffee shop
Based in the Derbion shopping centre
Coffee shop
This coffee shop situated in the Derbion shopping centre lives by the philosophy 'wan wan coco ful baskit' – Jamaican saying meaning 'if you slow down, stop rushing and take your time, you will achieve your goal.'
So why not take a break amongst your busy shopping day to enjoy some of the finest Jamaican coffee along with a contemporary café dish served with a twist.
Datties
Burton-on-Trent
Caterers
If you're looking to bring some authentic Jamaican cuisines to an event, then look no further than these guys. With their own jerk seasoning brand and cookery lessons, this family run business take pride in their dishes with recipes that have been passed down over six generations.