Reading Time:
4
minutes
MEET JOSEPH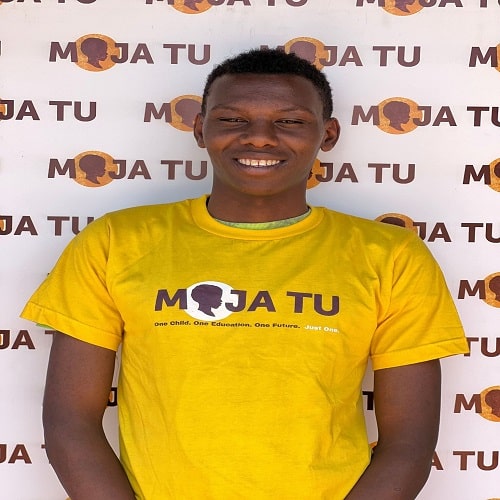 Joseph Kinuthia is a fourth-year student at Chuka University, where he is pursuing a Bachelor of Arts in Economics and History. He comes from a humble background, and he is the only one of his family's four children to have had the opportunity to attend high school. His siblings had to drop out of school due to his parent's inability to pay their school fees. The opportunity for Joseph to attend high school and now university would not have been possible without the help of Moja Tu.
"The kind gesture from my sponsor and Moja Tu, in general, has made me develop the virtue of kindness. In school, I try as much as possible to help students who are stuck academically. With Moja Tu, I am always available to lend a hand whenever I am needed," he says, adding that, for now, that is his small way of giving back.
"Knowing the importance of education and having experienced firsthand the generosity of a kind sponsor, I would like to pay it forward in the near future by sponsoring a student from a disadvantaged background."
Joseph understands that sponsorship is a once-in-a-lifetime opportunity, and he makes sure that he puts it to good use. As such, he is working towards attaining good grades in school, and so far, so good! He also applied to be a part of the Moja Tu mentorship program that seeks to empower students to focus on their studies while navigating life's issues. He reveals that his biggest takeaway from the mentorship sessions is coping with challenges. "It has also helped me develop my communication and interpersonal skills that will come in handy when I eventually join the job market in a few months to come. I am also more confident," he elaborates.
Joseph's dream is to work as a business development manager. "Moja Tu has been instrumental in helping me move closer to my dreams by sponsoring my education and giving me hope and courage through the mentorship program to achieve my dreams."
Coming from an impoverished background, Joseph says he would like to address the issue of poverty in his community. He will use the economics skills he is gaining in school to teach his community entrepreneurial skills and emphasize the need for educating children. Drawing from his experience, he attests that education helps to improve one's quality of life and wants every child in his village to go to school. Since charity begins at home, he has vowed to enroll his siblings in artisan courses once he gets a job. "This will help them to secure blue-collar jobs that are very much in demand."
As he winds down his university studies, Joseph is grateful to his sponsor and Moja Tu for keeping the promise to see him through high school and university. "I am prepared for the job market. I went for my internship in my third year, which helped me gather relevant experience and prepare me for the world of work. I would like to thank everyone who made this possible," he says.
Students like Joseph are chasing their dreams with the help of a generous sponsor. All Moja Tu programs include life skills and job readiness skills. This helps ensure that graduating students like Joseph have the tools, knowledge, and confidence they need to land a good job and eventually break the cycle of poverty in their families and community.
Help us reach more students with the life-changing gift of education by donating to Moja Tu today.
MEET PRUDENCE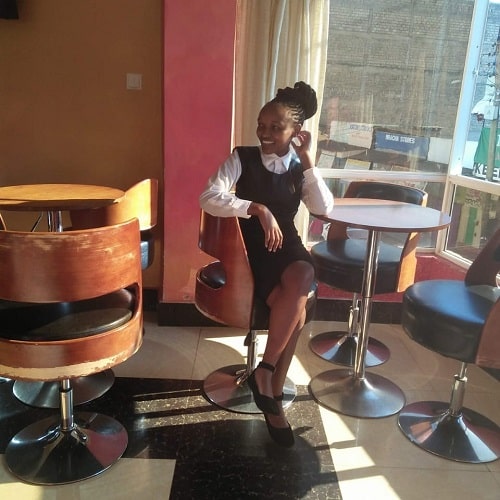 Meet Prudence: Living her dream
Prudence, 23, is a proud Moja Tu alum. She joined the program in 2015 after losing sponsorship with another organization due to circumstances beyond her control. Her family background and her drive for education made her a natural pick for Moja Tu sponsorship.
Moja Tu supported her from high school until college, where she graduated with a degree in hospitality management. She currently works in the hotel industry, and seeing her living her dream is inspiring.
"I was raised by a single mum who was jobless at the time. She struggled to feed us, put a roof over our heads, and send us to school. At one point, she had to choose feeding us over educating us. I was on the verge of dropping out of school, and there was nothing much I could do about it," she recalls.
She was saddened by the situation, for she really wanted to go to school. When she heard about Moja Tu, she was filled with hope of continuing with her studies uninterrupted. She eventually got the scholarship, which helped ease the burden at home, so her mother could now focus on taking care of the family.
"When I say Moja Tu was God sent, I mean it. I returned to school, and the program equipped me with texts books to help with my studies. I then went to college, where I pursued a diploma in hospitality. I was happy since it was my dream career, and now I am living my dream as a hotelier," she reveals.
Prudence adds that Moja Tu programs, such as the video calls with sponsors and mentorship, helped boost her confidence.
"I consider myself extremely fortunate to have been exposed to numerous opportunities. Before joining Moja Tu, I was shy and struggled with low self-esteem. As I became part of Moja Tu, I learned to be confident and articulate from the one-on-one calls I had with my sponsor," she says and adds that this proved helpful when she joined the job market as she interacts with many people in her line of work, and sometimes she is required to speak in front of crowds.
"I would love to show my appreciation to my sponsors for paying for my fees and supporting me, Kathy for always encouraging me, and the Moja Tu family for giving me another family, unconditional love, and immense growth. I don't know what I'd give to show my gratitude, but I consider this the greatest part of my life as it molded me into a responsible and productive youth. Asante sana Moja Tu," Prudence shares.