Reading Time:
3
minutes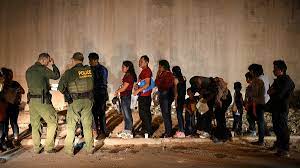 How the French attitude towards immigration has changed over the years
Over the years, France's attitude towards immigration has changed. With the influx of forced migrants coming to Europe, many countries which were once almost welcoming to migrants are now very hateful towards immigration.
As of 2018, 70.8 million individuals have been forcibly displaced worldwide because of persecution, conflict, violence, or human rights violations, per the UN High Commissioner for Refugees (UNHCR).
Latre was born in the Central African Republic. She arrived in France when she was 19, in 1988. Unlike other people, she was lucky enough to have a visa to come and study in France. While she was studying, she got pregnant, which allowed her to stay because of the "droit du sol". Because her first child was born in France, they were attributed French Nationality, it is the "right of the soil". From that, she also got her nationality.
At the time, the sentiments towards migrants were not as hostile as today. For her, integration was easy.
"Because I was a student, it was quite easy for me to integrate. I was happy to arrive in France, happy with my school.
When I first arrived in France I went to live with one of my uncles. The wife of my uncle and my uncle were really nice, but really quickly she expected me to be the housekeeper of the house. So I had to go with my other uncle, but his house was very small. There was no other room so they put me in the little cubbyhole, without windows or anything. But at least it was quiet.
My uncle showed me everything, how to take transport, how to get around
The very first days were very confusing and I got lost. My school was really good, it was in Paris. In Africa, my family and I never struggled too much. We had quite an easy life. We didn't have public transport but chauffeurs taking us everywhere, people cooking for us.
Coming to France I had to learn to get around by myself. Cook for myself. It was a bit weird. I missed my family.
Before it was easier to apply for papers. I remember one day I forgot the deadline to renew my papers. Today there's no way they would allow you to still do that. But back then I had no issue renewing them.
"People back then were very welcoming. I was in a private school where there were a lot of foreign people. I never had any racist attack or never felt like I didn't belong. But things have changed. You see it in the news, on the street. Now, migrants, whether they come here legally, illegally, the sentiment is very hostile. Laws have changed, border security has been strengthened."
Like Latre has been noticing over the years, sentiment towards French immigration has changed. The narrative around immigrants has also changed. Politicians are also using illegal migration to create fear around immigration.
Disinformation narratives around immigration seek to exploit the public's fears to polarise public opinion, spread divisions and set the political agenda. They tend to adapt and change alongside the public's main concerns. For a while in France the concern was to protect the French identity. Which justified even more violence and hostility towards foreigners.
"We employed a refugee not long ago to help us with our garden. He was very struggling. His mental health was not good neither because of the way he had been welcomed in this country. He was from Ivory Coast. It was very painful for us, who also were born in Africa and migrating to France, to see how some people are welcomed and treated. It could have easily been us."