Reading Time:
3
minutes
I come inside the room and walk around. Surrounding me, a powerful exhibition. Hanging from boards are clothes worn by rape survivors when they were raped.
The exhibition was organised by an organisation called Rainbow. A national NGO passionate about ending Sexual Gender Based Violence. They provide free medical treatment, psychosocial services, and age-appropriate treatments for survivors of Sexual Gender Based-Violence (SGBV) in Sierra Leone.
So far, they have helped more than 30,000 women and girls who have experienced SGBV. They also do community outreach and national advocacy to ensure that the change is systemic and sustainable.
Whenever the victim of sexual violence is asked what she was wearing, it implies that she is responsible for the assault and could have prevented it. Rape victim blaming shifts the responsibility away from the perpetrator and onto the victim's shoulders. To stop the myth that some sexual assault could be prevented by the victim alone,
A common habit about tough issues is to not talk about it. We have all heard the saying, silence in violence. When it comes to rape this applies just as much.
Bringing more awareness on rape and sexual violence is needed. The more we know about sexual violence the better the support for rape survivors. Raising more awareness also means that sexual abuse and rape will not be tolerated, and that stigma such as this are broken down.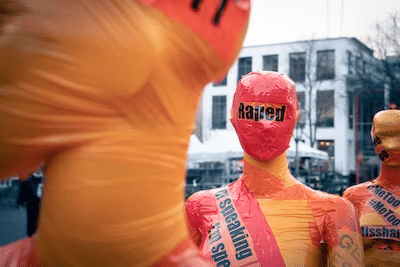 Sexual violence against women and girls is unfortunately widespread in Sierra Leone. In 2018, there were 3,137 cases of sexual violence, 3,695 in 2019, according to the Rainbow initiative. In response to this, In February 2019, a State of Public Emergency over rape and sexual violence was declared by President Bo. The Parliament revoked the measure On June 19 th 2019
Sierra Leone high levels of SGBV is due to a variety of reasons including a history of protracted armed conflict, patriarchal society, and institutionalised gender inequalities. High levels of illiteracy and poverty amongst Sierra Leonean women also often prevents them from knowing many of their rights and lead to their marginalisation. Women not having much access to national decision making further contribute and limits their ability to make change and redress these gender inequalities.
Sierra Leone is ranked 184th in the Human Development Index and 179th in the Gender Inequality Index showing the challenges faced by the country. Rainbow is amongst the NGOs and people trying to improve the legal protection of women and girls, and advocate against the continuous serious violations of their rights in Sierra Leone.
Violence amongst women is not only not talked about a lot but normalised in many different cultures. If a woman speaks out, she is not always guaranteed support from her family, her community, and her state, and in many cases doesn't even know where to get support from.
Many women are having to stay silent, by fear of judgment or in some instances reject from their community.
This exhibition was powerful not only because it brought a la lumiere du jour a stigma often attached to rape survivors but also because it is calling us, as a society, to pay more attention to rape survivors and how this kind of stigma can be harmful to them.
Women are often judge from their appearance, let's be honest, most of the time. Whether we are covering ourselves too much or not enough. And in the case of sexual violence if we dared to try to just exist
If what we were wearing is considered by this patriarchal male dominated and male centred and see through the male gaze to be too inappropriate, then the blame is moved from the perpetrators to the victims, like it become our responsibilities, the responsibility of the victim.
She should have not worn this. Her legs were showing up too much. And so, one
The blame needs
Whether the victims were wearing wh
The term rape culture is used to describe a society where sexual violence and abuse is normalised and where girls and women are seen as less than boys and men