Reading Time:
2
minutes
Are you fun-loving and looking for an action-packed jolly-good afternoon weekend with your friends and family?
If your answer is in the affirmative to the question above, then you are in it to win it, and you qualify to join the community entertainment imbibers for a marathon of games for the day at the Victoria Embankment Memorial Garden.
The Victoria Embankment Memorial Garden is hosting a games' day for Nottingham communities to enjoy the city garden and connect with each other.
The event will be full of fun, a memory making rollercoaster and above all else the day is destined to bring the communities together.
To be held Saturday May 13, 2023, from 11:00am to 3:00pm, the gardens will be transformed into a fun space for people of all ages.
There will be a wide range of activities to choose from, so there is something for everyone.
Get involved with a game of giant connect 4, play against your friends in hopscotch or show off your skills with hula hooping and skittles.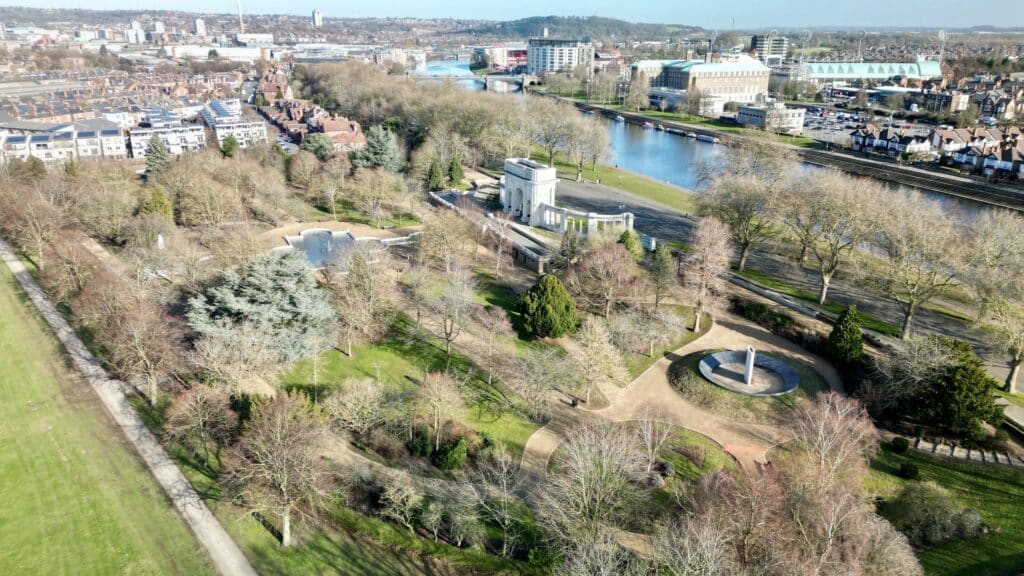 There will also be giant dominoes and quiots for the people wanting more relaxed paced games. And don't miss out on the giant jenga tower!
The genesis of the gardens
A public garden donated by Sir Jesse Boot and laid out by Mr J Parker, the Superintendent of the Nottingham Public Parks Committee; the site was completed in 1927 and remains a public garden.
The Memorial Gardens are three hectares in size and are located two kilometres south of Nottingham city centre and 450 metres south-west of Trent Bridge.
The Gardens are enclosed and gated.
The east boundary is against the Victoria Embankment carriage drive and is marked by a wrought-iron fence on a concrete plinth.
The fence continues to form the boundary around the southern tip, including the bandstand area. The west margin is set against recreation grounds that formed the remainder of Jesse Boot's gift of land and is marked by a hedge and railings.
The perimeter of the Gardens in the north is marked by the boundary with the King's School, and a public footpath that leads to Fraser Road.
The boundary is formed by a hedge and railings.
The Gardens are sunken in the centre where they sit below the Terrace and rise to the north and south to reach the level of the Embankment.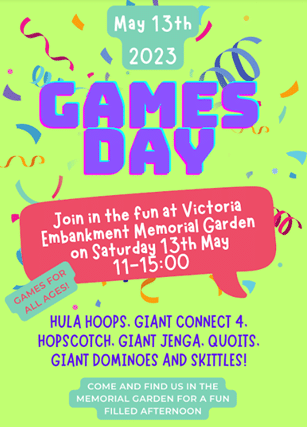 Make sure to take in the peacefulness of your surroundings. Take a stroll around the gardens and enjoy the stunning landscape and greenery of the gardens, whilst you spend the day with your loved ones.
This event will be a great opportunity to make memories with your friends, spend quality time with your family and meet the people from your community.
Everyone is wecome, grandparents, family, friends and children!
So come and join the community for the games day afternoon at the gardens on Saturday 13 May.