Reading Time:
2
minutes
The old saying that says that an idle mind is a devil's workshop may sound as an overused cliché but it remains as true as it was said then as it is today.
Unoccupied minds can be a fertile ground for doing all things, unlawful and immoral, and it is against this background that a Nottingham based non-profit making charitable organisation, Mojatu, an organisation that supports the community, organised a unique experience for refugees and asylum seekers to tackle loneliness.
The activity involved planting trees at Farmeco, a farm located on the outskirts of the city.
The aim was to not only bring the refugees together but also promote environmental sustainability and support the farm.
The activity required teamwork and cooperation as participants worked together to dig holes, plant trees, remove dead ones and support the newly planted ones.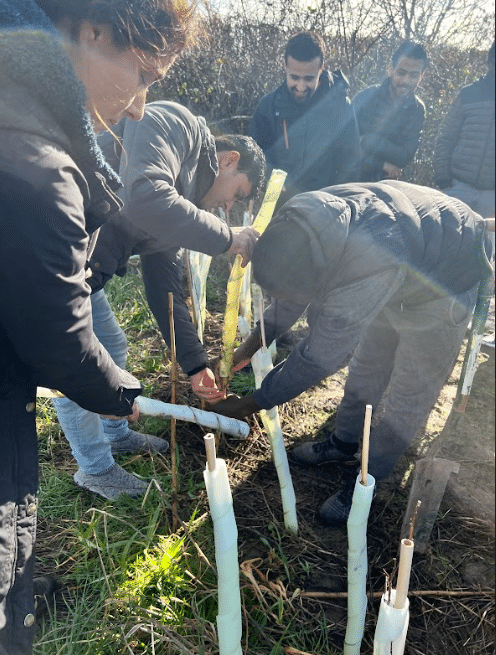 Despite the language barrier everyone communicated and worked together effectively to have a positive experience.
This provided a sense of accomplishment and purpose, boosting their self esteem and confidence.
The event was important to provide social interaction and tackle loneliness.
Many refugees experience isolation and loneliness, especially when they are far away from their home country and loved ones.
This activity allowed them to connect with others and work together for a shared goal.
The shared experience of planting trees creates a bond between the participants, promoting social cohesion and wellbeing.
The tree planting experience at Farmeco was a heartwarming experience that bought refugees and Mojatu together to build a community and support wellbeing.
To gain an understanding of the attendee's perspective, we interviewed Ann, who participated in the experience and shared her thoughts with us.
" I had a refreshing experience at the farm.
I think the people who run the farm are amazing. They have a lot of passion and dedication for what they do and it shows in their work. They are also very friendly and welcoming, which made my visit even more enjoyable.
It is always encouraging to see people who are dedicated to making a positive difference in the world."
"It is always encouraging to see people who are dedicated to making a positive difference in the world."

Ann
Attendee at the Mojatu tree planting experience