Reading Time:
5
minutes
The Kenyan Medical Research Institute (KEMRI) and Japan's NEC and Nagasaki University have created a digital biometric vaccination management system to monitor newborn children in the east African nation.
The system is being authenticated through KEMRI, where a clinical trial was set in motion on September 2022 in Kwale at Kinango Sub-County Hospital.
According to reports the preliminary results are encouraging.
NEC and KEMRI developed the digital system while NEC is a leader in incorporating network technologies and IT.
The system aims to seamlessly and effectively manage vaccination history and planning using voice recognition for caregivers and fingerprint identification for infants.
"We realised that there was no means of tracking children, especially about their vaccination history and system." Dr Nzou Muuo, KEMRI Scientist, stated.
This is the first time that technology, through biometric identification, is being used in a healthcare facility to identify infants during vaccination, including after delivery.
By November 2022, more than 300 newborns and caregivers had been registered, and healthcare providers had captured the vaccination histories of over 150 newborns.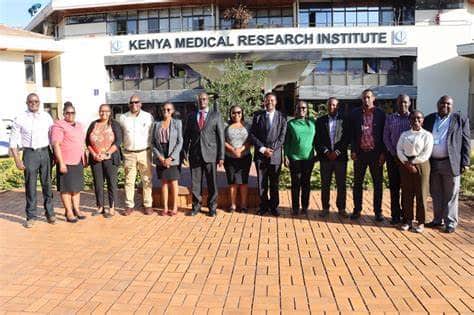 The new technology uses voice recognition for caregivers and fingerprint identification for infants to confirm their identity.
The biometric system also manages vaccination schedules and histories, promoting suitable vaccinations for infants and children in their initial 24 months of life.
"Vaccination is a critical aspect of safeguarding the health and well-being of children. Vaccines protect children from severe and possibly life-threatening ailments such as polio, measles, whooping cough, etc.
"Vaccines work by invigorating the body's immune system to develop an immune response against particular pathogens, letting the body fight off infections," Dr Muuo stated.
Soon, the service will be rolled out in multiple hospitals, with a full-scale introduction expected by the end of 2023.
The new technology combines fingerprint identification for children and voice recognition for caregivers to confirm not only their identity, but also to reliably manage vaccination histories and schedules, thereby promoting the implementation of appropriate vaccinations for newborns and children during the first 24 months of life.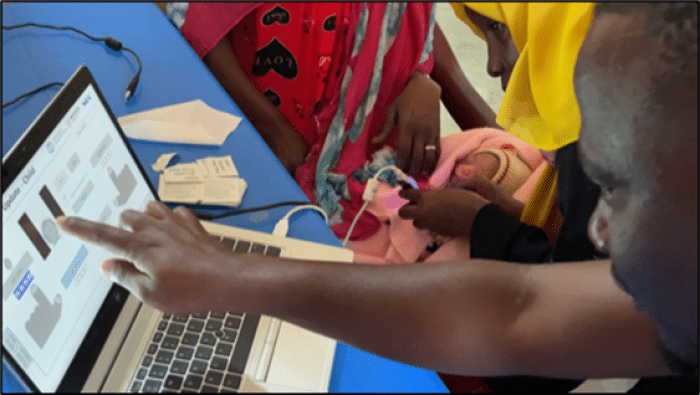 Going forward, demonstration tests that network among multiple hospitals will begin, aiming for full-scale introduction throughout Kenya by the end of 2023, and more international deployment in the future.
"We are excited that KEMRI together with its partners, is spearheading this landmark study that identifies newborns using a biometric and a vaccination management system that is not only in real time, but is also expected to support policy and action towards the attainment of better health outcomes and Universal Health Coverage
"I am happy to announce that this tool will be validated by KEMRI researchers in partnership with Kinango Sub-County Hospital in Kwale, NEC Corporation and Nagasaki University," said Prof. Sam Kariuki, Acting Director General, Kenya Medical Research Institute (KEMRI)
"I expect that this vaccination management system, including newborn fingerprint biometric technology, will expand the coverage of vaccinations for children under 24 months old through accurate identification methods for mothers and children in Kenya.
"I also express great expectations for this research to act as a guideline for precise vaccination management featuring newborn and caregiver identification to become an important contributor to Universal Health Coverage," said Prof. Miriam Khamadi Were, Laureate, 1st Hideyo Noguchi Africa Prize
The system utilizes voice recognition to identify caregivers, as well as fingerprint patterns to ensure that newborns are appropriately matched with the identified caregivers.
Since voice recognition can be performed almost instantaneously, this system can minimize the burden placed on caregivers. Medical institutions can also introduce voice recognition with little to no change to existing procedures.
Rather than using conventional fingerprint authentication methods to identify newborns, researchers developed a new method with which fingerprint pattern information is extracted from fingerprint images and a newborn child can be identified by combining fingerprint pattern data from multiple fingers.
What Challenges Face Global Immunisation Programmes?
There are many challenges related to vaccinations all over the world. Children around the world are still losing their lives while very young. In 2020, about 5 million died before their fifth birthday – the effects of COVID-19 not being considered.
Moreover, 2.4 million children or half of this number, died within 28 days of birth due to preventable causes.
In the meantime, some parts of the world cannot embrace digital technology because of delays in developing telecommunications infrastructure and electricity.
Therefore, crucial information such as the newborn's name, date of birth, hospital or place where the birth occurred, and the type of health services received is recorded by hand.
In these places, healthcare providers cannot verify the medical services required for the children and caregivers visiting their hospitals.
This is among the issues deterring efforts to ensure that infants and children get vaccinations.
Whereas the surveillance required for an effective and safe immunisation programme drains resources set aside for immunisation, the data is crucial for vaccine coverage, efficacy, and safety studies.
Surveillance needs correct record keeping concerning who receives what vaccines and when and who acquires which disease.
Surveillance programmes are essential in spotting outbreaks to safeguard populations in high-risk areas. Developing reliable programmes and funding them is a significant challenge.
Record keeping is crucial as major studies have identified significant erroneous or missing data rates in the recording of vaccine brand, type, and lot number in vaccine recipients' medical records.
Besides resources such as this biometric vaccine management system, healthcare providers need incentives and training to guarantee complete and accurate records.
Biometric Vaccination Management System
The trial phase is being done per the procedure below:
Register the newborn's fingerprints and the caregiver's voice about two hours after birth. Four fingers are used, including the right index finger, left index finger, right thumb, and left thumb.
Healthcare staff urge the caregiver to bring the child for vaccination on the scheduled date.
Voice recognition identifies caregivers upon stating their names when they visit the hospital, while the children are identified using database information.
Fingerprints from four fingers are scanned with a special scanner. Verifying the child's identity is done by harmonising data from the previous visit with the pattern obtained from the fingerprints.
Issue the stipulated vaccinations and capture the vaccination history in the biometric system.
If the biometric vaccination management system succeeds, it will be a game changer in the administration of vaccines in children. Healthcare providers can monitor a child's vaccination history even when they move away from their place of birth. It will be difficult to miss a vaccination or get one twice.
"Vaccination is a critical aspect of safeguarding the health and well-being of children."

Dr Nzou Muuo
KEMRI Scientist