Reading Time:
3
minutes
We talk to the content creator bringing Black mental health to the fore…
Studies show that approximately 23% of Black British people will experience a common mental health problem in any given week, compared to 17% of their white counterparts. While this gap may at first seem small, it's big enough to suggest that, in spite of many commendable UK-wide campaigns, one size doesn't fit all when it comes to discussions around our emotional wellbeing.
For Nathan Addai, authentic representation is key when talking about mental health – something he found to be largely lacking within his own industry while studying to become an animator. "I was in the final year of my undergraduate degree, and was already thinking about ways I could take animation and use it to address relevant societal issues," he tells us. "I found that, when it came to Black British experiences, there was pretty much no history when it came to animation, and one of the issues I was researching was the stigma around mental health."
Nathan explains that expectations put upon Black people – be them familial or societal – can have an adverse effect on mental health, which is only furthered by a lack of education on the topic among underrepresented communities. "I wanted to highlight different factors of Black mental health like masculinity, male/female dynamics, institutional racism and poverty," he said.
"I'm of Ghanaian descent, and a typical trope in West African families is this idea that you have to work twice as hard as your white counterparts, and this hustle culture of not really having the luxury to take care of yourself because you're just trying to make ends meet. On top of that, you've also got spiritual beliefs that can make it hard to have those transparent conversations with older generations."
As he continued to conduct research around issues such as these, what started as a coursework project gradually evolved into an entire creative brand aimed at healing Black minds, named Mental Roots. Since Nathan pitched the idea for the initial animated short film to the BBC, it has been broadcast on national television and, more recently, showcased on the big screen as part of the BFI's Future Film Festival in London. But there's one place Nathan is the most proud to have his work shown: in the classroom.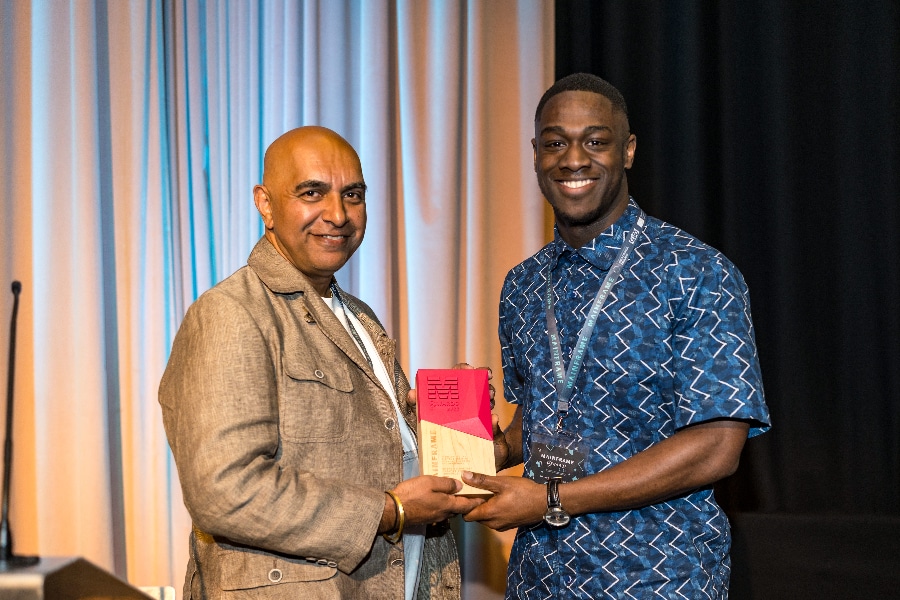 "Coming from a working-class family, you wouldn't hear much about the different jobs that are available within the animation industry, and how you can use animation to address very real issues," he says. "In some of the sessions I did in schools, I got the young people to think about transferable skills, and it was amazing to see in the written feedback that some students felt that they could finally have a future in doing creative things." The film has even been shown to students in the US, demonstrating that despite being a distinctly British production, its messages have worldwide relevance.
As a Christian, a big motivator for Nathan is his faith, and the idea that we've all been put here for a reason. "This goal of mental health and empowering underrepresented communities is bigger than me," he says. "It's not about how nice I can make my animations look, even though that's an enjoyable aspect of it – it's about the lives that I can touch through what I do."
In addition, Nathan has found reconnecting with his own roots to be a massively beneficial experience, as last year, he visited Ghana for the first time in seventeen years. "Growing up as an ethnic minority, you're constantly trying to figure out who you are, so going back to your country of origin can help to ground you mentally" he says. "It goes to show that your immediate background doesn't have to define you, and when you get in touch with your roots, that can be the mental and emotional healing that you need."
The past two years have been full of growth for Nathan, and he's committed to continuing to grow the Mental Roots brand over the course of 2023, one step at a time. In particular, he's keen to keep working with his community on fresh projects, and is on the lookout for new collaborators. "There's a lot going on and I'm still trying to figure a few things out, but what I want to do this year is more workshops," he says.
"I'll hopefully find some people that can help with the brand, as well. Even those within the Mojatu audience – if any of you are maybe reading this interview and think this brand is in line with your values and you want to add value in a certain way, then feel free to email me at mentalrootspod@gmail.com."