Reading Time:
4
minutes
American singer-songwriter Raphael Tate tells us how music has shaped him, and what it was like to portray James Brown on prime-time television…
Born in Maryland, USA and currently living in Uttoxeter, England, Raphael Tate's life has been one punctuated by giant leaps. When I call him via Zoom, the vocalist answers from neither location, and disables his virtual backdrop to reveal a pristine beach in Cyprus, where he's come to unwind after a gig. "Whenever I need to relax, I just park up here," he tells me. "It's just so beautiful and so inspiring."
In spite of his numerous relocations, an unwavering constant in Raphael's life has been his passion for music. Long before his record deals, live gigs and appearance on ITV's Starstruck, the seeds of his career were sown in a music-loving Christian household in the Mid-Atlantic. "We were just engulfed by music – it was our everything," he says. "If I got into a fight with my siblings, my mom and dad would bring us together to pray and then we'd sing, beating pots and pans, and stomping our feet."
Raphael's childhood was soundtracked by gospel, funk, R&B and soul, and chief among his musical icons was David Ruffin of The Temptations. "Ruffin had the full range of his voice from the top all the way down to the bottom," he explains. "He could sing like a bird but also like a distorted speaker – either way, it'd sound so sweet."
However, cracks began to form in Raphael's idyllic upbringing when his parents split. The heartbroken teen started to get into fights with his peers, until the school band director provided him with a new outlet for his anger. "He pulled me to the side and said that instead of beating on people, we should beat on drums," Raphael recalls. "He mentored me through music and saved my life from going down a path of destruction."
Raphael played in the marching band for three years and was offered a tuba scholarship before pivoting to pursue his aspiration of becoming a singer – but it would be some time before his career really took off. After getting married and having a son, Raphael found less time to dedicate to music, and his dreams went on hold. "It's kind of like the story of Neo in The Matrix," he says. "He's sitting there every day in his job like, 'This can't be all there is'."
This period in Raphael's life also coincided with a growing discontentment with living in the United States, and the subsequent breakdown of his marriage. "My dad's side is Native American, so I wanted to go somewhere else in the world to escape the injustices of America and how they treat our people," he explains. "These cultural differences came between me and my wife, and to this day I don't have a relationship with my son."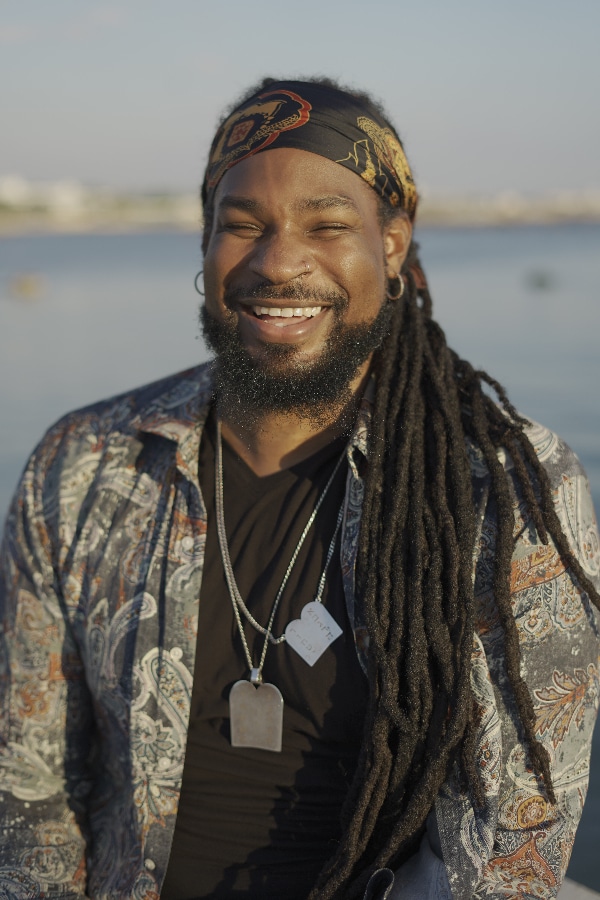 Raphael moved to Egypt for a fresh start as a music teacher and singer-songwriter. "The pain, the sorrow, the heartache – all these things started to shape me," he says. "I believe that I started to get really good, really fast." He was later invited to do live shows in Cyprus, and after performing an original song on a cruise line, was asked by an agent to record a cover of Taylor Dane's With Every Beat of My Heart, which charted in both the US and UK in 2017.
In 2020, Raphael travelled to the UK for a concert and ended up staying much longer than originally planned when the Covid-19 pandemic affected international travel. "My gig was shut down and they weren't letting people back into Cyprus," he says. "I was stuck." But that didn't stop Raphael from sharing his music with others – he started performing from his back garden where he was staying in Uttoxeter, and went viral online for bringing joy to his neighbours during the lonely lockdown period.
Once the world started to open back up, Raphael's music caught the attention of ITV, who asked if he would audition to impersonate Marvin Gaye on their new talent show, Starstruck. He was unsuccessful, but was given the opportunity to audition again as James Brown, and ultimately performed I Got You (I Feel Good) on the show's second season. "We had to tear James Brown's voice apart," he tells me of the intense vocal training. "But after many workshops, I really felt I was able to master that song."
Perhaps the biggest challenge for Raphael, however, was to look like James Brown. While his dreadlocks could be tucked away beneath a cowboy hat, the producers told him that his beard had to go. "That was one of the major sacrifices that I had to make, because I haven't seen my face since I was 16 years old," he laughs. "I looked in the mirror like, 'Oh, who is that?'" Millions of viewers tuned in, and although he didn't get through to the next round, Raphael received high praise from the judges, especially Adam Lambert.
One of Raphael's primary goals going forward is to pay tribute to his family through music. He has an album on the way dedicated to his mother, who passed away in 2020, featuring eight songs and contributions from two of his brothers. The singer also has a new baby daughter to take care of, and hopes to raise his profile enough worldwide that his son will one day recognise him and reach out.
"I want to continue to tour the world, to bring cheer and love with my music and help people get through heartache and pain," Raphael says, looking out at the sea. "I believe that God gave me something special, and I just want to share it."