Reading Time:
4
minutes
With millions lacking decent access to water, growing numbers are using cheap innovations like fog harvesting to take it straight from the air.
Each morning, Beatrice Kananu, 32, rises with the spirit of a hunter-gatherer ready to claim the day. She gathers up her tools – in her case, disposed polythene sheets that she has gathered from nearby garbage sites and cleaned in preparation – and leaves her home, in the village of Mutuati on the outskirts of the Nyambene Hills in Central Kenya.
Before long, she reaches the woods from which she will harvest a crucial resource: water. She wraps the polythene around the trunks of around five trees, tweaks the sheets with a practised precision, and places containers beneath them. The process can take a couple of hours, but by the time she returns later in the day, the vessels may contain 100 litres of water.
"I feel like I am living in those days of hunting and gathering," says Kananu, a mother of three. "At the end of the day I manage to have water for cooking, washing and drinking."
Kananu has been getting water in this way since a relative from a neighbouring village taught her to do it two years ago. The method works by harnessing – and harvesting through condensation – the moisture contained in fog which, especially in the spring and autumn, floats densely amidst the hills of central Kenya. In these seasons, Kananu can gather enough water for her family's daily use and for their chicken and two cows.
Fog harvesting has become an increasingly popular innovation, often through word of mouth, in areas where climate change has contributed to water scarcity and where public provision is weak. The method has emerged in different ways across the world, from South Africa to Morocco, and from Peru to India.
In Kenya, it has taken a variety of forms. In central regions, tapping fog through trees is most common. In the drier south-east, some communities place polythene sheets on the ground overnight and harvest atmospheric dew in the mornings. In some areas around the capital Nairobi, Maasai herders use a specially designed polythene mesh to trap moisture that is used to quench the thirst of their livestock during prolonged dry spells.
"It is a simple innovation where atmospheric water vapour is turned into liquid droplets when it comes into contact with the polyethylene mesh's cold surface," says Bancy Mati, a researcher at the Jomo Kenyatta University and the innovator behind the fog catcher. "This water is good for domestic use and also for growing crops."
"Water is becoming a luxury"
Water scarcity is a growing concern in Kenya, where only 59% of the population has access to safe drinking water. Climate change has exacerbated this problem, with droughts becoming more prolonged and severe, but many also blame government policies.
Critics say that the privatisation of water supplies has worsened access for many Kenyans. Others blame poor governance and corruption, alleging that management positions in the relevant government agencies are awarded based on political loyalties rather than competence.
"Corruption in the water sector is very significant and this is why there is mismanagement and unequal access of services among Kenyans," says Malesi Shivanji, the chief executive of the Kenya Water and Sanitation Civil Society Network. "Water is becoming a luxury to the poor."
According to a report conducted by Shivanji's organisation, very little revenue is invested in service delivery and most goes to administrative overheads.
Kenya's Ministry of Water, Sanitation and Irrigation acknowledges the challenges facing the country but says it is trying to solve them by expanding water infrastructure including by investing in 100 mega dams and 1,000 small-scale dams by 2026.
"The problems we are having in the water sector have been inherited from a corrupt system that has refused to go away," says Andrew Kinyua, an official at the ministry. "But working with partners, we are trying to see how to make the sector functional again."
This ambition is only partly reassuring to experts like William Ojwang', programme manager at WWF-Kenya. He warns that many of the government's infrastructural ambitions end up as inefficient and overly costly "white elephant" projects. Rather than exclusively focusing on building systems that remove water from its natural sources, he suggests efforts to restore catchment areas like rivers, lakes, and wetlands through tree-planting and reducing the use of agrochemicals.
"Expanding water infrastructure to serve people living in towns and cities is a good thing, but we must also remember poor Kenyans who are suffering because of getting water from polluted sources," he says.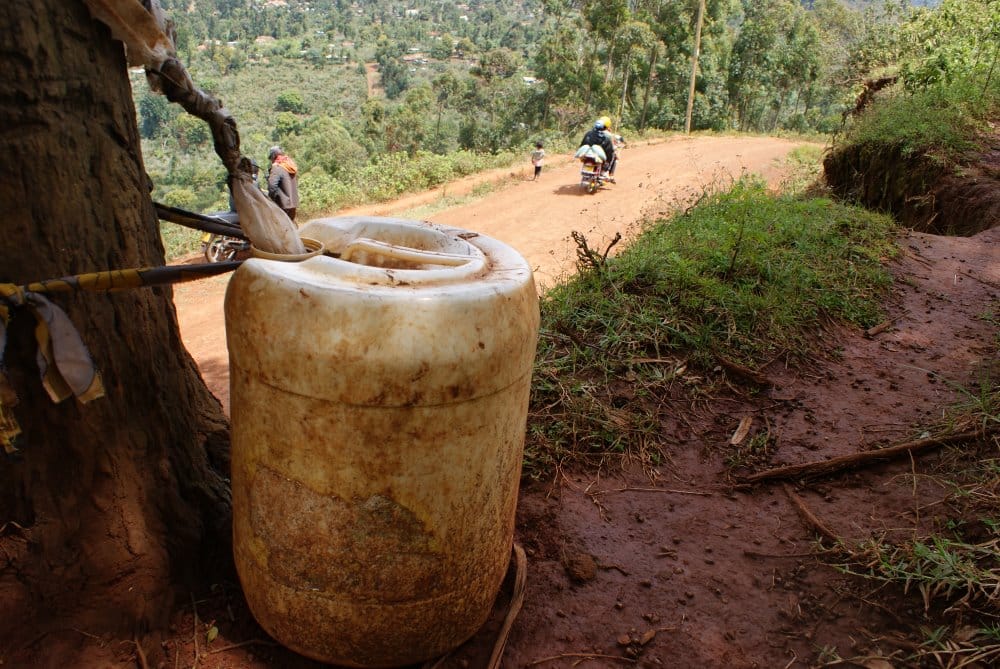 It is in this difficult context that straightforward, low-cost, local innovations like fog-harvesting have become important for many communities.
However, it too comes with its own risks. Scientists warn that rising air pollution can contaminate atmospheric water, which can be harmful to animals and plants if not treated. Although Kenya's average air quality is reasonable by global standards, it is estimated that 9 out of 10 people are exposed to air pollution beyond the global health standards set by the World Health Organisation (WHO). Soluble gases in the air can mean that the fog harvested is acidic and contains potentially harmful substances.
"The problem of acidic moisture in Kenya should be something we should be worried about because we have seen the damage it is causing to humans and the environment in places like Europe," says Paul Njogu, a Nairobi-based researcher on air pollution.
These risks require further research, but in the meantime, people like Kananu feel they have no choice but to use methods like fog harvesting. They feel like they have been long forgotten by both the government and aid agencies when it comes to access to clean water and sanitation, and climate change is only making the issue more severe.
"I cannot sit around and wait for something to happen," says Kananu. "Instead, I will use my knowledge and available resources to get water."