Reading Time:
2
minutes
Holidaymakers on the Greek island of Rhodes are facing a harrowing ordeal as wildfires continue to spread uncontrollably, prompting evacuations and rescue operations. Thousands of Britons are among those affected, with reports of people being woken by air raid sirens and forced to flee to the sea to escape the inferno. The crisis has extended to the island of Corfu, adding to concerns for tourists in the region.
Rhodes Deputy Mayor Konstantinos Taraslias expressed concern over the escalating situation, emphasizing that the fires have been raging for seven days and are still not under control. The lack of accurate information on the location of the wildfires has added to the stress for both tourists and locals.
UK Prime Minister Rishi Sunak urged affected holidaymakers to stay in touch with their tour operators, with repatriation flights already underway. Up to 10,000 Britons are estimated to be on Rhodes, and efforts to bring them back to the UK are ongoing. The Foreign Office advises individuals to contact their holiday companies for guidance rather than issuing an overall travel warning for the region.
Families woke to air raid sirens, rushing to the sea for safety as fires engulfed forests and hills near their hotels. Stranded tourists shared harrowing stories of fleeing on foot, leaving behind belongings, and sleeping on beaches and hotel floors. Rescue efforts faced delays and confusion, leaving many feeling abandoned and desperate.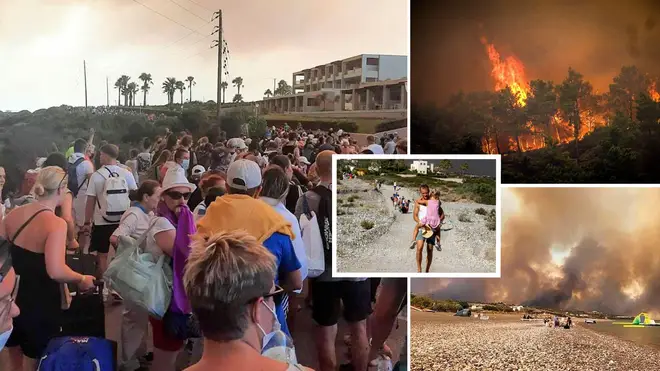 Some courageous holidaymakers, like Jonathan Lewis, took it upon themselves to help others escape, risking their own safety to ferry people to secure locations. Meanwhile, authorities worked to repatriate thousands of Britons, who were stranded on the beleaguered islands.
With concerns for those stranded, various airlines, including EasyJet and Jet2, have organized rescue flights. However, the severity of the fires, unpredictable winds, and soaring temperatures make firefighting efforts challenging.
Authorities have evacuated large sections of Corfu, adding to the complexity of the ongoing crisis. As the wildfires continue to spread, the Greek government is closely monitoring the situation and providing support to affected individuals.
The situation remains critical, and individuals planning to travel to the region are urged to stay updated with their tour operators and follow official advice on safety measures.