Reading Time:
3
minutes
A sapling from Auschwitz has been planted at the University of Derby as a tribute to victims of the Holocaust.
The sapling was brought back from the former concentration camp in Poland as a horse chestnut by visitors who saw it as a symbol of hope, and now resides on the grounds of the university's Kedleston Road campus.
"As we made our way out of the camp, we were stopped in our tracks by the majesty of the horse chestnut trees – and there at our feet was this abundance of rich, brown conkers," said Kate McRae, one of the visitors who brought back the chestnut in October 2016. "They were resplendent seeds of the future, and I picked up three and treasured them."
As a result of Kate's care and attention, one of the three conkers has since grown into a healthy sapling. It is marked by a plaque which describes the young tree as a 'living reminder of the Holocaust' and 'a symbol of remembrance and hope'.
The sapling's arrival on university soil forms part of a series of events commemorating Holocaust Memorial Day in Derby, and also coincides with the Hebrew month of Shevat, during which trees are planted as an annual tradition. It was hosted by the Multi-Faith Centre, which aims to facilitate dialogue between people from the city's several different religious communities.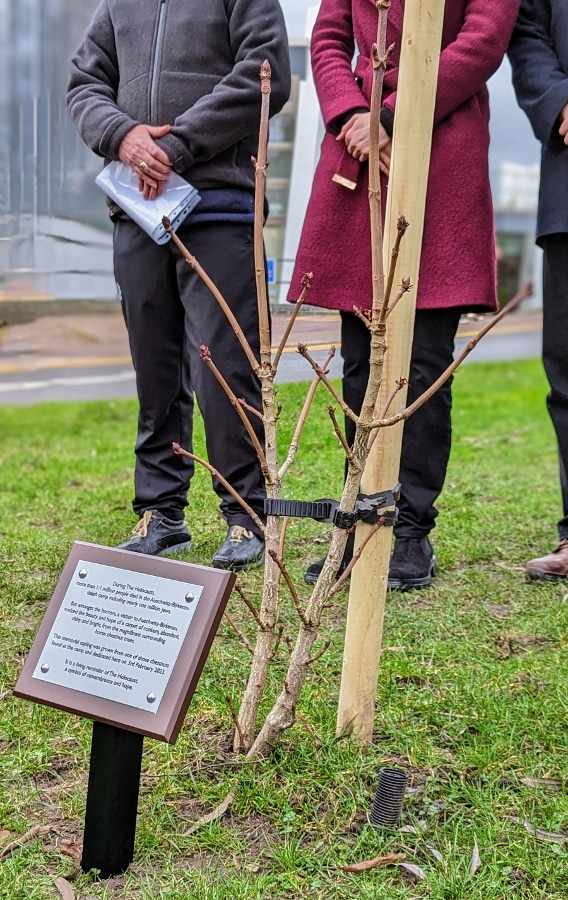 Dr Larissa Allwork, the university's Associate Professor in History and Impact, said: "It is my great honour to open this dedication of the Auschwitz memorial sapling. I hope that the planting of the sapling will remind us of the Jewish victims of the Nazi-perpetrated Holocaust and the Third Reich's wider victims. Coming from abroad and now rooted in Britain, I also hope that the Auschwitz sapling will be a symbol of hope against antisemitism and racism."
The sapling's inauguration featured speeches and readings from a number of guests. Judy Sherwood, whose grandmother and grandfather died in Auschwitz, read a 14-year-old girl's heartrending recollection of when the Nazis came to power in 1939.
Isaac Pizer shared how the killing of several of his Sephardic Jewish ancestors from Greece has impacted multiple generations of his family, and how he was touched by a visit to Auschwitz in 2014 in which he connected with a German couple he met there named Monica and Volker.
"Simultaneously viewing the camp watchtower through the window, and looking at Volker, I sensed the different relationship we would have had in this
place seventy years ago. I felt white light explode from my head," he said.
"Through his writing and a subsequent meeting, I learned that Volker's father had been a member of the Waffen SS and worked in concentration camps. In a childhood surrounded by Nazi family and teachers, Volker had been deeply inculcated with this ideology. I felt the loneliness and courage of his journey towards spiritual freedom."
Rabbi Gili Zidikyahu, visiting Derby from the Nottingham Liberal Synagogue, then recited a prayer-poem in both Hebrew and English, and vocalist Phil Tomlinson closed the event with a stirring performance of a Yiddish song dedicated to those who lost their lives.
Over 1.1 million people died in Auschwitz during the Holocaust, nearly a million of which were Jewish. While Auschwitz was the deadliest of the camps, this huge number tragically only makes up a fraction of the six million Jewish people who were killed under Adolf Hitler's Third Reich between 1941 and 1945. In addition, Roma people, Soviet prisoners of war, disabled people, Jehovah's Witnesses, gay people and Black people also lost their lives to the abhorrent regime.
Kate hopes that, as passers-by continue to watch the Auschwitz sapling grow year by year, they will remember the tragic events of the past and strive for a better future. "I am tremendously thankful for this opportunity," she said. "It's an opportunity for remembrance, growth, new life and hope."
Find out more about the Multi-Faith Centre at multifaithcentre.org