Reading Time:
4
minutes
African communities across the continent during the 19th centuries used to carry out circumcision in different modes. In East Africa especially Kenya, The Luo among the Nilotes used to remove some front teeth as a way of circumcision but for Bukusu community among the bantus of Western Kenya, male foreskins were shed off though was not mandatory until the dragon fly snake came in.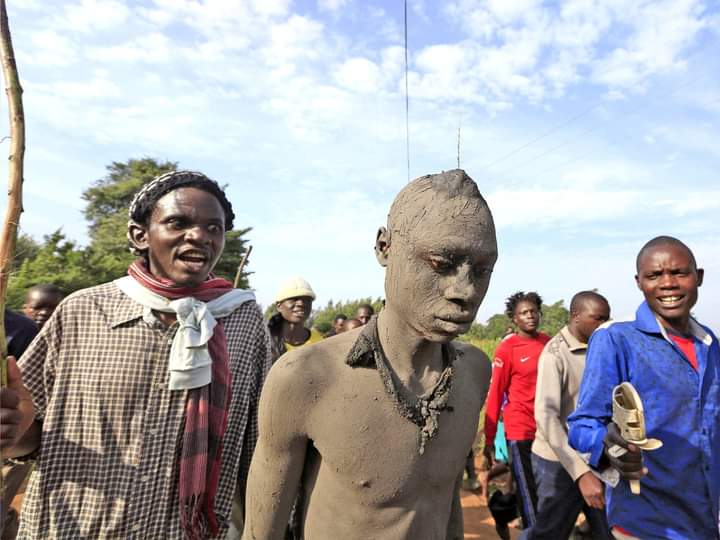 Mango the son of Bwayo from Bakhurarwa clan among Bukusu tribe in Western Kenya, is the reviver of this tradition. However, it can't end without the mention of Barwa Baluku (Sabaoti tribe) and the giant dragon snake (Endemu Yabebe) back at Mwiyala, northward Bwayi Hills (present day Amukura).
But why is Mango being taken as the reviver of the tradition? During the 17th and 18th century, regular migration and inter- communal wars made the tradition unstable and as the case, majority had forgotten their culture. More so, diseases, drought and famine also took part in the concentration of Bukusu culture.
Mango was born in the house of Bwayo the village elder (Omukasa) when Wakhulunya was the tribal leader. One day, the community realized the synonymous disappearance of livestock and children.
Deaths Of Children And Dragon Fly Snake's Hunt
Reports and rumors also came from Barwa Baluku (Sabaot) that, there's a giant snake so vicious and enormous in size that always ate their livestock and children. Mango at the time of reports was a brave young man revered by the youth of his age set. It came one deadly day when Nakhosi the son of Khakula from Bameme clan a respected seer was swallowed by Yabebe the snake while in mumailo (herding). Fear of the monster rested in peoples' hearts.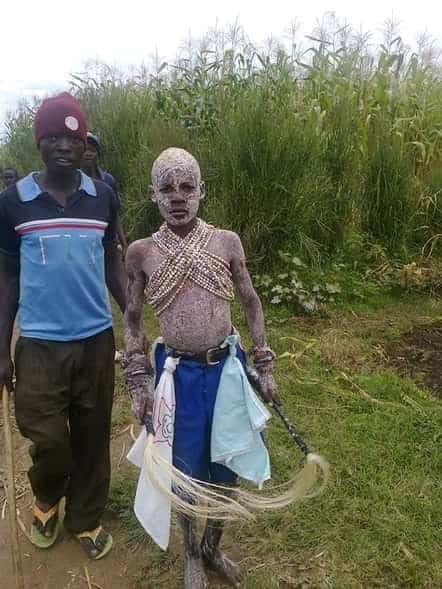 Nakhosi later on commissioned a group of strong brave men from Barwa Baluku to investigate and report to him on the whereabouts of the snake. It was seen that Yabebe resided in a cave in Mwiyala. It usually set off to hunt at unknown time and return at midday and faces its cock- like head outside with scary red eyes at its premises.
An auspicious day then came. Mango gathered his war weapons: embalu (sword), wamachari (small spears), shield and Lisaakha (long spear), sharpened them and added a smooth log of wood. In full regalia, he went to tempt his gods by doing what they never dared to.
At the entrance of Mwiyala the cave, he placed the log adjacently and moved some miles away from the door in total darkness. The stupid, fearce beast came and investigated its domicile myopically and succinctly rested its upper body on the log while facing nature with no oblivion of an enemy.
Mango the hunter, full of guts, stroke near the beast's head and the head flew outside hitting a tree which is rumoured to have dried off within hours. On the other hand, the lower abdomen struggled and wiggled around Mango's body. Luckly, something tickled his mind and using Embalu(sword), he sliced the half body into pieces.
Having finished the deal, he emerged out of the cave, blood all over his body and the few courageous Barwa who saw the fight while on tree tops, jumped down and sang praise songs to allert other Barwa of the brave Mango.
Origin of Sioyayo – The Bukusu Circumcision Ceremony's Anthem
"Ayaa haooo …l told you… Ayaa haaaho … circumcision is painful…" threatened Mango's mother a few days after receiving some rumours of Barwa(Sabaot ) calling Omubichu (professional circumcisor) to circumcise Mango. From her chants, there emerged the song named "Sioyayo" – Bukusu Traditional Circumcision Anthem.
ee-hee-hee
Heee
Hee-hee-hee
Hee
Hee-hee-hee
Hee
Wangwe maalule
Haa-haaa
Omusindewe
Haa-haa
Omusindewe
Haa-haa hooh!
Embalu Yefwe ekhalakhale
Hoooh
Omusindewe
Hoooh-hoooh
Mango we Mwiala wakhuwa embalu
Haa-haaa
Wakhuwa embalu
Haa-haaa
Wakhuwa embalu
Haaaha-hoooh!
Omusinde oteremaka
acha Ebunyolo
Haa-haa
Acha Ebunyolo
Haaa-hoooh!
Embalu elumabubi eli
ematabula
Haaa-haa
Eli ematabula
Haaaaa-hoooh!
Kumwoyo nekalimboro wibele
Hoooooh
Omusindewe
Hoooooh
Omusindewe
Hooooh!
Which loosely eludes; "the Leopard that scratches hard lies waiting to pounce on you. Our age-old circumcision tradition remains with you. It was handed down to us by Mango of Mwiyala. A coward seeks refuge in Luo land. When the knife comes to an end, it hurts most. If you are unprepared better give up"
Mango's Fate And Gift
Mango the brave man as planned, later on was circumcised and as promised and gifted a "queen of valor" from Barwa by the name Namukuru. To date, the tradition is being practised among the Bukusu community as far as Uganda within the Masaba community.
In the contemporary society, some have transited to western culture due to dynamism of environment both social, economic and political. Otherwise everybody has the authority to decide which way to follow when handling the issue of circumcision.
Bukusu Circumcision And Modernity
Due to the presence of diseases like HIV/ AIDs and also tough economy; modernity has made many to transit to western way of circumcision. Using traditional way, a lot of practices are done which requires money. Despite that, sacred places to smear the candidates ready to face the knife have been reduced to farming activities and land settlements.
In the Luo community on the other hand, teeth removal is now an historical story forgotten because they currently carry out foreskin removal which reduces the chances of one getting HIV/AIDs. In other communities, females also faced the traditional knife such as the Pokot, Sabaot and the Samburu all based in Kenya.
Challenges Facing Bukusu Circumcision Ceremony
But the downfall, is because of sexual urge destruction after the chopping off of the tip of clitories and also high rate of bleeding used to cause death. Henceforth, male circumcision is the one being emphasized among these communities in Kenya.
In meritorious perspective, the Bukusu culture which is usually carried out each even year on August, usually act as a tourist attraction center in Bungoma county. People outside Kenya especially from Asia and Europe, come and join the ceremony during the county cultural day bringing income to the county.