Reading Time:
4
minutes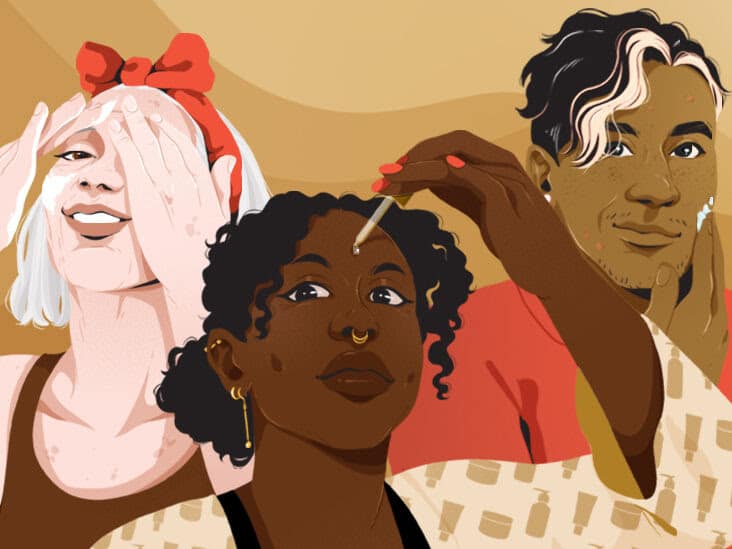 Hi friends,
We're dropping by with exciting news: Healthline's skin care hub is here!
With science-backed info to help you build the best routine for your skin and find the best products to treat acne and other skin conditions, our hub is a comprehensive guide to skin care.
We know there's a lot of information out there. So we're here to cut through the buzzwords and help you feel your best.
Explore guides and resources like:
Plus, get in-depth guidance on how to manage signs of skin aging — without draining your bank account — with our 7-Day Glow Up Challenge. Sign up here
In short, you'll find everything you need to love your skin, inside and out.
Because your skin is as unique as you are. Your skin care routine should be too.
Take care,
Illustration by Brittany England
Healthy skin has no age limit. It comes in all different tones, textures, and types.
Raise your hand if you've been personally victimized by an Instagram filter.
Yeah, same.
While AI-assisted filters have taken body dysmorphia to new heights, the pressure to have "perfect" skin — and the mainstream narrative on what "healthy" skin looks like — is nothing new.
What has changed? The seemingly endless options out there to achieve your skin care goals.
Bakuchiol, sqaulane, niacinamide, ceramides, retinoids, vitamin C, hyaluronic acid, collagen, ferulic acid… I could go on.
Hundreds of "skinfluencers" and celebrities flood social feeds with tips on their favorite routines, products, and beauty secrets. Poreless, glass-like, dewy, blemish-free skin can be yours, too! Just click "add to cart," and your skin care dreams can come true.
I'm not saying I'm immune.
Skin care is one of my favorite forms of self-care. I love to go down the rabbit hole on the latest ingredients, devices, and procedures.
This is especially true after having my daughter, when a combination of postpartum hormonal changes, new parent stress, and lack of sleep effectively killed my pregnancy glow.
But more often than not, when I emerge from those rabbit holes, I feel confused, and honestly, a little bad about myself.
What are all these ingredients, and what do they actually do? Will they work for my skin type? Do I really need all of this stuff? Is this obsession with aesthetics good for my mental health?
If you can relate, Healthline Skin Care is for you.
If you find yourself with more questions than answers when it comes to skin care, you're not alone. Healthline's latest research found that more than 65% of people had no idea what to look for in a product or what certain ingredients actually did.
We're here to help clear up that confusion. We've partnered with dermatologists to cut through the hype around trendy products and beauty buzzwords to help you figure out which products are worth the investment and which aren't.
Plus, is more better? Not always. We're simplifying the conversation with a pared-down routine with just three products.
We've also created a fun interactive guide so you can compare and find the skin care essentials that are right for you.
Understanding your skin type is the foundation of any skin care routine. Our "What's Your Skin Type?" quiz can be a starting point to help you determine what your unique skin needs — and what it doesn't.
Whether you're looking for ways to support your skin as you get older, manage a chronic skin condition, or just want to dive deeper into what skin care ingredients do, we've got you covered with dermatologist-approved tips and advice.
Despite the massive expansion of the skin care market over the last few years, many people feel left behind by the industry.
According to a poll conducted by LeCerre Skincare, out of 2,000 Women of Color surveyed, 63% said they feel ignored by the skin care industry and that there aren't enough effective products for them.
Healthline's own research highlights the need for more diverse representation of information and product offerings specifically for Black consumers. In one survey, more than half (58%) of respondents said that they're interested in learning more about skin care products and treatments made for them.
Finding experts who understand your skin concerns can be equally challenging.
Dermatology is the second-least diverse specialityTrusted Source in medicine. Currently, most dermatologists are concentrated in dense urban areasTrusted Source, leaving large swaths of the population without access to expert care.
We sat down with Dr. Adeline Kikam of @brownskinderm about how she's increasing awareness and access to practitioners and products for folks with darker skin tones — people often left out of the conversation.
What's more, the proliferation of digital tech like filters and face-altering apps has taken unrealistic expectations of what "good skin" looks like to a whole new level.
Like all things in health, there's no one-size-fits-all solution. Healthy skin has no age limit and comes in all different tones, textures, and types.
It can have visible pores, wrinkles, and blemishes. It doesn't look any one way, no matter what those filters or any amount of advertising might have you think.