Reading Time:
5
minutes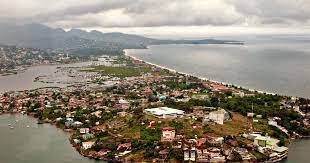 For migrants coming from Africa to Europe, the journey is often dangerous and perilous. From hostility, to violence on the borders once they reach Europe, they might meet many challenges along the way. Often having to cross borders and countries illegally.
Every day, it is thousands of people that undertake perilous journeys to seek asylum and find refuge in countries other than their own. Driven by hunger or extreme poverty, forced to flee violence or persecution, they leave their home behind. To reach their destination, they follow illegal and unsafe routes, sometimes the journey itself can cost them their lives.
But what happens when it is the other way around ? When a person from the West decides to undertake a similar journey the other way around ?
Well, the journey is much easier.
For Margaux, 28, from France, her journey from France to Sierra Leone, Africa, that she decided to do not by plane but by other means, crossing borders by foot, countries by bus, and meeting migrants along the way was much easier.
For Margaux, undertaking the journey backwards really showed her how much privilege she has as a white person.
What motivated you to undertake this journey ?
Well my friend, you. The starting point was you and the motivation to go with my other friend. And also the fact that I like to travel. I really liked my last trip that consisted really in walking et faire du stop, in meeting people. So I thought it would be cool to do something similar
Did you realise in starting this adventure that a lot of people are actually walking the same way but backward.
Before I went on that journey to be honest it wasn't in my mind but yes along the way, as soon as I was in Spain actually, where I had to take a bus instead of
to hitchhiking, I met migrants along the way.
He was from Morocco. He tried his luck in France but it was too expensive for him, he was stranded in a refugee camp in Germany for 2 months, he had been traumatised by this experience, and he was now trying his luck in France.
I met him while going the other way.
Was it easy for you to cross borders ?
Yes, very easy. I just had money to give, not have to worry about anything, except for whether people or not would try to take advantage of me. But I knew it wasn't going to be the end of the world and that I would always find a solution. It was just a question of ego. But people were warning me a lot about crossing borders, telling me I should not do it because it would be dangerous, especially people coming from Africa. but it was just apprehension in the end it went really smoothly. I just had one or two issues like in Guinee. I thought you could just buy a visa at the border like other countries but you can't. And what happened to me is that two men helped me in Senegal. I am a bit ashamed of it but they took me in their truck. I told them that I was crossing with not a lot of money and there was a communication issue and I think they thought that I was trying to cross illegally. So they wanted to help me cross the country so they more or less hid me in their truck but I didn't realise so there were two borders to cross, the Senegal and Guinea. In Senegal they didn't really care, they didn't really search in the truck. I was sitting normally just a bit hidden by the window, but in the Guinea border they really searched in the truck so they saw me. They were very angry but didn't do anything. They just refuse me entrance. They took out handcuffs and threaten me by telling me that next time they would send me to jail.
At this time I felt a lot of resentment because for Europeans, it's just super easy
So you were denied entrance and what did you do ?
Everything in the end was dealt with money, I had in mine a precise date. I tried to get a Ginean Visa But in the end I took the plane from Gambia and I arrived here in Freetown.
As a white person did you meet some hostility on the way ?
Not really. Maybe 2 times. But really everybody is super friendly and helpful. The worst thing that could happen to me again is people trying to take my money but it's not going to change my life. I'm not going to become homeless. I even had people being admiratif in East africa. But even my friends in France, advocate and in the anti racist fight, everyone was blown away by what I was doing.
When I was in Mauritanie, I really had a moment where I was ashamed. What am I doing here, I was seeing people just barely surviving. It was not a game. I think unconsciously I was being a bit naive, taking this for a game for like a little challenge to myself.
I really asked myself why I was there. But I was already gone and I couldn't just turn back at this point. I was also on my way to meet my friends so I continued but with an uncomfortable feeling.
But no one ever attacked me or anything, everyone was always very helpful, I had nobody trying to do anything bad to me. When I was stuck at the border, I stayed at the Senegalese border and everyone was trying to help me, everyone was supporting me and they really treated me like a queen. Literally. I could not have dreamt of a better treatment. But this would never happen in France. We never treat each other like this and especially not foreign people.
The two times there was a bit of hostility, it was at the border when I was reminded of my white privilege. The guy was angry and he had all the right.
The next thing was when I met a guy who was very politicised and didn't like French people, especially after everything that the French did to Africans he said.
We really talked and it was very interesting to learn for me
How did you feel to have undertaken a journey like this that is so challenging for people of colour ?
Like I was saying earlier a lot of shame and guilt. But also it's easy to feel that but I keep on being treated to well. I saw a lot of injustice, was reminded of my privileges a lot and I hope to do something constructive with what I learnt.
In Mauritatine I realised that I was a descendant of colonists who were going back to colonised territory.
Something that really marked me also was when I was in a bus in Morocco and in the bus we had control and 3 black ladies with 2 children were taken out in the desert and I was so worried what could happen to them. It was before I reached Mauritanie. The second thing was that when I was in Africa I thought about a friend of mine from Mali who migrated to France and came a long way. I called him and had to tell him he was a hero.