Reading Time:
4
minutes
By Peter Makossah
A celebrated micro sculptural artist is launching miniature masterpieces as part of his 'Disappearing World' collection and Wollaton Hall's transformation project.
All is set.
Since a tiny sculpture of a Tyrannosaurus rex – small enough to sit in the eye of a needle – went on display in Wollaton Hall.
From the renowned sculptural artist Dr. Willard Wigan MBE, alongside the first real full sized Tyrannosaurus rex skeleton shown in England for more than 100 years, the Nottingham City Museums team have been working hard in collaboration with partners to bring a brand new exhibition to Wollaton Hall to inspire visitors big and small.
The Tyrannosaurus rex is exclusive to Wollaton Hall and this sculpture was made to keep Titus company in a small way.
To mark the first-year anniversary of the opening of Titus: T. rexis King exhibition, visitors will get to see an astounding new addition to this world-exclusive event.
Internationally renowned micro-sculpturist, Dr Willard Wigan MBE, has created and installed a new extraordinary micro-sculpture of a perfectly formed T. rex, measuring just 0.5mm which sits within the eye of a needle, for the coming months.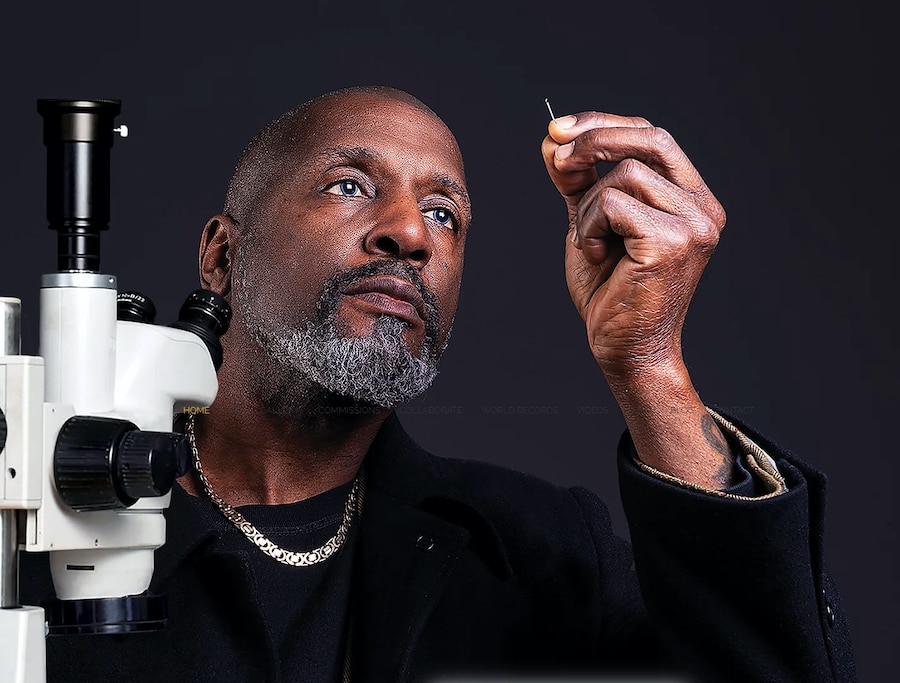 Now the very tiniest micro-depiction, and, Titus, the first real Tyrannosaurus rex to be exhibited in England for over a century, stand side by side. Titus the T. rex demonstrates the immense power and impact of this king of the dinosaurs, while Willard Wigan's creation presents the smallest, but no less powerful.
Launching this spring, a new Willard Wigan exhibition 'Miniature Masterpieces' featuring twenty sculptures, including four new sculptures as part of his 'Disappearing World' collection will be on display as part of a free exhibition in Wollaton Hall.
According to Nottingham City Council, this will be showcased alongside Wollaton Hall's World of Wonder Transformation – and will display sculptured pieces in the eye of a needle, never before seen on display.
All in dedication to a world where nothing does exist, small things can become everything.
'Disappearing World' focuses on biodiversity in danger and the national initiative launches alongside a new natural history gallery at the Hall which highlights the need to study taxidermy to support global conservation.
Miniature Masterpieces featuring 'Disappearing World' and the new gallery 'The Taxidermists' Tale' as part of Wollaton Hall's gallery transformation programme have been grant funded by the National Lottery Heritage Fund and Arts Council England.
This exhibition will be free to visitors, as part of the standard free entry to the Hall's Natural History Galleries, so that it is accessible to all.
Only see it under a microscope
Dr. Willard Wigan MBE said: "It is a real honour to be exhibiting one of my sculptures alongside the breath-taking Titus T. rex exhibition. Wollaton Hall Natural History Museum is renowned for being home to rare specimens from across the globe, including Titus himself, which made it the perfect home for my T. rex sculpture."
Through his work, Willard is sending a message to humanity – just because you cannot see something does not mean that it does not exist. He added by placing his micro-sculpture alongside a real-life T. rex, it allows his message to be elevated.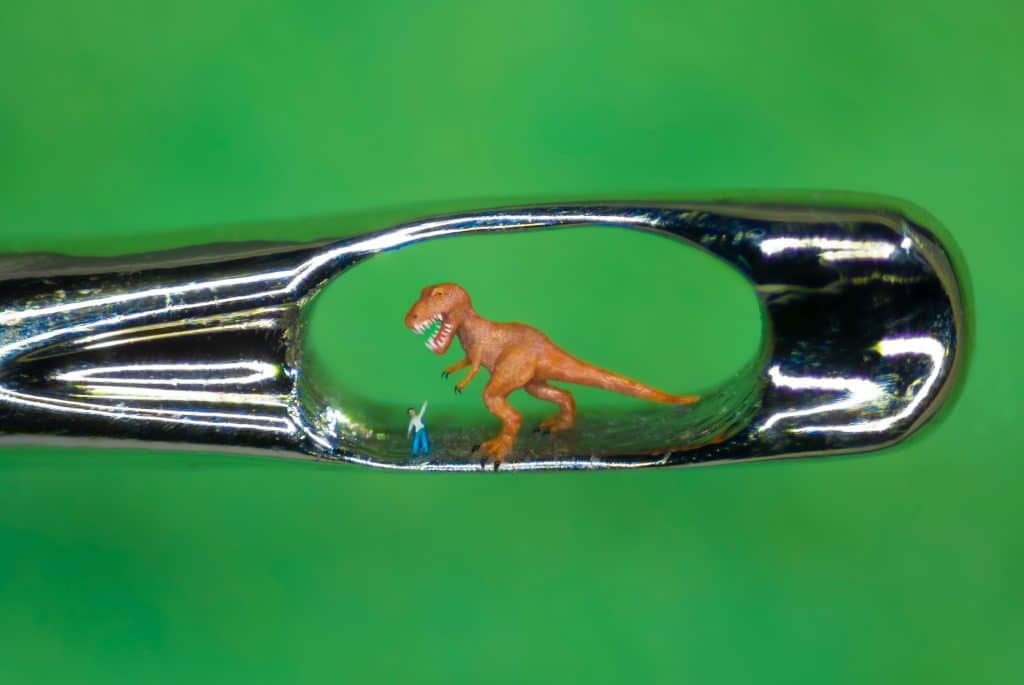 Nottingham City Council's Lord Mayor, Councillor Wendy Smith, said: "I was thrilled to meet Willard Wigan, and unveil the micro-sculpture of a T. rex to make it accessible to visitors. It was wonderful to see the T. rex installation in place for the first time at Wollaton Hall and hope that it will excite and educate visitors of all ages to Nottinghamshire."
Nottingham City Council's Portfolio Holder for Leisure, Culture and Planning, Councillor Pavlos Kotsonis, said: "It's fantastic that our Nottingham City Museums team has worked with Willard Wigan to bring the T. rex sculpture 'in the eye of a needle' to Wollaton Hall.
"To hear about his ideas for the upcoming exhibition in 2023, which we hope will create interest in natural science and culture in young people. We look forward to welcoming visitors to Wollaton Hall, especially children and families that may be inspired by this micro-sculpture."
Titus the T.rex Exhibition opened in July 2021, to international acclaim and over 70,000 visitors have already met Titus and engaged with the bespoke interactive exhibition designed around him.
Rachael Evans, Museums Development Manager at Nottingham City Museums and Galleries at Wollaton Hall, one of the UK's most important Natural History Museums said: "It is an astonishing moment for us. We will have one the largest dinosaurs ever exhibited in the UK on display alongside one of the smallest.
"The T. rex that has been introduced to the exhibition is 0.5mm in size, with miniscule teeth made from glass. Since new information about the T. rex has been researched and made available, Willard has remodelled the sculpture to be as accurate as possible in his depiction. We can't wait to see our visitors' reaction to this new addition."
Tickets for TITUS T. REX IS KING are on sale now, set at £13.00 for an adult, £8.75 for a child (under 16 years), students and concessions, £34.00 for a family ticket (2 adults and 2 children under 16 years) and under 3s and carers have no entry fees to pay. Car parking charges apply.
Wollaton Hall has an international reputation for attracting rare and previously unseen dinosaur exhibits to the UK.
In 2017, it staged the hugely successful Dinosaurs of China exhibition with a selection of fossils and skeletons from the Institute of Vertebrate Palaeontology and Palaeoanthropology in Beijing and the Long Hao Institute of Geology and Palaeontology Inner Mongolia, that had never been seen outside of Asia before.
It will be available April – October 2023, with no pre-booking necessary.
Plan your visit: www.wollatonhall.org.uk/visit
"To hear about his ideas for the upcoming exhibition in 2023, which we hope will create interest in natural science and culture in young people."

Councillor Pavlos Kotsonis
Nottingham City Council's Portfolio Holder for Leisure, Culture and Planning