Reading Time:
3
minutes
The only way to make a tree grow upright is to straighten it when it is small and it is easy to do so.
The same applies to humans and animals, you can only train people and animals better while they are young and it is for this reason the police in Nottingham are teaching school going children how to help protect the communities.
More than 20 primary schools have benefitted from a police initiative offering safety and wellbeing advice.
It is for the same reason that the Nottinghamshire police are training school children, aged 9-11, as Mini Police who are part of Police's cadet scheme.
Nottinghamshire Police are working in more than 20 primary schools across the county, the initiative helps children to learn about safety and wellbeing, and the vital role of the police.
PCSO Lucy Oran said: "The Mini Police programme isn't just about the children learning more about the police and building that relationship, we also want to give them new experiences within the local community.
"It's been really good for the children to visit places on their doorstep like Asda and NET Trams and when the children are out in the community in their Mini Police uniform it always creates a conversation with people we meet.
"As well as delivering lessons on important topics it's really important to be able to do different activities with them which helps to give them an insight into the varying work the police do and open the children to new opportunities."
Bentinck Primary School & Nursery, St Mary's Catholic School, Forest Fields Primary School, Claremont Primary School and Djanolgy Sherwood Academy all have Year 5 students involved in the programme.
The Radford Road police team delivered key messages on topics around knife crime, hate crime, cyber and road safety.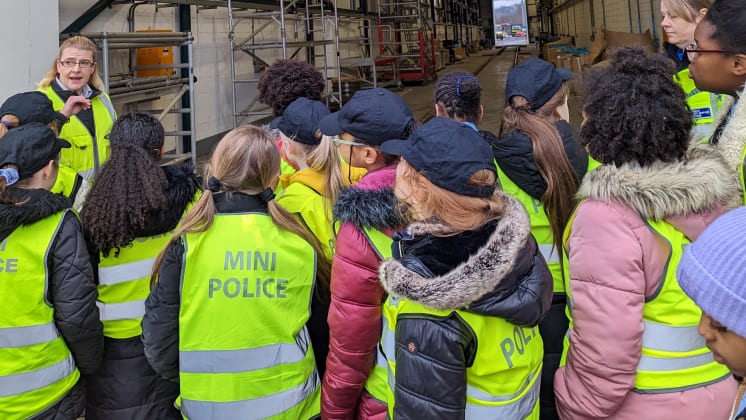 The sessions gave the Mini Police advice and information to help keep themselves safe.
Nottinghamshire Fire & Rescue service provided a lesson on home fire safety.
The Mini Police were also involved in many community projects including a speeding operation and litter picks.
Both St Mary's Catholic School and Bentinck Primary School & Nursery visited Asda in Hyson Green to learn about shop theft, learnt all about road safety and visited NET Tram depot.
Last term, they also visited the Choice and Consequences exhibition at the Galleries of Justice to see the impact of knife crime and learn of the death of Ben Kinsella who was tragically killed 10 years ago.
Next term, more children will be visiting the exhibition with their schools.
"we want to give them new experiences within the local community."

PCSO Lucy Oran
Nottinghamshire Police