Reading Time:
2
minutes
Haringey Council and the Metropolitan Police have come under scrutiny for their alleged misuse of terrorism legislation at a prominent London music festival.
Ahead of the annual Wireless festival, known for its hip-hop and rap performances in Finsbury Park from July 7 to July 9, a temporary traffic order was issued, citing its purpose as "relating to danger or damage connected with terrorism."
The order was also in effect for other Festival Republic events the previous weekend, including Jamie T, Pulp, and The 1975 (June 30 to July 2).
While traffic restrictions are not uncommon during music events in Finsbury Park, this is believed to be one of the first instances where a terrorism-related order has been utilized.
Clive Carter, a former Haringey councillor, expressed his concerns, stating, "I think this is the first time that they've attempted to justify road closures on the basis of terrorism.
There have been significant road closures during past Wireless festivals, but I've never seen terrorism as a justification before. It requires an explanation."
He added, "If there is a genuine threat, the council needs to alert people. And if there isn't, they still need to clarify why they chose this approach. Justifying all the traffic disruption solely on the grounds of terrorism is simply bizarre."
While acknowledging the need for restrictions to manage the influx of "thousands" during the festival, the former councillor questions why terrorism legislation was invoked this year and whether it constitutes an abuse of such an order.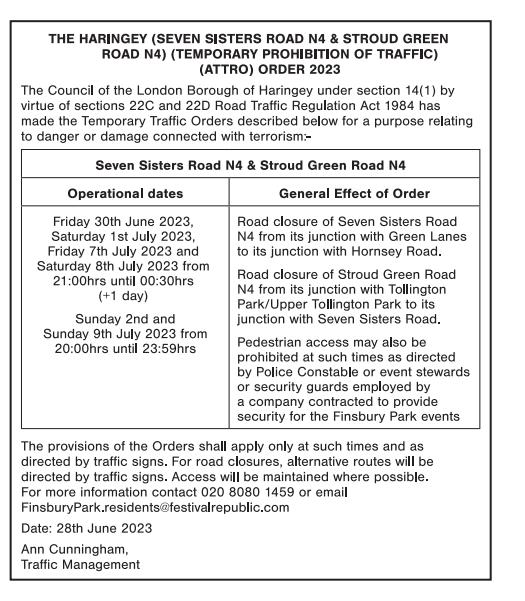 According to the order, Seven Sisters Road will be closed from its junction with Green Lanes to its junction with Hornsey Road – Stroud Green Road will also be shut from its junction with Tollington Park/Upper Tollington Park to its junction with Seven Sisters Road.
The notice states, "Pedestrian access may also be prohibited at such times as directed by police constables, event stewards, or security guards employed by a company contracted to provide security for the Finsbury Park events.
"In response to inquiries, a spokesperson from Haringey Council explained: "The police have formally instructed us to issue this order and enhance security during major events. "This will grant the police greater powers to manage any incidents that may arise."
A representative from the Met Police clarified, "In previous years, a temporary traffic order has been employed for the event. This year, the Met made the decision to implement an anti-terrorism traffic regulation order instead.
This ensures the most appropriate basis for the use of hostile vehicle mitigation, a common police tactic to ensure crowd safety at major events."
Festival Republic, the organization responsible for running Wireless, has been approached for comment regarding the controversy.
"This will grant the police greater powers to manage any incidents that may arise."

Spokesperson
from Haringey Council