Reading Time:
4
minutes
She has done what many people of her kind, since time immemorial, have tried to do but failed.

Buoyed by her strong will, zeal, tenacity, resilience, and her unquenchable love for mankind, she has reached for her brightest stars and achieved the unthinkable.

For her, impossible is nothing. She has smashed the glass ceiling and twice has made history.

She first wrote her name in the annals of history when she became the first Kenyan and first African woman to be appointed Deputy Lieutenant of Nottingham a decade ago.

Professor Veronica Moraa Pickering, a philanthropist, social worker, and a life coach, who was born in Kisii County in Kenya and moved to England in the 1960's is the first Kenyan, first black woman and first African to be installed as High Sheriff in British history.

The first black High Sheriff in Britain was Nathaniel Wells, a magistrate and landowner, who was a son of a Welsh slave trader and plantation owner with an enslaved woman, served as High Sheriff from 1779 -1852 in Monmouthshire.

The name Professor Veronica Pickering, who in 2013 was appointed Deputy Lieutenant (DL) of Nottingham, conjures up a focused, dedicated, loyal, regal, kind and warm-hearted professional and humanitarian with a passion for young people.

Highlighting the achievements Professor Pickering was appointed as High Sheriff of Nottingham in April this year, but YMCA Newark and Sherwood hosted historic installation at glitzy a ceremony marked with pomp, colour, grandeur and reverence at Newark's YMCA Community and Activity Village.

The office of the High Sheriff is a position of benevolence and is an unpaid, independent and non-political royal appointment, dating back to the Saxon times.
In her keynote address, Professor Pickering said: "I am absolutely delighted and privileged to be taking up this historic role and also to be the first woman of colour in Nottinghamshire to be High Sheriff."

"In my year in office I will be focusing on highlighting the achievements of young people and the communities and organisations that support them."

The installation ceremony included music from the RAF brass quintet, Freddie Kofi and SING Community Gospel Choir, live streaming of Gatoto School children's choir in Nairobi, Kenya, solos from Amninah Hussain and a performance from the YMCA Creative Academy.

A revered champion of charity Professor Veronica is also board member of YMCA RobinHood Group, an ambassador for YMCA Newark and Sherwood, an honourary Air Commodore of the RAF and a trustee for Mojatu Foundation among many other portfolios.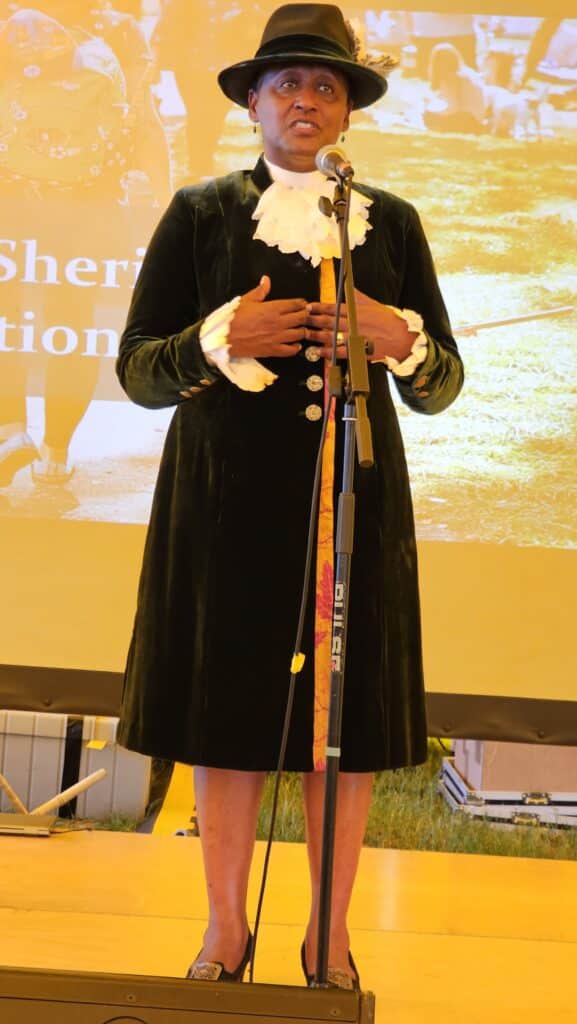 The event saw the unveiling of Professor Pickering as the High Sheriff's ceremonial robes, which were designed in collaboration with students at Nottingham Trent University to highlight her selfless involvement with nature and to represent her African and Nottinghamshire identities.

The design of the shoes was a collaboration between Simon McMaster and the Nottingham based smart textiles company, Footfalls and Heartbeats.
Professor Pickering says she will use her position to highlight the achievements of young people and their communities in the region.

An absolute honour

The official ceremony was held in the conference and event space at the activity village.

Craig Berens, chief executive of YMCA RobinHood Group, said: "It is an absolute honour to be hosting this important event here at the YMCA Community and Activity Village in Newark.

"When we opened this incredible facility last year, we hoped it would become the heart of the community and act as a space for people of all ages and interests to come together and feel part of something."

The event provided an opportunity for Professor Pickering to outline her goals for the tenure of office, including raising the profile of Nottinghamshire across the UK and beyond.

As the High Sheriff of Nottingham, Professor Pickering is also responsible for assisting charities and community foundations who work with vulnerable young people, as well as supporting the emergency services and crime prevention agencies.
Guests at the event included Sir John Peace, Lord Lieutenant for Nottinghamshire and his wife Lady Christine Peace, Manoah Esipisu, ‍High Commissioner of the Republic of Kenya to the United Kingdom, Paul Southby, outgoing High Sheriff of Nottinghamshire, Chaplain Lauren Simpson and Under Sheriff Deborah Hutchinson.

Pricking Professor Pickering

The High Sheriff of any city in the UK including Nottinghamshire takes office in April every year for a term of one year and remains the Sovereign's representative in the county for all matters relating to the judiciary and the maintenance of law and order.

The Office of High Sheriff is non-political and unpaid, and no part of a High Sheriff's expenses falls on the public purse – It is a Royal appointment, which is made in the Privy Council by the Sovereign, where the custom of he or she is 'pricking' the appointee's name with a bodkin is perpetuated.

The High Sheriff acts as the Returning Officer for parliamentary elections and maintains the loyalty of subjects to the Crown.

The High Sheriff further undertakes duties to support and encourage voluntary and statutory organisations engaged in all aspects of law and order and provides hospitality and look after the well-being of High Court judges.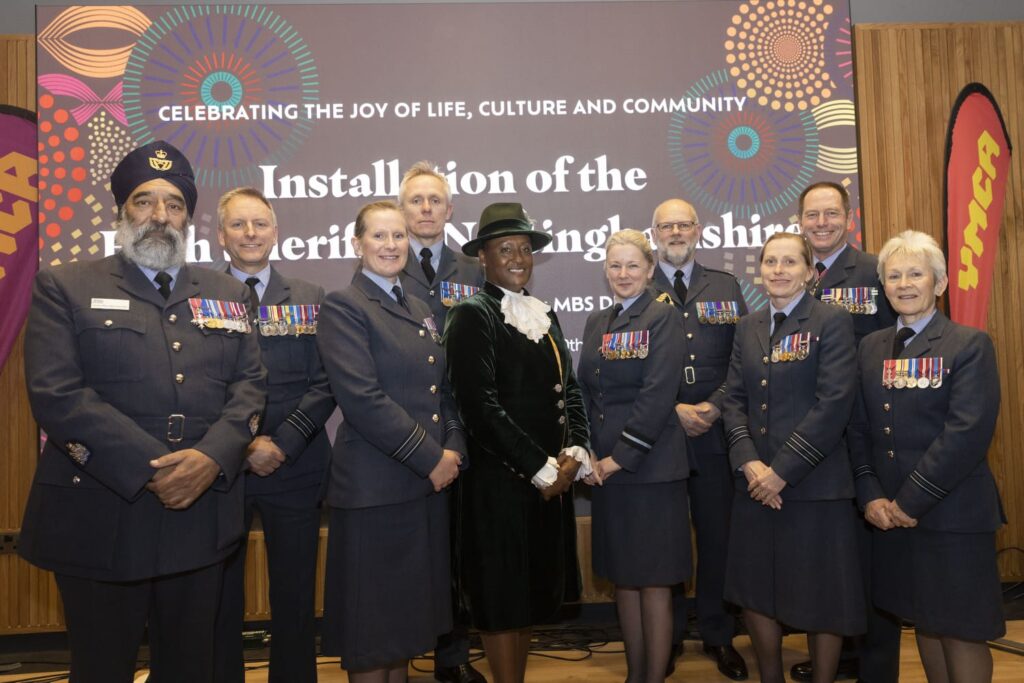 Professor Pickering is married to Nottinghamshire born Artist, Roy Pickering and now works as an Executive Coach and Mentor with several companies and organisations across the UK and she supports several Nottinghamshire charities and organisations.

A staunch supporter of the arts and wildlife conservation charities, she's a patron and an ambassador of many charities including Mojatu Foundation.

Speaking during the installation of Professor Pickering, Lord Lieutenant of Nottinghamshire, Sir John Peace said: "We share many of Veronica's values when it comes to supporting young people."