Reading Time:
3
minutes
Unfortunately for the youth of Sierra Leone, youth employment remains very limited and the youth is faced with many challenges when it comes to employement.
According to President Bio, the youth (15-35) constitute one third of the population of Sierra Leone and amongst them 70% lack employement opportunities.
Even though President Bio was desirous to create around 500,000 jobs within the agriculture and tourism sectors for its youth, youth unemployment is still a major issue in Sierra Leone.
Local solution: the Okada business
The motorcycle business, aka Okada business, is creating new employement opportunity for the youth. Enabling them to make some money for themselves even though income remains relatively low.
But for many, this remains one of the few employement options available.
As of 2013, Sierra Leone had about 189,000 Okada drivers.
From graduates, to people who have dropped out of school because they could no longer afford it, to people who have never had the opportunity to attend school, a lot of young boys and men end up as a driver to be able to make some money.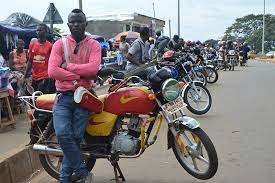 I spoke with Mohammed, a former Okada driver and advocate for the youth, about his experience as a driver.
"I was a rider for 1 year. I started driving in 2018, I started driving because when I came from the village that's the only job I could find" starts Mohammed.
"I was 29 years old, before that I was living in the village where I come from doing farming. But while farming we didn't have a lot of support and the work was not easy so I decided to come to town and learn something to do better for myself and my family"
In the villages or rural areas, job opportunities are even fewer.
"When I came here first I was going to garages working as a mechanic for maybe 3 months, then I came to Lakka, a small village not far from the capital, because my mom was here. There, I started learning building work, but I couldn't find any jobs so I decided to learn how to ride bikes. This is how I become a Okada driver."
"A lot of the youth here, even those of us who went to university, end up riding bikes because there are no jobs. The country is lacking opportunities for the youth. We are suffering, many of us are turning to criminals or having to find money the wrong way".
One of Mohammed's main concerns is the rate of criminality amongst the youth as many young boys are having to use illegal ways and means to make money.
Another main issue that the youth is facing is the use of drugs such as Kush.
"There are so many Okada drivers, this is not what we want to be doing, but we don't have a job. Here without connections it's hard to find a job. It's one of the main reasons that is pushing the youth away from our country. We want to find money so we follow opportunities. I also want to leave. When I have the opportunity I will go. If I have the opportunity one day I want to go to America."
Here, many people idealosie the West and see the West as being the land of opportunities.
"For us we see America as having a lot of opportunity. There, even if you don't go to school we can still find jobs. When people go there they will tell us, we see it on the tv, hear it on the news. I am not there so I don't know which country is better but I could go anywhere where I can to find money.
My focus is on helping my people, I come from a little poor family. It's what is motivating me. My mom and dad are in the village, some of my siblings are there, some of us are here, the ones who are in town are trying to send money to our family in the village.
In the village there is no jobs, my family don't have jobs, they just do farming. We grow our own food. The government and politicians of our country should create more opportunities for the youth, for us to have better opportunities to learn and work, so that we don't always have to run away or go the wrong way.
Like many young boys and men here, I didn't have the opportunity to go to school for a long time because my dad wasn't making enough money and we were suffering. We have to do better for the youth of our country"