Reading Time:
3
minutes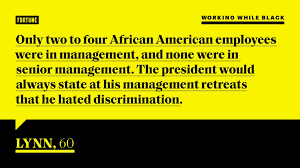 Have you ever found yourself in a space where you are the only person of your own colour ? Well, as a black person who grew up in Europe, this is a pretty common experience. From being the only person of colour in a space full of white people to working in a company or in an organisation white dominated, to living in an all white household, these experiences because they are so common, are often normalised. But what's also normalised and also ignored is the consequences of going through these kinds of experiences for black people.
Especially when those spaces are clearly not safe, and not inclusive for a person of colour to be in. And often, even though they are far away from being safe, we are still forced to step in. Whether it is for socialising, at school, work or in public spaces or at events. It wasn't until I experienced Africa as a black person, so being constantly surrounded by people I could identify with on a daily basis, that I truly realised the impact of me being submerged in an opposite environment and what that did to my mental health when those environments were not intentionally actively trying to be safe for people of colour.
Diversity and inclusion
I have worked with a lot of non profit organisations that always wrote so much about diversity and inclusion in their code of conduct.
What's diversity and inclusion ? Simply explained it's two interconnected concepts that work together to in theory make an environment, more specifically a working environment, safe for people of colour. Diversity is about different representations of different nationalities, races, genders, ethnicities and so on, inclusion is about how well everyone feels involved, valued, respected, treated fairly and integrated into the environment.
Anti-racist policies
Or policies that are here to uphold a safe environment and create accountability around racism. Anti-racism is, as Rachel Ricketts defines it in Do Better, 'An active, daily, consistent, and continuous process of personal and collective change to eliminate individual, institutional and systemic racism derived from white supremacy as well the oppression and injustice racism and white supremacy cause'
So it's clearly more than just saying "We are not racist" and then not doing anything to show up for black people or to try to disrupt these racist institutions.
Performative allyship
Performative allyship is where those with privilege declare solidarity with a cause. This assumed solidarity is usually vocalised to a public, usually on social media, and potentially harmful to marginalised groups. Performative allyship is when companies, organisations, leaders, use performance driven activity, in a way that will protect their company brand, reputation and public image from being highlighted in a negative way. It's talking the talk, without walking the walk.' It's offering surface-level support for the sake of maintaining a good image and appearing to other people like being an ally or offering safe spaces for people of colour, without in reality taking any actions or steps to make real change. Performative allyship doesn't go unmissed by people of colour.
When your friends that always alk to you about being more anti-racist and supporting you more go silent when you get assaulted in the street. It's performative allyship.
When your boss tells you that you just have to get used to having racist comments because that's the reality of the world but then always talks in public and in front of donors about how anti-racist the organisation needs to be. And the majority of the people they support are black. It's performative allyship.
It doesn't go unmissed. It is deeply felt.
Unfortunately, in many cases, companies and organisations trying to be more diverse and inclusive is performative. The same goes for companies and organisations trying to be more anti-racist. Often, they will say that they want to do the work, but the actions are lacking and it becomes barely performative. So it doesn't feel safe at all for a black person or a person a colour to be in this environment. In reality, it's even worse. Because you expect to receive the support of your boss and or coworkers, you expect to see them developing a strategy to make the space as inclusive as possible, as diverse as possible. But you are met with passive aggressivity.
Many workplaces condemn racism but still enable its effects. Or turn a blind eye and stay silent when a person of colour complains about not feeling safe and experiencing racism. Worse, oftentimes the person complaining will be painted as an angry person. But what are the mental consequences for them then ?
Not feeling safe and perhaps being scared to speak up because they might then lose their job and feel resentment from their racist coworkers. Amongst others.
How do we make white dominated workplaces safer for black people and people of colour ?
We do the work.