Reading Time:
4
minutes
AMOS KIOKO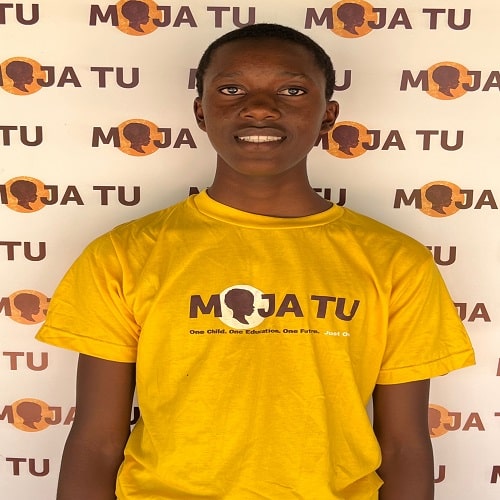 Amos is a brilliant, hardworking young man. Being the youngest in a family of eight, he watched his siblings drop out of school after primary school as his family couldn't afford to pay their school fees. But this didn't deter Amos. He worked extra hard in school and became the top-performing student in the primary exit exams.
Although he performed well, his brother, whom he lived with after his mother's death, could not provide for his secondary education. Amos worried that he wouldn't be able to attend high school.
Luckily, his headteacher recommended him to the area Moja Tu representative, who verified his situation and gave the green light for Amos to be considered for sponsorship. Amos was ecstatic when he found out his application was successful.
"My primary school deputy headteacher connected me to the Moja Tu representative who helped me join the organization. I was overjoyed when I got the scholarship. My friend and neighbor – Peter Mutuku – had just joined the organization, and I could instantly witness the transformation. He wasn't worried about school fees and school supplies, which made him focus on his studies and be optimistic about the future. I was hoping that one day I would also be able to transform my future through education. There was no other way out," Amos said.
Before getting the scholarship, Amos had no hope of attending high school; if he did, he would most likely have attended a local day school, most of which are ill-equipped. To pay for his school fees, he thought of looking for casual jobs, but this would also mean that he would have to drop out of school at some point to raise more funds. Even then, he was not assured of landing a job.
"Moja Tu has significantly impacted my life by making the seemingly impossible possible. I am currently at one of the best schools in the country, offering a high-quality education. I am now confident that I will be able to become a doctor, break the cycle of poverty in my family, and give back to my community," he says.
Next year, he will be sitting for his secondary exit exam, and he's excited to see his dream of being a doctor become a reality. He is working hard to get a chance to study medicine and earn himself the title Dr. Amos.
"I want to thank Moja Tu for restoring my hopes of getting an education. Thank you for changing my life, helping create a one-on-one relationship with my sponsor, and allowing me to dream big. Asante!"
Students like Amos are chasing their dreams with the help of a generous sponsor. Help us reach more students with the life-changing gift of education by donating to Moja Tu today.
MEET WITH FELIX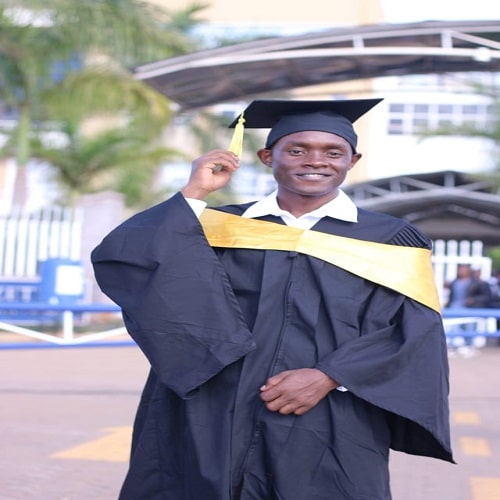 If you had asked Felix when he completed primary school if he would ever graduate from university, he would have said to ask a more realistic question! Thanks to Moja Tu's sponsorship, his hard work, and his commitment, Felix now holds a bachelor's degree and a diploma. He shares his educational journey with us:
"My name is Felix Mwonga. I am 26 years old, and I come from Makueni, in the eastern part of Kenya. I joined Moja Tu in 2014, just after my primary school education. Before joining Moja Tu, I was preparing to enroll in high school, but my parents could not afford my school fees. So, I began working casual labor in my home area to try and raise money for my school fees. At a meager $1 per day of pay, I was a long way from my goal. The money was not even enough to cover transportation to school.
Around that time, Moja Tu visited my region, seeking students from disadvantaged backgrounds for educational sponsorship. When I heard about it from a family friend, I quickly sent in my application and met them. I was determined to get the scholarship because I knew that was the only way I could attend high school.
I was accepted into the program, and life has never been the same! I instantly acquired a new family that genuinely cared for my well-being. I have also made friendships to last a lifetime and will never forget the support of my sponsors.
I am most grateful to Kathy and my sponsors, Abbey and James, for their unconditional love and support. Thanks to the video calls and mentorship sessions, I have gained valuable knowledge and am now a more informed graduate.
I graduated in November with a bachelor's degree in Business Information Technology with the plan to become a network administrator and consultant. I am so happy to have finally graduated with my degree, which is something I didn't think possible a few short years ago. I initially earned a diploma (2-year program), and then my sponsors graciously continued supporting me so I could earn my bachelor's degree. For this, I am forever grateful.
My goal is to open a cyber cafe in my town that would provide local youth an opportunity to learn computer skills. With the right skills, the opportunities are limitless. Hopefully, the cyber cafe can eventually develop into a computer college. Currently, I am interning at one of the leading hospitals in Kenya, The Aga Khan University Hospital, where I help hospital staff with IT issues.
I want to again share my appreciation to Abbey and James Tootle, James Anderson, Kathy and Michael, and the Moja Tu staff, who have been my greatest inspiration and support system. Long live Moja Tu."