Reading Time:
4
minutes
Meet Ruffi: On becoming a professional chef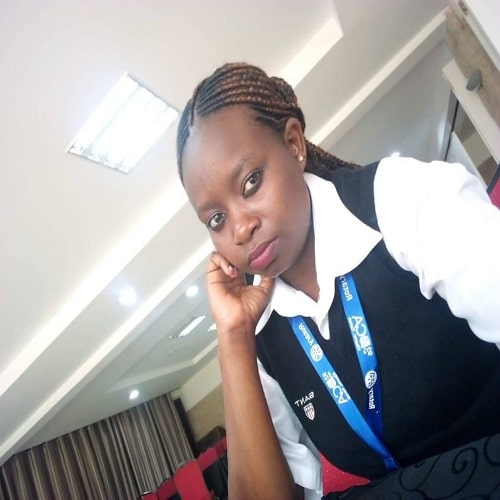 Ruffi joined the Moja Tu program during its inception in 2013, and she is now a proud alumnus. Born with a hearing impairment and faced with the tragedy of losing her parents at an early age, she was rescued and placed at a children's home, where she was able to receive the primary school special education she needed. Before joining Moja Tu, Ruffi lost hope that she would ever attend high school.
Lucky for her, Moja Tu heard about her case and intervened. This was a life-changing opportunity for her. "I joined Moja Tu when I was in eighth grade. I was very excited to be part of the few students that were selected, as I knew it would change my life," she recalls.
Through the Moja Tu program, Ruffi was able to go to high school, and after high school, she joined the Karen Technical Training Institute for the Deaf. The Karen Institute is a leader in Kenya and East Africa that offers special care and education to those with a hearing impairment. In 2017, she enrolled for her certificate course in food production. One of the merits of the school is that they accept hearing students as well as deaf students in their course programs. This unique opportunity helped Ruffi learn critical interaction skills with both hearing and deaf students, which will be invaluable as she moves into the job market.
Currently, she is working as a chef at Export Processing Zones (EPZ), one of the largest textile firms in Kenya that makes clothing for some well-known clothing brands.
"After completing my course, I was lucky to get hired as a professional chef with EPZ. I can now support myself, and this wouldn't have been possible without the support of Moja Tu," says Ruffi.
Getting an education significantly changed Ruffi's life. Once she discovered her passion for cooking, there was no looking back. Other Moja Tu students were also taking similar courses in the program, allowing her to benefit from the additional peer-to-peer mentorship. Most importantly, having a sponsor who believed in her made her feel confident and loved, and she's made lifelong friendships along her journey.
"One of the things that I love about Moja Tu is that they not only provided me with an education but also became my support system. I was able to form a connection with my sponsor and make friends that have become family," she says.
Ruffi is living her dream and hopes to use her skills to make a difference in her community. The power of just one is changing lives every day, and we are excited to see Ruffi's life transformed by her success.
Meet Maureen: Confidently scaling the heights of education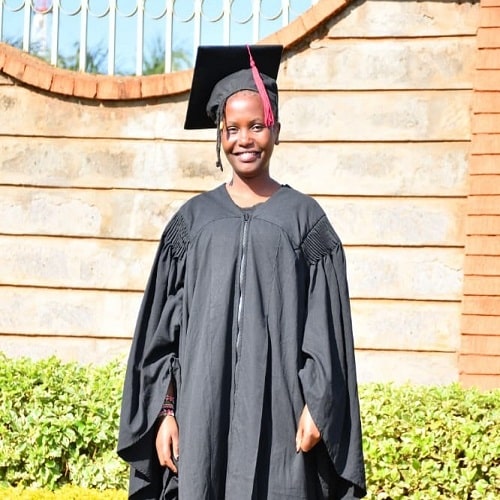 Maureen did not get high enough grades to secure a place at the university to pursue a bachelor's degree. Her academic career, however, would not end here. She carried on and enrolled for a diploma course at a local university. Knowing this was the second chance she desperately needed, she worked hard in school. Her diligence paid off, as she was consistently one of the top students in her class and graduated with distinction.
All this time, she had her eyes set on attaining a bachelor's degree; she understood how competitive the job market is and how she would struggle to get a job without this degree. Once she graduated with her diploma, she approached her sponsors, requesting if they could fund her bachelor's studies.
"They agreed, and I couldn't be happier," she says.
Her exemplary performance and good behavior stood in her good stead. Before joining Moja Tu, she often wondered if she would ever finish high school, let alone join university. She was always sent home for lack of school fees because her single mother couldn't afford to pay the fees and fend for their family. She admits that the on-and-off appearances at school were starting to get frustrating, and she almost gave up. She also had no one to look up to, as no one in her family had made it to university.
"Life changed when I got the sponsorship. Every day that passes, I am grateful that I went and said hi to the sponsors when they visited our school while I was still in high school. That was where I was fortunate enough to meet my sponsors, Uhuru and Christie," says the 21-year-old, who adds that she gained a new support system and family through Moja Tu.
This year, Maureen will be celebrating her seventh anniversary in Moja Tu, which she is pleased about. Her relationship with her sponsors has blossomed over the years thanks to the letter exchanges and video calls. Her sponsors have also visited the country together with their children, where they were able to further cement their relationship.
Maureen, who graduated with a criminology and security studies diploma last year, is now pursuing her bachelor's degree on the same. She is looking forward to expanding her knowledge and experience in the field.
"My sponsors and the organization have been very supportive. I have never lacked. I also joined the mentorship program that helped me boost my confidence and become more involved in life, as I was always shy and had low self-esteem. Moja Tu has been such a big blessing in my life, and I am grateful for everything," she concludes.