Reading Time:
5
minutes
It never rains but pour for the UK government as just soon after the junior doctors in the UK – nurses are set to stage fresh strikes after rejecting the government's pay offer – shattering hopes of resolving the bitter National Health Service (NHS) dispute.
After doctors went on a four-day industrial strike action last week across the country, the Royal College of Nursing (RCN) have announced that its members will walk out for 48 hours from 8:00 pm on April 30, without any derogations, which means nursing staff working in emergency departments, intensive care units and cancer care will be taking industrial action for the first time.
The escalation for the forthcoming protest followed a 54% vote to reject an offer of a 5% pay rise this year and a cash payment for last year.
The move by the RCN union followed an earlier announcement by Unison that its NHS members voted to accept the same offer.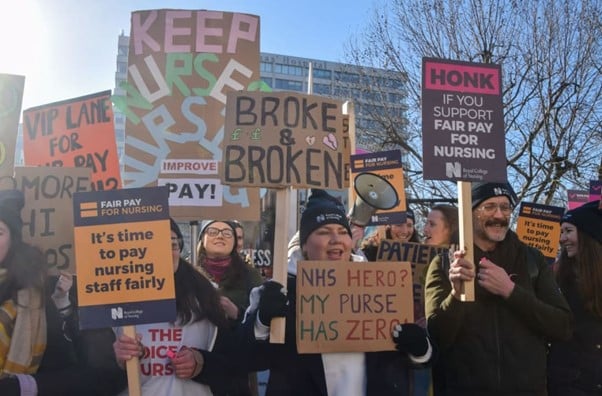 The union announced that 74% of those who voted backed the deal of a 5% pay rise this year and a cash payment for last year.
The turnout was 52% among Unison's 288,000 members in England.
The ballots closed last Friday as around 47,000 junior doctors in England stage the final day of a four-day strike in an increasingly bitter dispute over pay.
'Engage with us in good faith'
The British Medical Association (BMA) junior doctors committee said it had again asked Health Secretary Steve Barclay to meet with them to discuss their demands for full pay restoration.
In the letter shared on Twitter, they wrote: "As we have consistently and repeatedly said, we do not have any preconditions to negotiations with you.
"We hope that you will set yours aside and engage with us in good faith."
They said they had confirmed their willingness to engage in a process facilitated by conciliation service Acas, adding: "We urge you to agree to this."
But the Health Secretary reiterated that their demand for a 35% pay rise is "unreasonable" and that talks cannot take place until junior doctors "call off strikes and put forward a realistic proposal."
Writing in The Express, he said: "As soon as the BMA pauses strikes and shows willingness to move significantly from their demand for a 35% pay increase, we can enter negotiations straight away.
"The onus is squarely on the shoulders of the junior doctors committee who've shown no signs of moving so far."
Conciliation would "improve things," said the former chief executive of Acas, which has said it is "well prepared and ready to help."
The Department of Health and Social Care said it remains open to a role for Acas.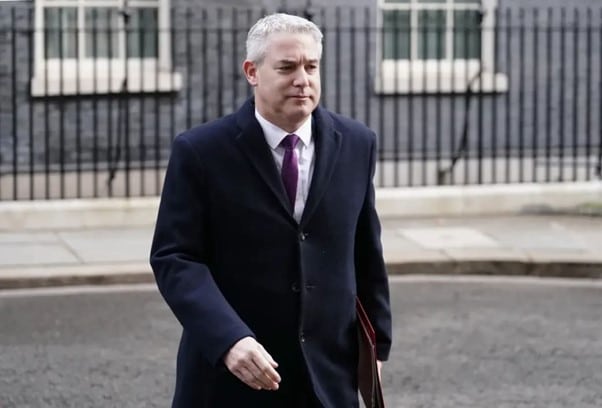 Prime Minister Rishi Sunak on last week said he wanted to find a "reasonable compromise" with junior doctors.
Hospital bosses have expressed concern about keeping patients safe as they struggle to secure cover for overnight junior doctor shifts during strikes.
During the strikes, staff who are still working have prioritised emergency and urgent care over some routine appointments and procedures to ensure safe care for those in life-threatening situations.
This means hundreds of thousands of appointments and operations have been rescheduled.
The BMA claims junior doctors in England have seen 26% real terms pay cut since 2008/09 because rises have been below inflation.
Meanwhile, civil servants confirmed a fresh wave of strikes as unions attacked an announcement of a pay rise for this year of between 4.5% and 5%.
The government has offered a 5% pay rise in 2023/24 and one-payment of at least £1,655.
'Neither fair nor reasonable'
The RCN leader had initially called for this deal to be accepted but members voted to reject it by 54% to 46%, while the Unite and the GMB unions will announce the result of their ballots in two weeks' time.
Shadow health secretary Wes Streeting told the same programme he was "really worried" about strike action by nurses and not in support of it because of the risks to patients' safety.
The RCN strike will involve NHS nurses in emergency departments, intensive care, cancer and other wards, which would be a first as the previous nurses' strike in February included exemptions to maintain staffing in critical areas.
Health Secretary Steve Barclay also said in a letter to the RCN that a nurse at the top of band 5 would get "over £5,000" extra.
He added he would welcome a meeting with the RCN and feared no strike exemptions will "put patients at risk."
Nurses could strike until Christmas, says the Royal College of Nursing, as it warns it will not pause a 48-hour strike in England over the first May bank holiday.
Royal College of Nursing general secretary Pat Cullen told the BBC the government needed to put more money on the table.
But she had "no plans" to co-ordinate strikes with those by junior doctors.
Conservative party chairman Greg Hands said the government's pay offer was "fair and reasonable."
Asked whether it was a final offer, he said the government needed to wait to see what other heath service unions involved in the pay dispute decided in their ballots – and pointed out it had already been accepted by Unison members.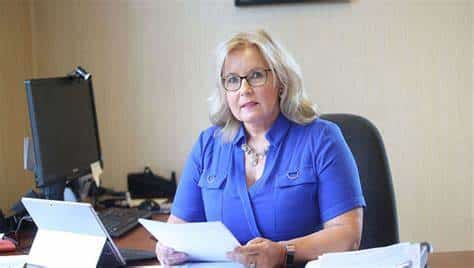 'Disrespectful to nurses'
Ms Cullen said that after the walkout from 20:00 BST on 30 April to 20:00 on 2 May, the union would "move immediately to ballot our members" on their next move.
"If that ballot is successful, it will mean further strike action right up until Christmas," she added.
She rejected calls from ministers to pause strike action, revealing she had received a letter from Mr Barclay asking for this half-an-hour before she came on air.
She said the letter was "disrespectful" to nurses and claimed the health secretary had spent longer writing in the Sun on Sunday newspaper than responding to nurses.
In the paper, Mr Barclay warned the strikes would mean more cancelled operations and postponed treatment – and "none of this is good for the NHS or patients.".
Ms Cullen urged the health secretary and the government to join her union at the negotiating table "very quickly", adding: "And start to put more money on the table, start treat nurses with a bit of decency and a bit of respect."
Asked why RCN nurses rejected the government's pay offer despite the union's leadership recommending it, Ms Cullen said the members believed it was "neither fair nor reasonable".
"…And start to put more money on the table, start treat nurses with a bit of decency and a bit of respect."

Pat Cullen
Royal College of Nursing general secretary