Reading Time:
3
minutes
There is incessant jubilation and tones of excitement in the Robinhood City as two of its most beloved football teams have done well this year with one staying up in one of the world's prestigious football leagues while the other ascended back to the national league.
Nottingham Forest have had to fend off Arsenal to stay afloat and avoid a chop while the Magpies, Notts County bounced back to the Football league.
Happiness is back in Nottingham City and the County as now football lovers will have a double showdown cheering their favourite teams.
Notts county bounced back with a full swing to the Vanarama national Football League after beating chesterfield on penalties at Wembley Stadium in the national league play-off final.
Archie Mair, the goalkeeper who is on loan, turned out to be the hero after saving two spot-kicks as the magpies secured their return to the English Football League after a four-year absence.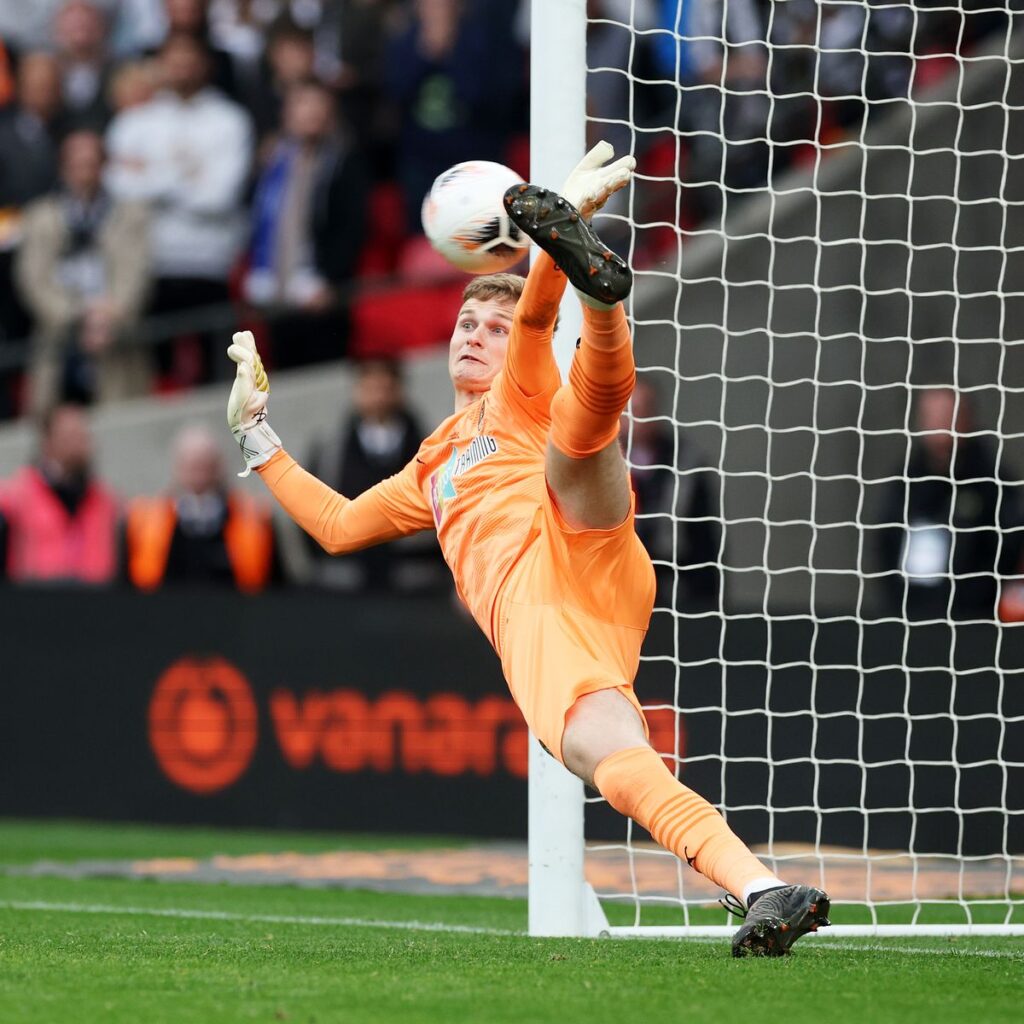 Luke Williams' side finished second on 107 points in the National League behind Wrexham and missed out on automatic promotion.
Notts County set a National League record with 32 wins over 46 games, only to be surpassed by Wrexham who achieved 34 victories.
Additionally, they tallied the most away wins in a single season with 15.
They were top scorers in the National League, notching 117 goals, one more than Wrexham.
Moreover, they broke the record for highest points tally with 107 points, though Wrexham surpassed this amount by accumulating 111 points and winning the league.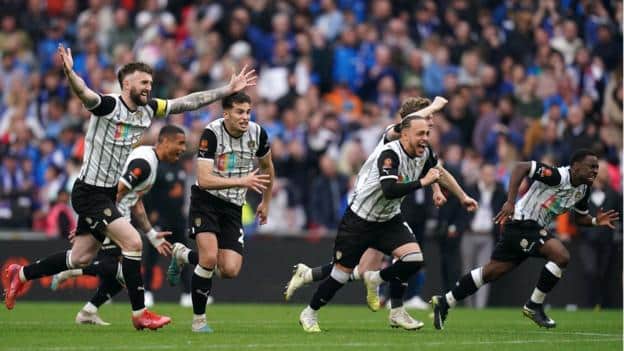 In the playoff final, Chesterfield had the advantage for most of regulation time when Andrew Dallas converted a penalty in the sixth minute.
However, Notts County midfielder John Bostock managed to even the score with an 88th-minute free-kick that Ross Fitzsimons could not save.
Both sides notched up a goal in extra-time, with Chesterfield's Armando Dobra scoring first with a curving effort in the 93rd minute but Notts County quickly responded through Ruben Rodrigues in the 108th minute.
Notts County Manager Luke Williams told the local media: "We were ready for this occasion because of the obstacles we have had to overcome."
Williams declared Notts County's campaign as "incredible," commending his players for showing great mental strength, and credited their victory in the penalty shootout to Cedwyn Scott whose decisive spot-kick secured a 4-3 win.
History of the Magpies
Notts County – founded in 1862 – are recognised as the oldest professional football team in the world – The Magpies, who plays in the National League, and are perched on second position, have been at their Meadow Lane home since 1910.
Following its foundation in 1862, Notts County initially focused on playing a game that they invented themselves. Once the Football Association was formed, they switched to football.
Soon thereafter, their full-back Ernest Greenhalgh participated in the first-ever international match: England vs. Scotland. In 1888, Notts County was one of the 12 founding members of the Football League, finishing their first league season in 11th place.
In 1891, the Magpies missed out on their first big chance to win a major trophy by losing 1-3 to Blackburn in the FA Cup finals. They made up for it three years later, with Jimmy Logan scoring a hat-trick in a 4-1 victory over Bolton Wanderers.
This remains the only major trophy in the club's history, as well as the first time that a team outside the top division won the FA Cup.
"We were ready for this occasion because of the obstacles we have had to overcome."

Luke Williams
Notts County manager