Reading Time:
4
minutes
We caught up with Samantha Hudson – aka Sam Carnival – to talk about the costume design process and her new research project…
Mojatu: How did you first get involved in Carnival?
Sam: I was born into Carnival. My earliest memories of it were in the 1980s on a float with bunting, balloons, my friends and my parents on Normanton Park. Culture was always a part of our upbringing, so I just carried on being involved in it.
Mojatu: Do you have a favourite Carnival memory?
Sam: My favourite Carnival memory isn't actually from the day of the Carnival. I had a knock at the door one evening, and it was a young person who had come to see one of my twins, so I said he could come in until they got back. I was making a massive phoenix costume, and I asked if he could give me a hand – anybody who comes into my house has to help out. He was helping to attach the sequins and he said, "Sam, this is really therapeutic!"
I told him about Carnival and asked if he was coming…and he said no. He was born in Iran, and he told me that when he was ten, he witnessed public executions that traumatised him, and because of that he doesn't like big crowds. He'd never go to a Carnival, but he's happy to help out behind the scenes. Carnival is a big jigsaw. Everybody has their part to play and everything is important, so if one piece is missing, then it's not the full picture. Even though he wasn't there on that day, his contribution meant a lot.
Mojatu: Where do you find inspiration for costume ideas?
Sam: We get the young people together and talk about what kind of themes they're interested in, and look at what's happening politically and socially. We had two themes last year. The under-18s section was celebrating sixty years of the Derby West Indian Community Association. We had bright, canary yellow feathers representing the Caribbean sun, tangerine orange representing the tropical fruits, and turquoise representing the ocean.
It was also the Queen's Platinum Jubilee, so we had a section which was purple, because it's a regal colour and used to only be worn by aristocrats. Everybody is regal and important to us, so we did a section for over-18s that was all purple. It all means something. They're not just costumes – it's folklore, it's storytelling, it's street theatre.
Mojatu: What are they made out of?
Sam: Before, we'd make things out of whatever we could source materials from, like recycled stuff and cardboard. Now, as costume making becomes more sophisticated, people look towards funders like the Arts Council or the Lottery to gain money, because by the time you start adding feathers into your costumes, your budget goes sky-high. Then you've got to look at biodegradable glitter and stuff like that, which is really expensive as well.
The sad thing about it now is that people tend to purchase their costumes elsewhere instead of making them. Coming together and making it is all part of the community element, so that's what we want to try and bring back.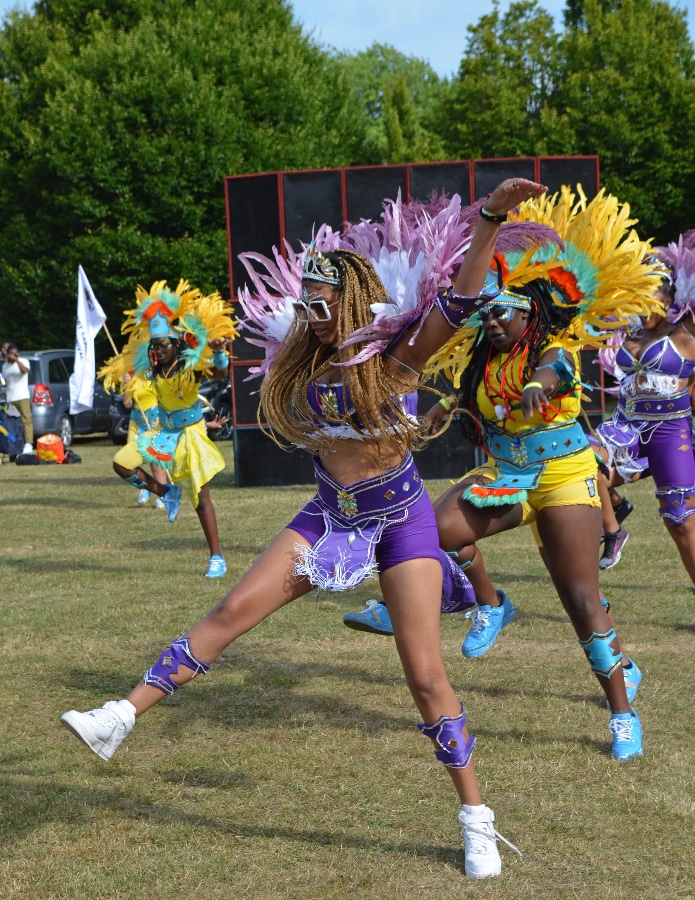 Mojatu: Do you have a practice run beforehand?
Sam: I make a full prototype from head to foot to show to the management committee, and then I'll go back and make a couple of tweaks until they're happy with it. Then we show the troupe, and they'll say what they want – wings here, hats like this, shorts like this, for example. We take on board all the different drawings that the young people do, and then come back with the final piece and make that work before we do the mass production. Finally, we have a costume dress rehearsal to make sure everything fits. Everyone gets an allocated bag with their name on it.
Mojatu: What's happening behind the scenes at the moment?
Sam: I'm doing my PhD research with Carnival and costumes as my specialist subject. Part of that includes making a costume, so I'm building it as we speak. It's on a different level now. It's not needle and thread anymore – it's sawing, drilling, screwing, getting on my ladder and cable tying…it's a structure, a sculpture.
Mojatu: Tell us more about your research project.
Sam: I wanted to do a PhD in Caribbean Carnival because there's not enough known of it over here. Because the University of Derby weren't fully aware of the history behind it, it's classed as a contribution to knowledge, so that's why they agreed to take me on.
I'm starting off with quantitative data, so I've got a survey out there now to check the demographics and their understanding. It's amazing how many people take part just for the fun of it and don't understand the cultural rituals, heritage and symbolism behind it. I'll be reaching out to get the authentic voice back home from the Caribbean and from Africa, as well.
Mojatu: What does Carnival mean to you?
Sam: It's culture, in the same way that Eid or Chinese New Year is culture. Everybody has their own culture, but the difficulty about Carnival is that it's often just seen as an art form and not as cultural heritage. We do our game because it came from pain, but people just want the game and forget the pain. It's about honouring our ancestors. It's not just something we want to do – it's something we have to do.
Take part in Sam's research survey here