Reading Time:
4
minutes
We sit down with the creatives behind Small Island Stories 2 to find out how they're honouring their heritage via music, film and theatre.
2023 marks 75 years since the initial arrival of the Windrush Generation from the Caribbean to the UK, and many have suggested that this could be the final major anniversary that most of the original pioneers will live to see. As a result, the need to record and pass on their stories is arguably now more pertinent than ever – but how can these tales be presented in a way that will reach the younger generations that need to hear them?
Small Island Stories 2 – a multimedia project spearheaded by arts organisations Motion Framework and Mashup Derby – proposes not one, but several solutions to this question. Starting off as the second of two hip-hop albums paying homage to Windrush history, the project has since snowballed into an accompanying short film, exhibition and live show.
The pair of albums began life as the brainchild of teacher, rapper and Motion Framework founder James Batchelor. "Hip-hop is usually braggadocious guys talking about how big they are in drug games or how established they are in their street culture – but I don't fit those moulds, because I'm a school teacher," says James. "What do I have that signifies that I am me? My heritage."
As the son of Jamaican parents, James sought to weave his roots into his music by featuring samples of conversations with his family alongside lyricism about his own experiences. "Old school Caribbean people tell the greatest stories," he says. "So let's amplify them." After a strong response to the first album and a funding package from Derby CAN, James and his partner Tandeka Williams – who was born in Guyana – set about creating a sequel to Small Island Stories that would compile tales from the wider Caribbean community.  "As much as the Windrush has its stories, there are other stories," Tandeka explains. "And it wasn't just Jamaican families that came on the Windrush, so we wanted to highlight that by including other small islands and all of the people of the Commonwealth that came and contributed."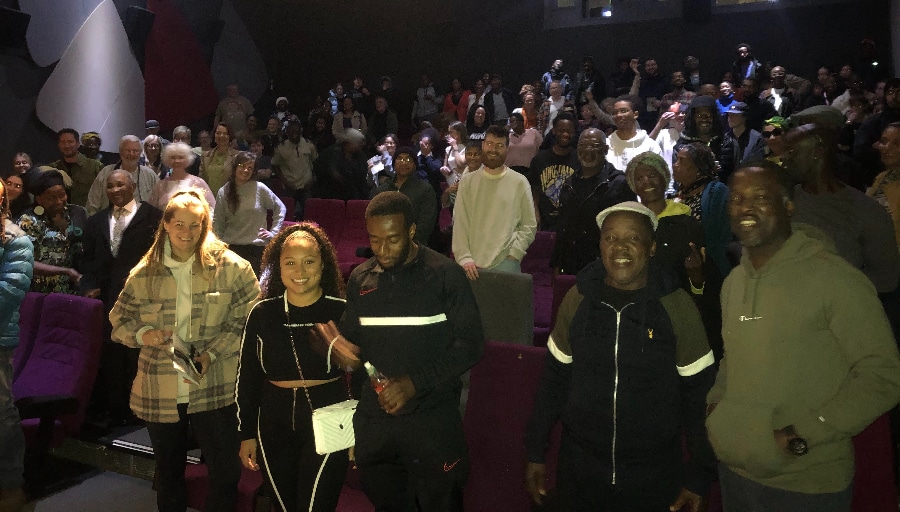 Tandeka's experience in youth work as part of Mashup Derby also allowed for the project to become more collaborative, as she worked with young artists to bring out their talents and help illustrate the stories in a variety of formats. A short film serving as a visualiser for the album was produced and shown at Quad and Déda, and will be screened as part of the UK-wide Windrush Caribbean Film Festival throughout June.
"We brought in young people from the community and showcased their work in the film, which then rolled onto us talking about images of Black people," Tandeka says. "How many people recognise certain Black people? When you Google 'Black people', what images do you see? Are they positive or negative?"
This idea was depicted via an eclectic collection of portraits of Black people throughout history, printed in monochrome and removed from their context in order to test visitors' knowledge, prompt questions and start discussions. The gallery is set to tour the UK, with more photos to be included.
Small Island Stories 2 has also grown to encompass a live performance element, which extends from Mashup Derby's background in impromptu theatre. "It's about mashing up your skills and our skills, no matter what they are," James explains. "If you can dance, you can sing or you can stand on one leg for one minute…put all that in a theatre show and you've got Mashup Theatre."
Tandeka says this discovery of hidden talents is what Mashup and Motion Framework are all about. "You might look at your skills and think, 'That's not a skill, that's just something that I can do'," she adds. "But that's exactly what a skill is."
James and Tandeka hope that projects like Small Island Stories 2 will not only connect Derby's Black youth with their past, but also help to shape their futures by showing that a career in the arts can be more than just a pipe dream.
"You don't have to be academic – this creativity thing could be your buzz," James says. "Can you imagine a world with no art or entertainment? The world needs creatives."
Follow @motionframework and @mashupderby on Instagram for more