Reading Time:
3
minutes
We speak to student and part-time therapy assistant Sophie Nelson about how she overcame childhood labels to pursue her dream career…
Mojatu: How would you describe occupational therapy, and why are you drawn to that line of work?
Sophie: Occupational therapy is supporting people who have an injury, condition or illness to get back to the things that they want or need to do. A lot of people think that an occupation is just somebody's work, but we look at occupations as lots of different things –  things that you enjoy doing, hobbies or even domestic activities like washing, dressing and cooking.
It's so broad and there's so much to it. One occupational therapist could be working with somebody with psychosis, one could be working with someone who's just had a hip replacement, or a child with autism. There's so many different areas, but the main focus is getting individuals back to doing the occupations they like or need to do.
Mojatu: Getting a job within the area you're studying for while still at uni is a huge achievement. How did that opportunity come about?
Sophie: I've done two placements so far and my second placement was in the hospital. I was getting really positive feedback from patients and other members of staff in the occupational therapy team. I asked one of the senior managers if they'd got any bank positions, so it kind of came from me pushing things, really. I always think there's no harm in asking – if the answer's no, it was worth a try and they can keep me in mind for the next position that comes up.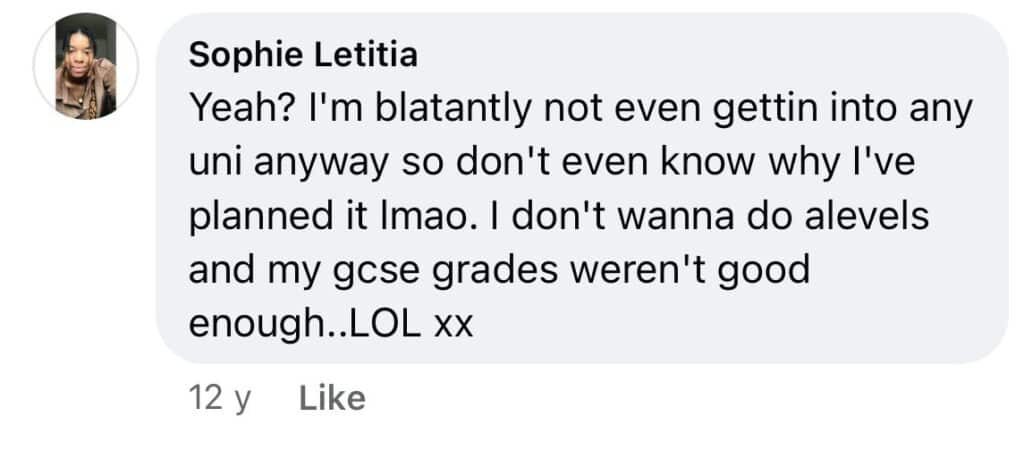 Mojatu: But you weren't always in a position where you were made to feel like you could achieve things like that. How did you overcome those hurdles?
Sophie: I was quite a difficult child. I was a bit loud and a bit of a handful at times, but with better support from teachers and staff, I would probably have been more successful. I was told I was thick by one of my teachers in secondary school. That happened when I was 14 – I'm now 29, soon to be 30, and I still remember that day like it was yesterday. I carried that with me for so long that I thought I might as well just mess about and not take education seriously. 
It wasn't until I left college and I got a job working as a teaching assistant that I started to think, "This is a hard job, but I'm doing really well and I'm enjoying it". I found a foundation course through Derby College where I did a higher level teaching assistant course, which made me realise that I could actually go to university.
Mojatu: You've got a bit of background in activism through the BLM movement, as well. What inspires you to take your opinions out to the public stage and help others?
Sophie: I've always wanted better for the Black community. I can remember experiencing racism from the age of four. I could come home and tell my mum, and luckily she would understand because she's been through the same things – but not everybody's got family that will necessarily understand, so I wanted to be able to help people in similar situations.
Mojatu: What kind of advice would you give to your younger self, or someone else who is in the position that you were in?
Sophie: Don't believe everything that people tell you. I believed that I was thick and that I wasn't going to achieve anything for years. If you work hard and focus on something, you will be successful. Also, things don't happen until it's time for them to happen. I honestly don't think I was in the right mindset for university ten years ago, but it's okay to do things a little bit later. There's no age limit on anything.