Reading Time:
3
minutes
It was a weekend packed with action in the athletics world as the Chicago Marathon went down on Sunday. The event that attracts many elite marathon runners didn't disappoint, as it brought together athletes from different walks of life who've made their names in marathons.
One of the notable marathon runners who featured in the race was Kelvin Kiptum. He was also the fan's favourite in the men's marathon, considering the results he's recorded in his past attempts. Surprisingly, Kiptum was only running his third marathon of his career.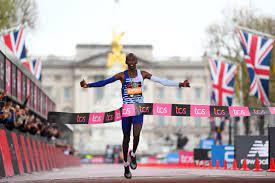 But who is Kelvin Kiptum, and how did he get here?
First off, it is worth noting that Kelvin Kiptum has had an incredible journey in the athletics world. He started by running track races, where he performed incredibly well, before switching to road runs. But it wasn't until 2022 before he felt ready enough to run a full marathon.
On December 4, 2022, Kelvin Kiptum ran his debut 42-kilometre marathon in the Maraton Valencia Trinidad Alfonso EDP. He won the race after clocking 2:01:53, which was the fastest debut ever recorded in the race. It showed that better days were ahead for the then-22-year-old.
Five months later, on April 23, 2023, Kelvin Kiptum was again back on the streets, this time at the TCS London Marathon in London. He again won his second marathon, clocking 2:01:25, 28 seconds faster than his debut. His consistency and grit were now more evident than ever.
At this point, two major things showed that Kelvin Kiptum was the new king of Marathon in waiting. As stated earlier, he recorded an impressive sub-2:02 in his marathon debut. Also, he maintained the sub 2:02 and even lowered it in his second marathon.
Besides, it is worth mentioning that not many marathoners have recorded a sub-2:02 on the global stage. Eliud Kipchoge and Kenenisa Bekele are the two other marathon runners who have recorded such impressive times. Kiptum joined this list on his first attempt in Valencia.
Thus, Sunday, October 8, 2023, was one of the most anticipated days for marathon fans across the world. Kelvin Kiptum was hitting the streets again at the Bank of America Chicago Marathon in Chicago, IL. The times he'd recorded previously made him the race's favourite.
The Chicago Marathon is often considered a fast and predictable course by many marathon runners. But then, it can sometimes start to feel hard, especially after the halfway mark. This is because it has odd inclines even where it seems flattest, and thus requires lots of energy.
Kelvin Kipruto looked ready to conquer the Chicago streets on Sunday. Before the race, he spoke about his preparations and how he'd trained for the race. He exuded confidence that he would register a course record time, meaning that a world record hadn't crossed his mind.
On D-day, Kiptum and other runners hit the course in Chicago. The race started very well and was fast-paced. However, like in most marathons, it's at the 35-kilometre mark that it becomes clear that he is running within world record time and is about to shatter the glass ceiling.
Close to the finish line, Kelvin Kiptum saw the clock and immediately knew that the world record was in sight. He increased his pace and eventually finished the course with 2 hours and 35 seconds on the clock. This is the fastest time ever recorded in marathon history.
At 23 years old (born December 2, 1999), Kelvin Kiptum has had a great start to his marathon career. Besides holding the world record, he is also the only athlete to run a sub-2:01 in history. He has built a huge fanbase for himself after the event as he prepares for the Paris Olympics in 2024.
After the event, Kelvin Kiptum mentioned that he didn't expect to break the record in Chicago, although he expected to do so someday. He also said that it's a dream come true for him and that he hopes to race against Eliud Kipchoge in the Olympics in Paris, France, in 2024.
With Chicago 2023 done, it's now time for Kiptum to prepare for the Olympics. He had already jetted back to Kenya and received a heroic welcome in the country. He is also set to receive a cash reward of Ksh. 5 million from the Kenyan government for breaking the record.