Reading Time:
3
minutes
Football, they say, is not just a game, but a silent language that almost everyone in the world understands as it draws people from a diverse background, race, colour and circumstances together.
Football is a therapy and an antidote to boredom and as the wise once said that an idle mind is a devil's workshop, those who play or watch football takes away their minds from evil.
It against this background tha the Police in Nottinghamshire have adopted the universal language of football in a bid to reach out to people seeking asylum in Mansfield, Nottingham.
Officers in the town have teamed up with the Mansfield Town Community Trust to offer free weekly football sessions to young men staying at a local hotel.
The sessions take place at Field Mill and are free to participants from different parts of the world who are waiting to learn the outcome of their asylum applications.
NoorMohamed Ibrahim, a 30 year old man seeking asylum from Ethiopia in an interview with Mojatu Online said: "Playing football makes me forget my problems. I have no family or friends here. My life is miserable and lonely and many a times I become suicidal because life no longer have a meaning.
"Playing football has given me a new lease of life. I would like to thank the police for organising this. I am truly grateful for this has given me something to do in life that is helping me carry on with daily living."
Pascal Mafayopitchadi, 28, a Congolese young man seeking asylum in a separate interview with Mojatu Online said: "I've always loved playing football and I nearly became a professional footballer if not for the war and political rife in my country.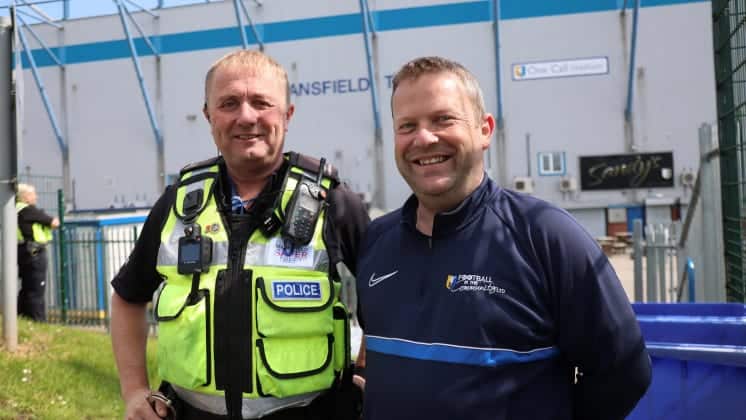 "I am happy I am now playing football again, and I give thanks to the Nottinghamshire Police for this great opportunity. This will help me keep myself both in good physical shape as well as keeping my mental health in good health."
PC Kevin Marshall, beat manager for Mansfield and a life-long Mansfield Town fan, said: "We've been visiting the hotel on a regular basis just to make sure everything is okay.
"We've had absolutely no trouble down there but wanted to make ourselves known to the guys and explain that we are here to help everyone living and working in the town.
"We noticed they weren't really doing a lot with their time or getting the exercise they needed and wanted to do something to help them.
"It was clear they liked football, so we reached out to the club and the rest is history. I have been a Mansfield Town supported all my life and the club has been absolutely fantastic.
"They've let the guys use their facilities for free, have provided staff to make up the numbers, and have even welcomed the guys to a home game.
"We may not be able to communicate in the same language but we have been able to communicate through the language of football and that is a great thing."
Gary Shaw, of the Mansfield Town Community Trust, said: "The police approached ourselves to see if we could offer them anything so we gladly opened our doors to weekly football sessions where they can come and enjoy the world game.
"Our staff organise the sessions and timings, and we are happy with the number of participants that attend weekly.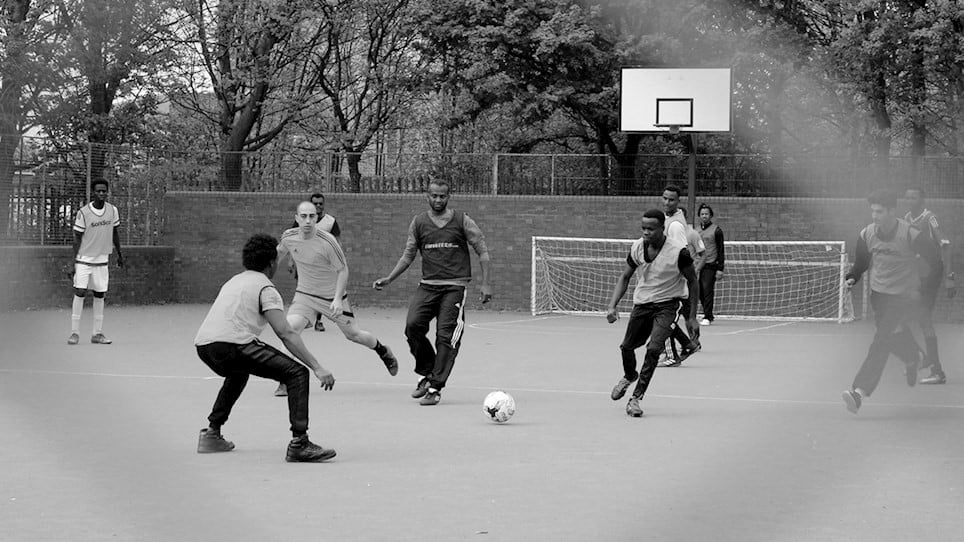 We have piloted the sessions since mid March and now have extended the provision to Christmas.
"This project falls into our category of Mental Health and Wellbeing delivery, and we are looking to expand on this as we are currently in talks with other Refugee and Asylum Seekers groups to see if they would like to attend too."
"We may not be able to communicate in the same language but we have been able to communicate through the language of football and that is a great thing."

PC Kevin Marshall
Beat manager for Mansfield and a Mansfield Town fan