Reading Time:
3
minutes
The University of Derby hosted two inspirational local Black women at their Saluting our Local Sisters event to celebrate their achievements in honour of Black History Month. 
The university's co-chair of the Race Equality Network, Catherine Jean-Baptiste, presented the talk with Professor Laura Serrant OBE and Dr Cath Williams to share their personal and professional journeys.
Laura Serrant is a leader in healthcare and received an OBE in 2018 for her work in nursing and health policy.
She was named as the eighth most influential Black person in the UK in 2017 and she wrote the poem 'You Called…and We Came' which appears alongside the statue at Waterloo Station which was created to commemorate the Windrush generation.
Cath Williams' expertise is in the areas of advocacy, child protection, and community education.
She was a social worker before she went into academic work, particularly focusing on amplifying the voices of disabled and marginalised children.
Cath's current research looks into the Windrush story and the separation of Caribbean families.
To begin the event, Catherine set the scene by decorating the room with wall hangings, a table cloth, a rug, a bottle of dark rum, and a pineapple-shaped ice cube holder, which she said 'completes' the atmosphere of a Caribbean home.
Both Laura and Cath shared the importance of home and family in inspiring them through their lives.
As a child of the Windrush generation, Laura felt there was a push from her family for her to achieve, but that there was also a recognition that everyone was good at different things.
"We all have different strengths and equity is not about making everyone the same."
She said that her family pushed her to be the best at what she did, regardless of what that was.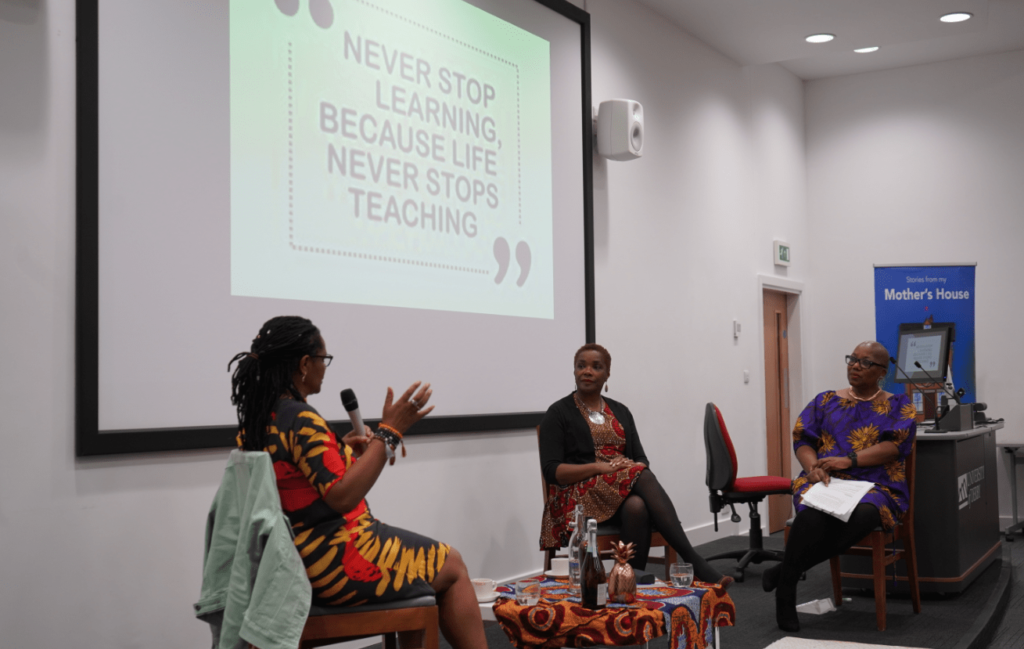 Cath mentioned her mother as her biggest source of inspiration, explaining that her drive, ambition and purpose were what kept Cath going.
She said: "She was part of the Windrush generation. She had an unusual life because she was a single mother of 12 children.
"We didn't need anyone else as we were such a big family – we played together and went to school together."
Cath spoke of her experience of growing up in an environment where women were encouraged to express their opinions and debate with one another.
She explained that the safety of expressing her voice in the home environment gave her the confidence to be opinionated and political outside of it.
Both Laura and Cath also expressed their love for education at an early age.
Laura said: "I loved learning and school because I was good at it. I was a very inquisitive child."
She recalled taking six books from the school library each week and being particularly impacted by George Orwell's Animal Farm.
Reading this book made Laura realise how poverty was impacting her childhood.
She said: "Poverty was part of my world but I never knew we were poor. I just didn't know it at the time because we were all equally poor.
"I realised that poverty had a larger impact on my upbringing than being Black."
Cath described how her education inspired her love of writing and teaching.
She said: "When I got over the shock of getting to university I realised I was good at it, especially for a working class girl."
She explained that her socialist upbringing and strong beliefs about equality made her want to work in a field where she could make a difference.
Cath said her PhD is her biggest achievement, saying: "It was a real journey in terms of imposter syndrome and being in that academic space."
Her PhD focuses on the Windrush story and particularly the separation of children from their parents.
She said: "We know the Windrush story but we don't know the sacrifice.
"They left behind children and when they did come back together, the relationship wasn't always the best. They were strangers.
"The Windrush story is more complex than we ever understood."
Laura said her biggest achievement was receiving her OBE because it represented more than just her hard work.
She said: "It is a representation for all the people in my family who never got the chance to be in that space."
Laura describes her new book, Stories from my Mother's House, as a semi-autobiographical "telling and retelling" of stories from her childhood home.
The book is a collection of poems which take the reader through the rooms of Laura's childhood house in Nottingham.
She said: "The book is about what the house meant and what it symbolises. Each chapter symbolises what that room is about.
"The last chapter is about the hallway because I left through that front door to go to university and I never again lived in that house."
Laura concluded by saying that her book has stimulated conversations between readers and their own mothers and grandmothers about the impact that migration had on their families.