Reading Time:
3
minutes
A poet from Derby has come third place in an international competition for audio poetry. 
Ashlee Paris-Jabang attended the Malta Book Festival where she performed and received her Plaza Audio Poetry Prize.
She had entered the competition "to see what would happen" and was surprised to be shortlisted, let alone be placed in the top three.
The audio poem she entered into the competition is called 'The Leather Year' which is about her love story with her husband.
She said: "I wrote poetically about the three years of our marriage.
"I wrote it during the pandemic and I decided to be very vulnerable with my art. An area I hadn't explored in my art was love.
"I'm a person who likes to look at myself and my Black history dating back to slavery to see where things trickle down. It opened a rabbit hole for me to research Black love."
Ashlee explored how people in the Black community generally didn't make themselves vulnerable in relationships because of generational traumas from slavery.
"We were taught not to love and we were told we were incapable of loving. I'm only six generations from my ancestor who came from Africa to the Caribbean and it takes 14 generations for trauma to exit the DNA", she said.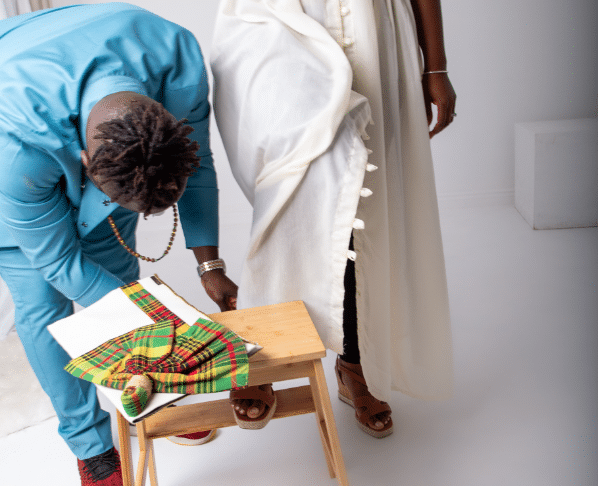 Ashlee said that writing about love was a new venture for her.
Before, she would write about social injustices and Black history.
She said: "I'm a creative practitioner so I use music, drama and poetry to facilitate therapeutic healing in my work and I use it for myself too.
"There was an incident where someone touched my hair – and I've had my hair touched quite a lot – but it really affected me this time, and so I wrote about Black hair and why we should respect it."
Ashlee has also written about art in education and how it impacted her own life.
She was born in Leeds but moved to St Kitts and Nevis at only four weeks old where she lived until the age of 17.
She said: "When I was at school in the Caribbean we didn't have options like drama and art – it was very academic.
"I wrote about how I suffered and it affected my mental health greatly, until I came to England and studied musical theatre."
Ashlee was into songwriting as a child and entered Junior Calypso, but she describes her transition to poetry as 'easy'.
She says that writing was really important for her mental health as a child.
"Poetry helped me when I was very depressed. When I was 12 I got into a car accident and I lost sight in my right eye. In the Caribbean I had to get on with things.
"Not being able to see from one eye did not give me the special attention that I received when I came to England and started sixth form."
However, when Ashlee was about to begin university to study Law, her eye relapsed leading to multiple surgeries.
She didn't get to go to university because the government increased tuition prices and didn't want to defer Ashlee's entry as they would lose money.
She said: "That sent my mental health plummeting and I became quite suicidal. I came here to be a lawyer and I got depressed because I didn't know what else to do.
"I started writing my feelings and my anger, and it was the first time I went to therapy."
However, teachers at Ashlee's college saw her creativity and asked her to join a musical theatre course which led her to study creative expressive therapies at the University of Derby.
Now, Ashlee finds being a drama therapist fulfilling.
She recently got a thank you letter from a young person which put things into perspective.
"I didn't realise how I impacted this young person. It's moments like that that make me think this is something I'm forever going to continue to do."
Ashlee's newest project has been podcasting after she launched a business called Jabang Media alongside her husband.
The company is home to three new podcasts: 'KanuLove', 'Where's Your Husband?', and 'The Gentlemen'.
'KanuLove' is a podcast that Ashlee co-hosts with her husband where they bring in and interview other couples.
The first episode is called 'The Survival of Black Love', all about how Black love has endured through slavery and the Windrush era.
'Where's Your Husband?' is Ashlee's solo podcast.
She says: "It's a play on the fact that it doesn't matter if you're single or married, it doesn't matter what your walk of life is, as a woman you get that question: Are you getting married, do you have a boyfriend?"
Her husband also has his own podcast for Jabang Media called 'The Gentlemen', which Ashlee said is "to show the soft side of Black men."
All upcoming episodes can be listened to on Spotify, Apple Podcasts, Amazon Podcasts and CastBox.