Reading Time:
4
minutes
A Derby business is using juggling and table tennis workshops to inspire young people and help their mental health. 
Andre Brevett, owner of Introverted Moves, launched the initiative in April of this year supported by a grant from The Prince's Trust.
He describes the purpose of the business as a culmination of the life that he has lived.
He said: "I've struggled with maintaining good mental health so I'm a huge advocate and want to spread some joy.
"I offer juggling and table tennis as a tool for mental health and mindfulness.
"These skills teach life principles like perseverance and discipline and they can help with ADHD and autism, but it's also just for people who want to have fun."
Andre works primarily with young people and families and is available for one-to-ones, but is also working towards finding a venue to do workshops with bigger groups of any age.
Both juggling and table tennis have been a big part of his life, stemming from his time at primary school.
He said: "I remember watching a lady on the TV juggle. She started by throwing one up and down, then juggled two in one hand – which blew my mind – and then she juggled three. That stuck with me."
Andre's primary school teacher also juggled for the class, which made him believe that he could do it too.
"First year of secondary school I decided to practise and learn to juggle. For two weeks I would throw oranges for 10 minutes before I went to bed and I was finally able to do it."
From this point, Andre started to take juggling a lot more seriously.
He would teach kids every Sunday and then stay behind for two or three hours to practise new tricks.
He said: "It was like therapy for me – it was relaxing, it was challenging, and it was so rewarding when I managed to do the trick I was practising for so long."
Andre also said that table tennis helped his mental health by giving him a purpose.
He said: "I was very lost in life, I had no direction and didn't know what to do. I felt worthless. I was getting up, but there was nothing I was getting up for.
"I didn't take table tennis seriously. But when I learned that my uncle played, it planted a seed really.
"I took a leap of faith and decided to give it a go. I never looked back. It gave me a reason to get up in the morning and it gave me something to focus on."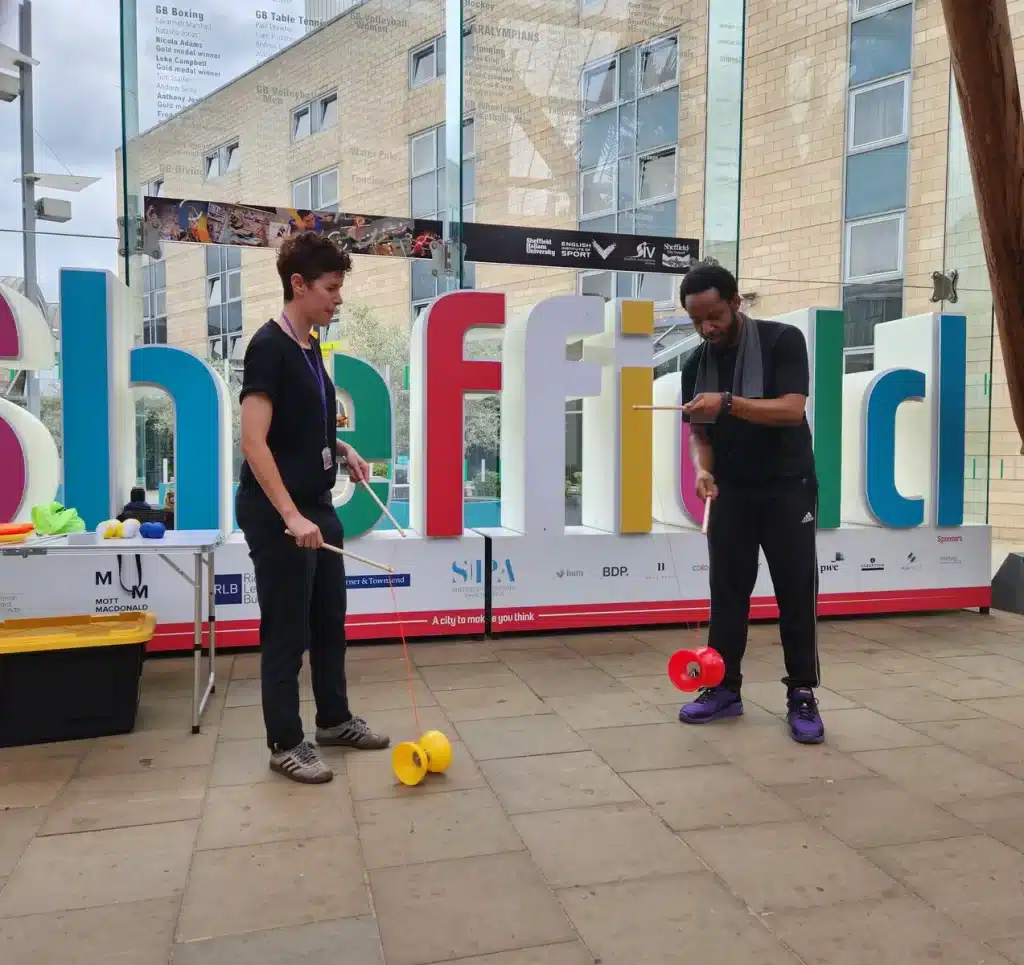 At one point, Andre pulled a ligament in his right hand which meant he had to take time out from playing table tennis.
He said this became a time of self-reflection for him.
"There were a lot of things coming back to me, such as my lack of a father figure, blaming my mum for a lot of things – there were a lot of realisations that I came to.
"I felt useless because I couldn't do anything, it affected my mental health quite a lot.
"I became a recluse. I couldn't be bothered to go shopping and even personal hygiene was hard. Everything was effort to me."
However, Andre said his mum encouraged him to go to the club anyway, and the next day he decided to learn to play table tennis with his left hand instead.
He said: "It changed things completely. It saved me from the depths of the sunken place, as I like to call it.
"It inspired some people as well, and I use it as a tool when I'm coaching."
Andre had once wanted to compete in table tennis leagues, but after coaching a boy who won at a juniors tournament, he decided that helping others was his calling.
He said: "When he won, my desire to compete completely disappeared and I felt better bringing other people to tournaments as opposed to playing myself."
The name of Andre's business is rooted in his desire to keep bettering himself.
He said: "It started off as the Melanated Introvert. I am an introverted person by nature, and I'm melanated. I wanted to incorporate that into everything I do.
"Introverted Moves came from the idea that I'm introverted and I'm making moves, I'm going out there and doing things. I'm striving to be better.
"It also works on the level that a lot of introverts are misinterpreted to be shy or not confident. There's the idea that they can't do certain things like a speech in front of a room of people. That's not true."
More than anything, Andre says that movement, whether that's through juggling or table tennis, is hugely important for mental health.
He said: "There's a lot of stigma around mental health and I want to be able to change people's ideas around it.
"Things can improve. You can get out of it. It's just a case of persevering and not giving up.
"A lot of the things I'm achieving now I can't comprehend. I lacked a lot of confidence when I was younger.
"I'm very proud of where I am now."